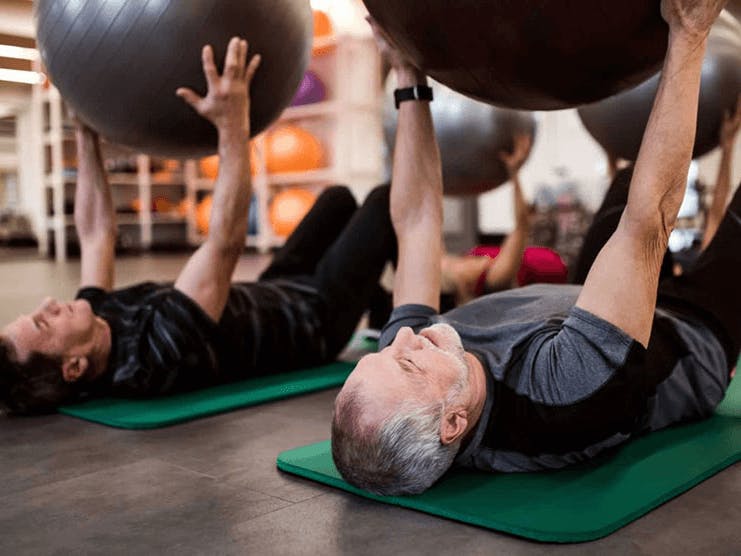 Original Medicare still doesn't cover fitness benefits, but many Medicare Advantage plans do.
In most situations, Medicare will not pay for gym memberships. However, there are a few exceptions to this as well as a few other things to keep in mind if you are interested in wellness programs that Medicare covers. We'll run through all of the details regarding Medicare coverage, gym memberships, and wellness programs, so you can know how to find what you're looking for.
Coverage under Original Medicare health insurance plans
Original Medicare collectively refers to Medicare Part A and Part B. Medicare Part A covers inpatient services, such as hospital care, skilled nursing facility care, and hospice care. As you can imagine, enrollment in Part A will never cover gym memberships, because it only covers inpatient care.
Medicare Part B covers medically necessary outpatient care. This includes things like normal doctor visits, diagnostic tests, and preventative care. Although gym memberships and other forms of wellness care do have a preventative function, they do not strictly speaking qualify for Part B coverage.
The reason for this is that they are not medically necessary. This means that they are not done to treat a specific medical ailment. In some cases, forms of treatment such as physical therapy and occupational therapy may be covered by Part B, and these can involve guided exercise. However, this will usually only be covered for the duration of the ailment and under specific circumstances.
In summary, although there are a few situations that seem like exceptions, Original Medicare will not cover gym memberships.
Medicare Advantage coverage for gym memberships
Medicare Advantage, also known as Part C of Medicare, is a way of getting your Medicare coverage through a private insurance company. Medicare Advantage doesn't cover a specific type of care. Rather, it is an alternative to Original Medicare: you cannot have both at the same time.
Although Medicare Advantage has some downsides, such as limited provider networks, it has the benefit of allowing for extra benefits when compared with Original Medicare. Medicare Advantage plans are required by law to provide at least the same amount of coverage that Original Medicare provides, but they can also provide more.
Many Part C plans will cover dental and vision benefits, and some also have prescription drug coverage. Additionally, some plans will provide coverage for gym memberships and other types of wellness care. This can vary widely from plan to plan.
The important thing to keep in mind when it comes to Medicare Advantage plans is that you should carefully analyze the plan as a whole. Although some plans may provide the wellness benefits that you want, the rest of the plan may not work for you. Consider wellness benefits to be an additional perk, rather than an essential component.
Types of gym membership benefits
Among the Medicare Advantage plans that offer some kind of fitness membership coverage, there are a variety of available options. We'll take a look at some of the most popular options. These will tend to vary geographically, so you will have to find participating locations in your area.
Silver Sneakers
Silver Sneakers is probably the most popular plan of this type that is available to seniors through Medicare Advantage. Silver Sneakers membership provides access to fitness centers, exercise programs, and classes that are targeted specifically towards the needs of seniors. Many gyms and facilities participate in the Silver Sneakers program, but you should make sure that there is one near you to make sure that the program will be convenient for you to use.
Renew Active
Renew Active is another popular fitness program available via Medicare Advantage. This program functions in basically the same way as Silver Sneakers, although there may be different fitness locations available for each program. There may also be some specific program or facility available in one program or the other, so make sure to compare them if both are available at a similar price.
Blue Cross Blue Shield Fitness Program
If your Medicare plan is purchased from Blue Cross Blue Shield, it may come with some fitness benefits as well. This will usually come in the form of fitness classes, equipment, lessons, and more. Overall, these plan options from Blue Cross Blue Shield are often a bit more limited than the other programs we mentioned but are still a great resource under most circumstances.
Some Blue Cross Blue Shield plans also offer Silver Sneakers, so make sure you understand what type of benefits are available for your plan.
Silver & Fit
Silver & Fit is another program that offers similar types of gym memberships and wellness benefits. This program functions in a similar way to those already mentioned. You will be able to access certain facilities, lessons, classes, and equipment that are tailored specifically to seniors.
Depending on which plans you're looking at, there are likely going to be multiple options available in your area. Different wellness programs will work for different people, so it is best to examine them all individually to come to a conclusion that is specific to your situation.
Gym membership coverage with Medicare Supplement plans
Medigap plans don't cover gym memberships quite as often as Medicare Advantage plans, but it is something you may come across from time to time. Medigap insurance, also known as Medicare Supplement insurance, is primarily oriented towards covering out-of-pocket costs that you incur under Original Medicare. However, from time to time you may find plans that offer additional benefits, such as gym memberships.
Other forms of wellness care that are covered
As you can tell, getting coverage for things like gym memberships under Medicare is somewhat patchy. However, other forms of preventative care are often covered by both Original Medicare and Medicare Advantage.
This includes things like mental health visits, programs that can help you stop smoking, weight loss surgery, and programs that can help with addiction difficulties. Although these will usually be covered as a result of medical necessity, it is still good to know that Medicare can help deal with some lifestyle-related health issues, even if offerings are limited.
Other forms of related coverage
In addition to the wellness programs described above, Medicare will sometimes cover chiropractic care, physical therapy, occupational therapy, speech therapy, and more. Some of this will involve guided exercise and can help with your general fitness and health even while the care is focused on a specific set of symptoms.
Key things to keep in mind
It is useful to think of gym membership and fitness benefits as an extra perk. It will usually not be worthwhile to choose a plan just for this type of coverage. If you are very interested in finding the best fitness benefits and health programs you can, talking to an independent licensed insurance agent can be helpful.
Find a Medicare Plan in your area
It's FREE with no obligation
Speak with a Licensed Insurance Agent
M-F 9:00am-9:00pm | Sat 9:00am-3:00pm EST