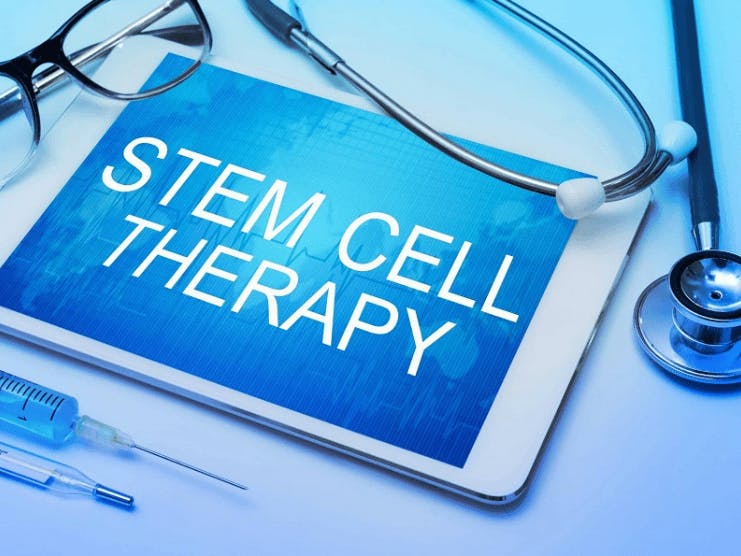 When it comes to Medicare coverage, the magic words are typically "FDA approved" and "medically necessary" - including for stem cell therapy.
Stem cell treatments offer a way to deal with certain conditions that resist many other forms of treatment. Many types of stem cell transplants are currently still experimental, or not at the level of being Food & Drug Administration (FDA) approved. However, there are a few forms of stem cell therapy that are covered by Original Medicare.
We'll run through which types of stem cell injections are covered, which parts of Medicare they are likely to be covered under, the extent of that coverage, and what you can expect to pay.
What is stem cell therapy?
At a basic level, stem cells are cells that can turn into other types of cells. Stem cell injections and stem cell therapy involve using these cells to treat certain conditions that are unable to be treated using other therapies.
Stem cell therapy is usually done in the form of an injection of stem cells derived from bone marrow or another source such as umbilical cord blood. The cells can be taken from the same person they are being given to, another source, or an identical twin. In most cases, stem cell injections are given to people with certain cancers, especially bone marrow or blood cancer.
How much do stem cell injections cost?
Generally speaking, stem cell injections are very expensive, with costs over $200,000 in some cases. Note that this covers, in most cases, over a month of inpatient treatment. Nevertheless, the costs are certainly very high. How much you end up paying will depend on the Medicare-approved amount for your procedure.
For this, among other reasons, stem cell injections are usually reserved for people who really need them and for whom other treatments aren't particularly viable.
Medicare coverage for stem cell injections
Generally speaking, The Centers for Medicare & Medicaid Services (CMS) allow for coverage of only two types of stem cell injections. These are known as allogeneic hematopoietic stem cell transplantation, or HSCT, and autologous stem cell transplantation, or AuSCT. Stem cell injections are usually used for patients with certain cancers, including leukemia, myelodysplastic syndromes (MDs), sickle cell anemia, and others.
HSCT involves taking stem cells and injecting them into another. This is useful for conditions that involve a diminished ability to create new blood cells.
AuSCT involves taking one's own stem cells and using them for injection. This is most common for patients who are going to undergo high-dose chemotherapy and have a weakened immune system, or who are unable to produce new blood cells.
Aside from these two therapies, no other stem cell injections or bone marrow transplants will be covered under Medicare. There are other forms of stem cell injection that exist, but they are considered experimental and are not FDA-approved at this time. As clinical trials continue, this situation may change.
Stem cell injections and Part A
Medicare Part A covers medical expenses in an inpatient setting. Much of the time, stem cell injections will be given while you are an inpatient, likely in a hospital. In this situation, one of the above therapies will be covered by Part A if you receive it in a hospital setting.
Stem cell injections will be covered after you reach your Part A deductible, which for 2023 is $1,600. After you reach this, you will still pay 20 percent of the total payment as part of your coinsurance. There may be additional costs under Part A if you undergo a hospital stay longer than 60 days.
Part B and stem cell injections
Part B of Medicare covers outpatient health services. Medicare Part B will cover medically necessary services in outpatient settings like doctor's offices and clinics. If you get stem cell injections done while an outpatient, then they'll be covered by Medicare Part B.
Part B has a significantly lower deductible than Part A, and you must meet it before your coverage will begin. In 2023, the Part B deductible comes out to $226. After you meet this amount, you will have to pay 20 percent of the Medicare-approved amount as your coinsurance. Aside from the deductible, the payment situation should be very similar to Medicare Part A.
Does Medicare Advantage cover stem cell therapy?
Medicare Advantage, also known as Part C, is a way of receiving your health insurance through a private insurance company, rather than the United States government. With Medicare Advantage, you can receive more flexible treatment options, and it ends up cheaper for some individuals as well. Notably, Medicare Advantage is required by law to cover at least the same things that Original Medicare covers.
This means that Medicare Advantage will cover the same stem cell injection options that Medicare Parts A and B cover. In general, Medicare Advantage can also cover more things than Original Medicare. However, as other stem cell therapies aren't approved by the FDA, they won't be covered by Medicare Advantage.
One issue that some people may face is that Medicare Advantage uses provider networks, just like other private insurance plans. This means that certain healthcare providers can be out-of-network, so you will have to make sure that you find an in-network provider for your services to be fully covered.
Medicare Advantage plans will have unique deductible amounts, so each plan's costs will vary. In general, Medicare Advantage plans have higher deductibles, but lower monthly premiums.
Can Medicare Supplement plans help?
Medicare Supplement plans, also known as Medigap plans, are private insurance plans that help cover some of your out-of-pocket costs under Medicare. These plans don't directly pay for Medical care, just out-of-pocket costs.
Medigap plans won't help in any specially targeted way when it comes to stem cell injections. However, having a Medigap plan that covers your deductibles and coinsurances can certainly help, and most Medicare beneficiaries should consider these plans in any case, as they can be very helpful for some. Coverage for your coinsurance is especially helpful for stem cell injections since they can be quite expensive.
Final thoughts: Medicare and stem cell therapy
As you can see, getting stem cell therapy under Medicare can be a bit complex and expensive. However, Medicare does still offer coverage for the two types of therapy that are approved by the FDA. The only specific recommendations to keep in mind are to make sure you are going to in-network providers if you have Medicare Advantage and to see if a Medigap plan is right for you since it can help to lower your overall costs.
Find a Medicare Plan in your area
It's FREE with no obligation
Speak with a Licensed Insurance Agent
M-F 9:00am-9:00pm | Sat 9:00am-3:00pm EST