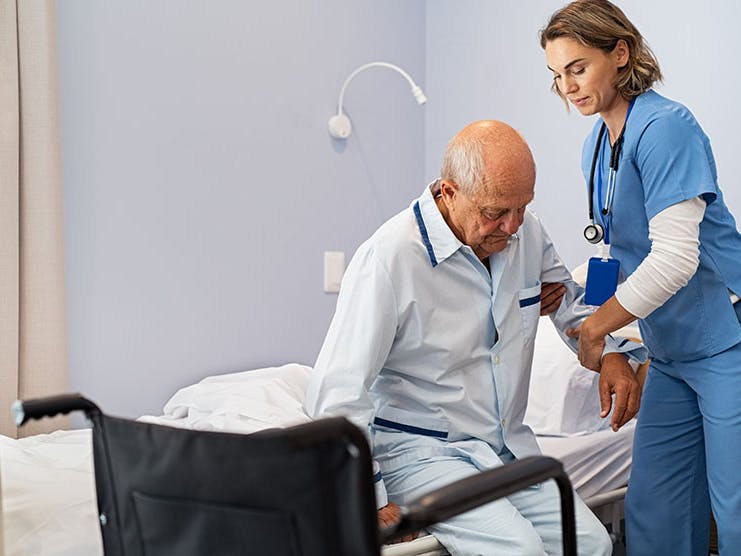 Original Medicare covers skilled nursing facility care as long as you meet the requirements, starting with a qualifying hospital stay.
Skilled nursing care is an important aspect of healthcare. Not only does it help you to get better, but it can help you learn to better care for all your health needs and function more independently both during your recovery and after it.
What is skilled nursing facility care?
Skilled nursing facility (SNF) care is the type of care that requires a skilled nurse or therapist to help manage, observe, or treat a condition. You may need SNF care to help improve or maintain your current condition, or even prevent it from getting worse.
Examples of skilled professionals include:
Audiologists
Licensed practical and vocational nurses
Registered Nurses
Speech-language pathologists
If the care you require can be performed by someone who has not received special training, then it is not considered "skilled" care. This is typically known as custodial care (help getting dressed, eating, going to the bathroom, etc.). It is not considered SNF care and will therefore not be covered by Medicare.
How do you qualify for skilled nursing care with Medicare?
Medicare will cover skilled nursing care only if ALL of the following are true:
You have both Medicare Part A and days remaining in your benefit period (please see the next section)
Your doctor says you require daily, skilled care that can only be provided by or under the supervision of skilled staff (nursing or therapy)
You receive these services from a Medicare-certified skilled nursing facility
You have a qualifying hospital stay (three or more consecutive days, not including your discharge date) AND you enter the SNF within 30 days of leaving the hospital
You may also be covered if you have an ongoing condition that was also treated during your hospital stay, regardless of whether it was the reason you were admitted and if a new condition started during your SNF care for that ongoing condition.
For Part A to apply, all services must be necessary and reasonable for your treatment and be administered in a Medicare-certified SNF.
Related reading: Medicare Coverage for Observation Services
How long does Medicare cover SNF care?
Skilled nursing care is covered under Medicare Part A, which structures benefit periods differently than Part B does – or really any other type of health insurance.
Each year marks a "benefit period" under Part B. But with Part A, you can have several benefit periods in a single year. (This is relevant, we promise.)
A Medicare Part A benefit period begins the day you're admitted to a hospital or skilled nursing facility as an inpatient and it ends once you haven't received any inpatient care for 60 consecutive days. So, if you're readmitted to the hospital or SNF on day 59, you are still in the same benefit period. But, if it happens on day 61, you're in a new benefit period.
This is important because coverage for Medicare Part A is per benefit period. In this case, Medicare will cover at least a portion of the cost for up to 100 days of SNF care each benefit period.
How much does SNF care cost with Medicare?
The cost for SNF care through Original Medicare per benefit period is broken into three segments:
You'll pay $0 for days 1-20
It's $204 per day (in 2023) for days 21-100
You'll pay 100% of costs for days 101 and beyond
You must also pay for any additional charges Medicare does not cover, such as laundry or phone fees. And, of course, there's your out-of-pocket for the qualifying hospital stay that preceded your SNF admittance.
Remember that costs for SNF care are often different if you have a Medicare Advantage plan. Because Advantage plans are offered through private insurers, your costs and level of coverage varies based on the plan and company you choose.
What does Medicare cover if I qualify for SNF care?
As long as they are needed to meet your health goal, Medicare covers the following services:
Ambulance transportation (both ways) to the nearest facility able to provide services the SNF could not, assuming another method of transportation would be dangerous
Dietary counseling
Meals
Medical social services
Medical supplies and equipment used in the facility
Medications
Occupational therapy
Physical therapy
Semi-private room (shared with other patients)
Skilled nursing care
Speech-language pathology services
How does SNF care work?
SNF care is based on two things: daily assessments and care plans.
Medicare requires an initial assessment be performed within the first eight days of SNF care. Your doctor and the SNF team use these assessments to build a care plan that best suits you. An assessment can include questions about:
Your medical history
Any current conditions (both mental and physical)
Current and previous prescriptions
Ability to make decisions
Your speech
Physical limitations (issues with balance, hearing, vision, etc.)
How well you do with activities of daily living (bathing, dressing, eating, etc.)
All of this information is used to create a care plan based on your needs. This ensures you receive care tailored specifically to you that ramps in a way you can handle. Care plans typically include:
The type of services needed
A special diet (if needed)
How often and how long you'll need services
What type of health care professionals need to provide the services
The type of equipment or supplies needed for care
Health goals and how your care plan helps you reach them
What happens when my SNF coverage ends?
When coverage of your SNF stay is ending, you receive a written "Notice of Medicare Non-Coverage" (NOMNC). If you are ready for your stay to end, or if you no longer need SNF care, then you don't need to worry. The 60-day period you need to start a new benefit period begins when you leave.
However, if you think your covered care is ending too soon, you can request a fast appeal. The NOMNC you received should have the information you need to file this appeal. If you have not gotten the notice, contact your provider. An independent reviewer known as a Beneficiary and Family Centered Care Quality Improvement Organization (BFCC-QIO) decides whether services should continue.
It is important to use the number listed on the NOMNC to contact your BFCC-QIO as soon as possible once you've received the notice. It is also a good idea to have your health care provider submit any information that might help your case. If you miss the deadline on your notice, you can call the BFCC-QIO to see what appeal rights you may have left.
Additional resources
Find a Medicare Plan in your area
It's FREE with no obligation
Speak with a Licensed Insurance Agent
M-F 8:00am-10:00pm | Sat 9:00am-6:00pm EST