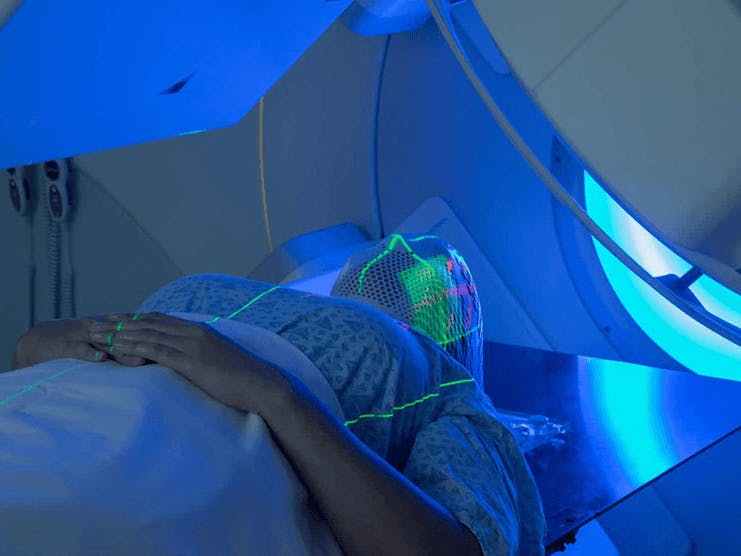 Like most health insurance, Medicare covers a variety of cancer treatments, including radiation therapy.
Medicare covers radiation therapy as well as a variety of cancer treatments and screenings. Most of these services are included with your Medicare Part B benefits. However, some cancer treatments, such as surgery to remove a tumor, are covered by Medicare Part A.
As with most Medicare coverage, the first question is whether a treatment is deemed medically necessary by your healthcare provider. Then, determining which "part" of Medicare applies usually depends on whether the service is inpatient or outpatient.
What Are the Parts of Medicare?
Before we get into what cancer services Medicare covers, we need to describe the parts of Medicare.
Original Medicare includes Part A and Part B. Medicare Part A is also known as hospital insurance. It covers inpatient care received in a hospital or skilled nursing facility (SNF). Part A also helps pay for hospice care. Medicare Part B is also known as medical insurance. It covers outpatient services like visits to a doctor's office, lab work, mental health care, and durable medical equipment (DME).
Medicare Part C is more commonly known as Medicare Advantage (MA). These plans are sold by private insurance companies. Costs and benefits vary according to which Advantage plan you choose. However, at a minimum, every Medicare Advantage plan must provide the same benefits you get with Original Medicare.
Medicare Part D provides prescription drug coverage. These plans are also provided by private insurance companies. You may join either a standalone Part D prescription drug plan (PDP) or a Medicare Advantage Prescription Drug plan (MA-PD).
You may also join a Medicare Supplement Insurance plan (more commonly known as Medigap). Sold by private insurance companies, Medicare Supplement plans pay some of your out-of-pocket costs when you have Original Medicare. As with Parts C and D, benefits and costs vary according to which Medigap plan you choose.
Cancer Services Covered by Medicare Part A
Most of your Medicare Part A benefits depend on you being an inpatient in a hospital or skilled nursing facility. Please note that it is possible – and even common – to spend multiple days in a hospital without ever being admitted as an inpatient. This is known as observation status. The only way to know for sure that you're an inpatient is to ask a member of the hospital staff.
Cancer treatments and services covered by Medicare Part A include:
Cancer treatments received as an inpatient in a hospital
Inpatient procedures to remove cancer cells and surrounding tissues to prevent the cancer's spread
Care received in a skilled nursing facility, assuming it's related to a qualifying hospital stay of at least 3 days
Blood transfusions
Clinical research studies performed while you are a hospital inpatient
Breast prostheses (following a mastectomy to treat breast cancer) if they are implanted surgically as an inpatient
Hospice care
Medicare Part A also helps pay for home health care, particularly rehabilitation services following surgery. This includes occupational therapy, physical therapy, and speech language pathology therapy. Home health services may also include skilled nursing care.
Cancer Services Covered by Medicare Part B
Medicare Part B covers a variety of medically-necessary cancer treatments received as an outpatient. It also provides a number of cancer screenings, such as yearly mammograms and prostate exams.
Cancer services covered by Medicare Part B include:
Doctor visits, including specialist care from an oncologist (i.e. a doctor who specializes in the diagnosis and treatment of cancer)
Chemotherapy drugs administered intravenously, as well as some oral chemotherapy medications
Radiation therapy received as an outpatient
Diagnostic screenings, including x-rays and CT scans
Durable medical equipment, including wheelchairs, oxygen tanks, and walkers
Outpatient surgical procedures
Mental health services
Nutritional counseling for patients who have certain chronic conditions (diabetes or kidney disease)
A feeding pump (i.e. enteral nutrition equipment) prescribed by your doctor for home use
Clinical research studies performed as an outpatient
External breast prostheses following a mastectomy or implanted breast prostheses received as an outpatient
Medicare Part B may also pay for a second opinion if your doctor recommends non-emergency surgery. If the second and first doctors do not agree, Part B will also cover you seeking a third opinion.
Cancer Services Not Covered by Original Medicare
Original Medicare doesn't pay for everything, even if you have cancer. The following items are not included with Original Medicare:
Your room and board for an assisted living facility
Adult daycare
Long-term care, such as received in a nursing home
Medical food and/or nutritional supplements, unless these are administered enterally (i.e. via a feeding pump)
Assistance with the activities of daily living, such as bathing
Basically, for home health care services to be covered, they must require "skilled" care, such as a nurse to administer injections.
Cancer Services Covered by Medicare Advantage
As stated earlier, Medicare Advantage plans must provide the same coverage that you receive with Original Medicare. Most plans, though, provide additional benefits as well. The most common is prescription drug coverage. But many MA plans also offer benefits like prescription lenses, routine dental care, and fitness programs like SilverSneakers.
Medicare Advantage plan benefits vary widely, so look carefully at your MA plan's materials. Or, call your insurance provider directly for more information.
One "advantage" of Medicare Advantage is that there is a yearly out-of-pocket max (which also varies by plan). Original Medicare has no such yearly limit.
Cancer Drugs Covered by Medicare Part D
Medicare Part D plans list their covered prescription medications in a drug formulary. Cancer drugs that are not covered by Medicare Part B may be included in your Part D plan. Again, though, you must refer to your particular prescription drug plan for details.
Cancer drugs that may be covered by your Medicare Part D plan include oral chemotherapy treatments, pain management, and anti-nausea medications.
Medigap and Cancer Treatment
One thing cancer treatment is famous for is being costly – even if you have health insurance. As we said above, Original Medicare has no annual out-of-pocket max. This is the main reason millions of Original Medicare enrollees choose to join a Medigap plan.
At a minimum, every Medigap plan gives you an additional 365 lifetime reserve days for inpatient hospital care and pays your Part A deductible. Costs and coverage vary according to which plan you choose. There are 10 standard plans, each represented by a letter (A, B, C, D, F, G, K, L, M, and N).
The best time to sign up for a Medicare Supplement plan is during your Medigap Open Enrollment Period (OEP). This lasts for six months, starting the day you are both age 65 or older and enrolled in Original Medicare.
If you don't sign up for a Medigap plan during your OEP, your application goes through the medical underwriting process. Outside of your OEP, any preexisting conditions could lead to you being denied a policy or charged a higher premium.
Although the Centers for Medicare & Medicaid Services (CMS) oversees Medicare Supplement Insurance, some states offer greater consumer protections than those provided by the federal government. Our Medicare Supplement page provides extensive details, including links to each state's Medigap page (scroll to the bottom) so you can see how the program works in your state.
Find a Medicare Plan in your area
It's FREE with no obligation
Speak with a Licensed Insurance Agent
M-F 9:00am-9:00pm | Sat 9:00am-3:00pm EST