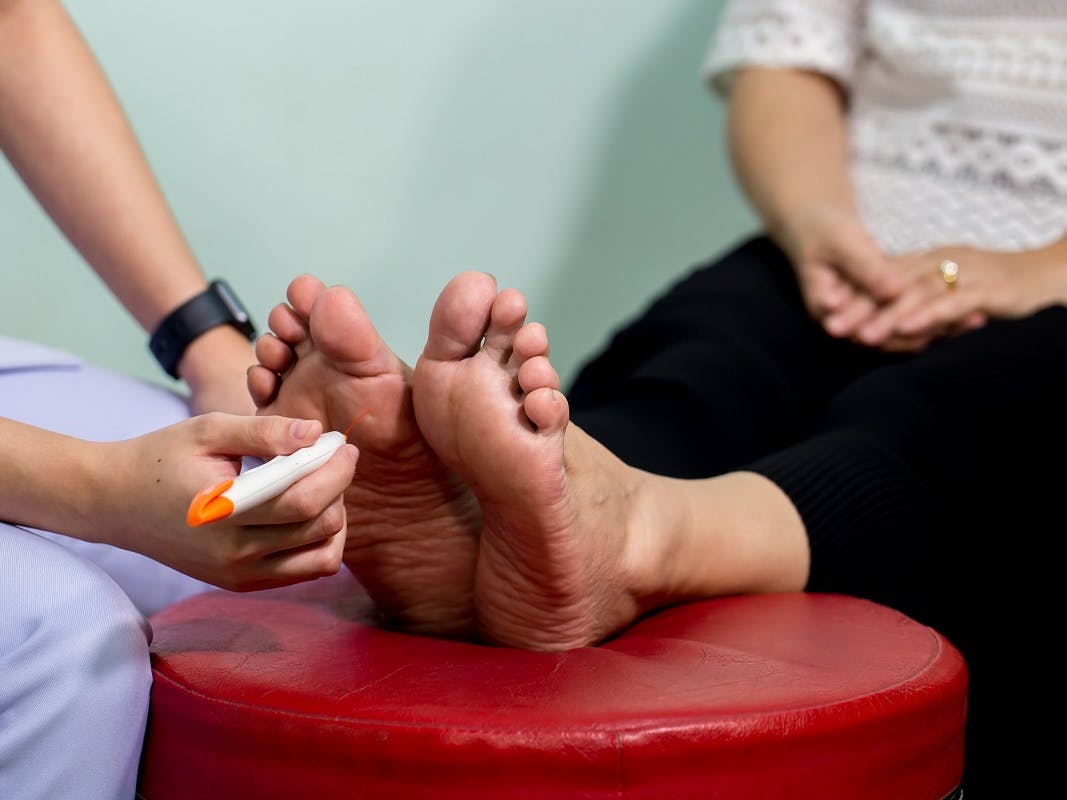 Neuropathy usually first presents as a slight tingling in your extremities, e.g., the hands and feet.
According to the National Library of Medicine, over 20 million Americans have neuropathy, with the condition affecting around 8% of people over 60. Keep reading to learn potential causes of neuropathy, treatment options, and whether Medicare will pay for it.
What is neuropathy?
Neuropathy describes general damage to your body's nervous system. The most common type of neuropathy is peripheral neuropathy, which is when your peripheral nervous system becomes damaged.
Your peripheral nerves are how your nervous system communicates with the rest of your body, and are responsible for physical sensations such as pain and touch.
The most common symptoms of neuropathy include:
●      Numbness or tingling in the hands and feet
●      Muscle weakness
●      Poor muscle coordination
●      Heightened sensitivity to touch
●      Excessive cramping or sharp, throbbing pain
●      Inability to feel physical sensations
The symptoms you experience depend largely on the nerves that have been damaged and the severity of the damage. If you start to notice any of the above symptoms in yourself, it is important to contact a doctor as soon as possible.
What causes neuropathy?
There are multiple factors that can cause neuropathy, with causes depending on the type of peripheral neuropathy you have:
●      Amyloid polyneuropathy: Can be inherited or caused by conditions like carpal tunnel syndrome.
●      Diabetic neuropathy: The most common type of neuropathy Medicare recipients seek treatment for, this is caused by diabetes or unbalanced glucose levels.
●      Inflammatory neuropathy: Caused by autoimmune issued or untreated infections.
●      Painful neuropathy: Caused by direct damage to nerve tissue.
●      Toxic neuropathy: Caused by chemicals or treatments such as chemotherapy.
Other causes for neuropathy include excessive alcohol and drug use, genetic conditions, physical trauma, and repetitive motion injuries. Essentially, any action you take or substance you consume that can damage your nerves can lead to neuropathy.
Neuropathy can progress through five stages. Stage one is mild and can usually be treated with lifestyle changes. Stages two through four often leaves patients with burning or tingling sensations and difficulty sleeping.
The most serious is stage five neuropathy. At this point, you don't feel pain, just numbness in the affected areas. Amputation may be necessary due to dead nerves.
Even if you have not gone through any of the causes listed above, if you experience the symptoms, consult a physician to be sure you don't hereditary neuropathy. The sooner you act, the better your chances of avoiding stage five.
How do you treat neuropathy?
While there is no set treatment for neuropathy, there are several options to help you manage the condition. Treatments for neuropathy depend on the type of neuropathy you have and the stage it is in. An important part of the treatment process is making lifestyle changes, which may include:
●      A diet and exercise plan
●      Avoiding or limiting alcohol and drug consumption
●      Avoiding toxins
●      Correcting any vitamin deficiencies
The plan your doctor builds depends on the underlying cause of your neuropathy.
For example, if you have diabetic neuropathy, insulin will be a part of your treatment plan. In the event an infection causes neuropathy, your doctor might prescribe medication for associated pain. If there is damage to a specific area, your plan may include physical therapy or surgery to correct the issue. And, as stated above, if the damage has gone far enough and the nerves are dead, the solution may need to be amputation.
In all cases, the earlier you seek treatment and build a recovery plan, the better your odds of full recovery. It cannot be repeated enough, as a major cause of continuing or worsening nerve damage is simply not seeking care.
What neuropathy treatments does Medicare cover?
Neuropathy treatments are covered across different parts of Medicare, with you paying for your standard coinsurance, copay, or having to meet your deductible as according to your plan.
Medicare Part A covers inpatient hospital services for neuropathy treatment, such as surgeries or anything else that requires being admitted to a hospital.
Medicare Part B covers your outpatient treatment options, such as doctor visits, diabetes exams, eye and foot exams, screenings, and any necessary medical equipment.
If you need any prescription medications to manage your neuropathy, they are covered by Part D. If you have a Medicare Advantage (Part C) plan, all of your neuropathy coverage comes from a single plan, so long as your MA plan includes prescription drug coverage.
Cost for neuropathy treatments through Medicare depends on the specific treatments you need, your drug formulary, and (if you have a Medicare Advantage plan) the insurer you choose. If you suspect this might be an issue for you in the future, be sure to consider that as you pick a Part C or Part D plan.
The most important thing to do if you think you have neuropathy is work with your doctor to identify the underlying cause, build a treatment plan tailored to your needs, and stick to that plan.
Find a Medicare Plan in your area
It's FREE with no obligation
Speak with a Licensed Insurance Agent
M-F 8:00am-10:00pm | Sat 9:00am-6:00pm EST