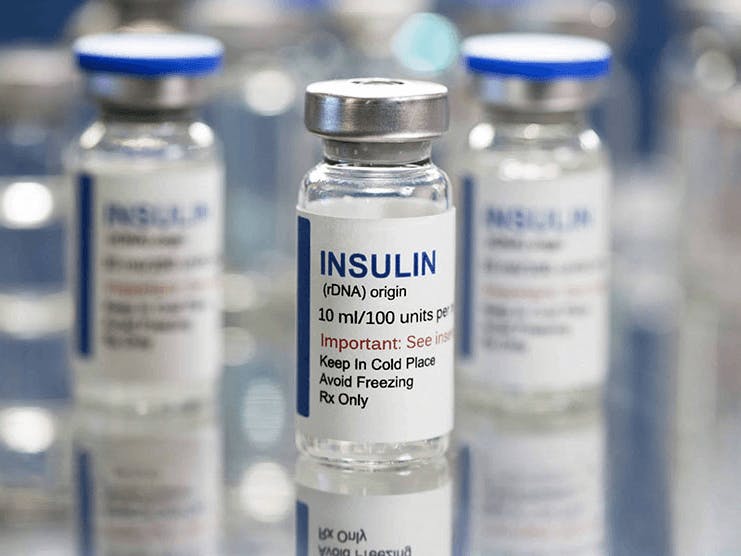 In 2021, President Biden required Medicare Part D plans to charge no more than $35 per month for insulin.
Insulin, a common diabetes medication, is used by millions of diabetic Americans. The percentage of diabetics gets even higher when you consider seniors, so it's no surprise that many Medicare beneficiaries are worried about insulin costs. While Medicare does offer coverage for insulin and other forms of diabetes care, it's important to understand the details: Original Medicare doesn't cover everything.
We'll go through which forms of diabetes care each part of Medicare covers, and what you need to look for if you have diabetes and are enrolling in Medicare for the first time.
Original Medicare Coverage for Insulin: A Short Summary
Because this point is so important, we're stating it very clearly before going into the details. With very few exceptions, Original Medicare does not cover insulin. If you only have Original Medicare coverage, you will pay 100 percent of the cost of your insulin.
We'll discuss the details of your coverage as well as how to get insulin covered below.
Medicare Part A: Hospital Care
Medicare Part A is the part of Original Medicare and covers inpatient healthcare services. This includes hospital stays, but can also include other forms of inpatient care like skilled nursing facilities.
Part A of Medicare can cover certain costs related to diabetes care, but most of your diabetes care won't take place in a hospital. If you are hospitalized or an inpatient for complications related to diabetes, then your care will be covered by Part A. This can include emergency doses of insulin that are administered while you are an inpatient.
Part A will also cover other medical services that are related to diabetes. When it comes to Part A, the main thing that matters is that the care is being provided in an inpatient setting. If it is, then there are few restrictions on what is covered, so long as it is medically necessary.
Outpatient Diabetes Care: Medicare Part B
Medicare Part B is the other half of Original Medicare, and it covers outpatient care. Part B covers the majority of outpatient services you can receive, including doctor visits, most diagnostic tests, outpatient procedures, and equipment.
Part B will cover outpatient services related to both Type 1 and Type 2 diabetes, as well as related conditions including obesity and heart issues. Part B will also cover foot exams every six months, as well as medical nutrition therapy.
Part B will not cover your insulin prescription.
Durable Medical Equipment for Diabetes
Many people with diabetes require some medical supplies to administer or monitor their condition. This can range from insulin pumps to therapeutic shoes to mobility aids. All of this equipment falls under the banner of "Durable Medical Equipment", or DME.
DME is covered by Part B of Medicare. There are some restrictions on when and how it can be offered, but if it is medically necessary, then you can expect to get coverage.
There are some limitations on DME purchasing that you should know about going into the process. You should only purchase equipment from DME suppliers that are Medicare-approved, which means that they will accept the costs that Medicare has declared. Otherwise, you can end up paying significantly more.
Other common forms of diabetes supplies that may qualify as DME include:
Test strips
Lancet devices
Blood glucose monitors
Alcohol swabs
A Special Note on Insulin Pumps
Insulin pumps are a distinct category under Part B. Although you may have to pay 100 percent of the cost of insulin under Part B, you will pay only 20 percent (after your deductible is reached) ifusing an insulin pump is medically necessaryfor you.
Costs of Diabetes Care Under Part B
The Medicare Part B deductible is $226 in 2023, and you will have to pay this before your coverage begins. After that, you will usually pay a 20 percent coinsurance for your medical care, although some services waive this coinsurance. Part B doesn't use a co-pay.
You can also expect to pay this 20 percent cost for your durable medical equipment. Some equipment may have additional costs as well, especially if you need to have it repaired, replaced, or upgraded soon after receiving it.
Medicare Advantage and Insulin Coverage
Medicare Advantage, also known as Medicare Part C, is a way of receiving your Medicare benefits through a private health insurance company. This means that although coverage is regulated, there will still be some variety in coverage and cost.
Although Part C plans can offer more coverage than Original Medicare, they are not allowed to offer less. This means that if any service is covered under Medicare Part B or Part A, it will be covered by Medicare Advantage as well. Because Part C plans can offer more coverage than Original Medicare, you may have more covered services related to diabetes available on some plans.
Medicare Advantage Prescription Drug Plans
Many Part C plans come bundled with a prescription drug plan. If this is the case, then you can have all of your diabetes costs and your insulin prescription covered under the same plan.
Not all Part C plans offer this coverage, and for those that do, the coverage will vary. If you need additional drugs covered, make sure that you investigate the plan in detail before you commit.
It can also be the case that a bundled plan will cost more than just buying a Medicare Part C plan and a separate prescription drug plan, so make sure that you shop around and compare quotes and cost-sharing options for each plan before you commit.
Although Medicare Advantage can be more difficult to navigate due to the variety, it is a good option for many and shouldn't be overlooked.
Medicare Part D Prescription Drug Plans and Insulin Coverage
Part D prescription drug plans, like Medicare Advantage plans, are offered by private insurance companies, not the federal government. This means that they will also have a variety of coverage options and a variety of costs associated with them. These plans, as their name states, exclusively offer prescription drug coverage.
Costs can vary in two main ways. First, plans will have different monthly premiums. At a more complex level, plans will have differing formularies and cost-sharing options.
A formulary is a list of drugs covered under that plan, split into tiers that tell you how much you will have to pay for each drug. The basic idea is that you will have to pay more for more expensive drugs, usually in the form of a higher copayment or coinsurance.
The Part D Senior Savings Model
The Part D Senior Savings Model is a new Medicare program that can offer much cheaper insulin prices, as low as $35 for a 30-day supply. The Senior Savings Model is only available among participating Part D plans, meaning it may be a bit more difficult to find a plan in your area that is participating.
Cms.gov contains a lot more information about the Senior Savings Model.
Summary of Information Relating to Insulin and Medicare
The bottom line here is that you must get Part D coverage or a Medicare Advantage insurance plan if you need insulin. With the exception of insulin pumps, Original Medicare will not cover insulin. Finding a plan that does cover your diabetes needs won't be too difficult, but if you don't take that step, you won't be covered.
Find a Medicare Plan in your area
It's FREE with no obligation
Speak with a Licensed Insurance Agent
M-F 9:00am-9:00pm | Sat 9:00am-3:00pm EST