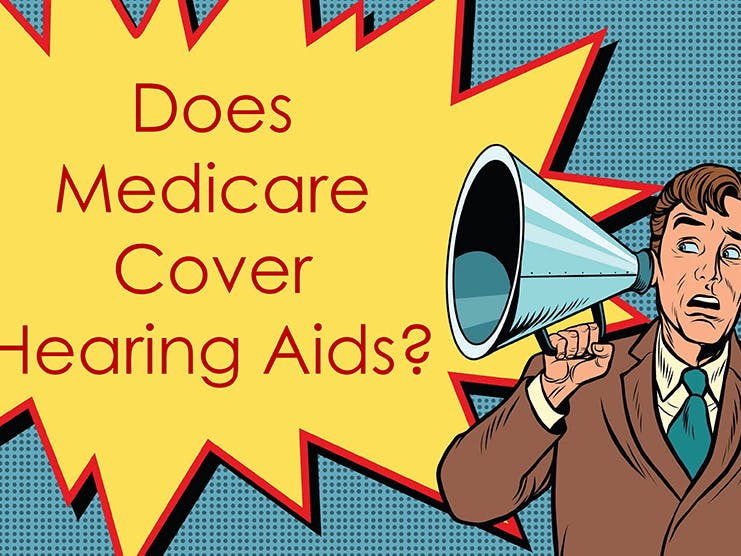 Unfortunately, if you have Medicare, you'll need either ancillary insurance or a Medicare Advantage plan if you want coverage for hearing aids.
America's health insurance program for seniors – Medicare – covers a wide array of healthcare services. But does Medicare cover hearing aids? Unfortunately, no. Original Medicare does not cover most audiological services, including hearing aids.
However, some hearing services are covered by Original Medicare. And, of course, you may be able to join a Medicare Advantage plan that offers these benefits. Keep reading to learn more about Medicare coverage for hearing aids.
What does Original Medicare cover?
Original Medicare includes two parts. Medicare Part A is commonly referred to as hospital insurance. It pays for covered inpatient services in a hospital or skilled nursing facility (SNF). Part A also pays for hospice care. But it does not cover any inpatient services or diagnostics. This includes hearing aids for seniors and hearing tests.
Medicare Part B is also known as medical insurance. It pays for outpatient services deemed medically necessary by your provider. This includes doctor visits, lab work, durable medical equipment (DME), a variety of preventive services and screenings, and more.
Although it doesn't cover hearing aids or routine hearing exams, Medicare Part B does cover diagnostic hearing and balance exams. These are tests ordered by your healthcare provider to determine whether you require medical treatment. Your cost is 20% of the Medicare-approved amount. The Part B deductible applies and, if you receive the exam as a hospital outpatient, there may also be a hospital copayment.
Original Medicare does not include prescription drug coverage. Those benefits are part of Medicare Part D.
Does Medicare Advantage cover hearing aids?
Also known as Medicare Part C, Medicare Advantage plans must provide the same benefits you get with Original Medicare. However, they are also allowed to cover additional services that are not included with Parts A and B. That means that, even though there is no Medicare hearing aid benefit, you may be able to get that coverage with an Advantage plan.
Over 96% of Medicare beneficiaries have access to an Advantage plan that covers one or more of the following:
Fitness programs like SilverSneakers
Hearing benefits, including hearing aids and fitting exams
Prescription drugs
Routine dental care
Routine vision care and/or prescription lenses
None of these services are covered by Original Medicare.
Since private insurance companies provide Medicare Advantage plans, benefits and costs may vary considerably. If you decide to join a Part C plan, compare your options carefully to be sure you get the coverage you need.
Our Find a Plan tool makes comparing your Medicare plan options easy. Just enter your location and coverage start date to begin reviewing Medicare plans in your area.
Does Medicare Part D cover hearing aids?
Medicare Part D provides prescription drug coverage. It does not pay for hearing aids or exams.
You can get prescription coverage by joining either a standalone Part D plan or a Medicare Advantage Prescription Drug plan (MA-PD). Both types of plans are provided by private insurance companies.
When choosing a prescription drug plan, always review the drug formulary. This is the list of prescription medications that the plan covers.
Does Medigap cover hearing aids?
Medicare Supplement Insurance, commonly referred to as Medigap, helps cover some of your out-of-pocket under Original Medicare. It only pays for covered services, though. And, since Original Medicare does not cover hearing aids, neither does Medigap.
Please note that you cannot have both Medicare Advantage and a Medicare Supplement plan.
Why doesn't Medicare cover hearing aids?
Although it noted that hearing aids were commonly needed, the Medicare Act of 1965 explicitly excluded hearing aids, stating that they were "low in cost."
Medicare activists hope to change that. In 2019, Michigan Representative Debbie Dingell sponsored HR 1518,  which seeks to remove the hearing aid exclusion from Original Medicare. It is one of many bills that Congress has yet to vote on.
How much do hearing aids cost?
While hearing aids may have been "low in cost" in 1965, in 2024 they are more likely to cost several thousand dollars – particularly if you need a pair of hearing aids.
According to Consumer Reports, what you pay for hearing aids depends on where you buy them and whether your health insurance covers any portion of the cost.
Average out-of-pocket is between $2,000 and $3,000 for a pair of hearing aids
Hearing aids from a wholesale club like Costco average a little under $2,000
Purchasing hearing aids from a name brand hearing aid store averages over $4,000 for a pair
Audiology offices charge around $3,900 on average
Clinics and hospitals with an onsite audiologist charge around $3,500
When figuring the true cost of hearing aids, though, you must also consider the cost of the exam and fittings. If your Medicare Advantage plan covers these services, talk to your plan provider to make sure you know the full cost.
Additional resources
Find a Medicare Plan in your area
It's FREE with no obligation
Speak with a Licensed Insurance Agent
M-F 8:00am-10:00pm | Sat 9:00am-6:00pm EST