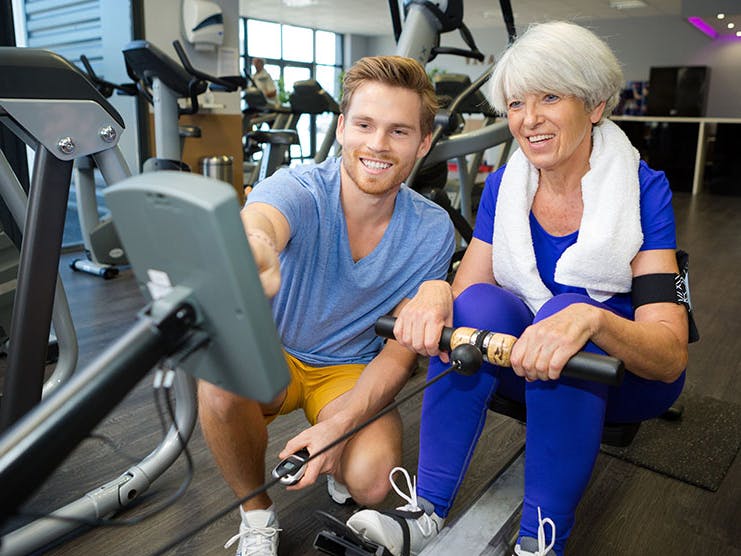 Many Medicare Advantage Insurance Plans Cover Fitness Classes
Although improved fitness plays a significant role in reducing your risk for disease and improving overall health, the answer to the question, Does Medicare cover gym memberships, is: Not really. The good news is that you can get coverage for certain fitness programs, like SilverSneakers, with some Medicare Advantage (MA) plans.
Medicare Advantage plans (also known as Medicare Part C), must offer at least the same coverage as Original Medicare. But, they may also offer additional benefits, including exercise program coverage.
Several private health insurers offer exercise benefits as part of their Part C coverage, including Aetna, Priority Health, HealthPartners, and Humana. The most commonly sought-after fitness programs are SilverSneakers and Silver & Fit.
Do All Medicare Advantage Plans Cover Fitness Classes?
Private insurance companies provide Advantage plans and they don't all offer the same benefits.
Since MA plans are not obligated to offer exercise program coverage, you need to research your options to find the right program. Our Find a Plan tool makes it easy. Just enter your location, coverage start date, and hit Continue to begin reviewing Medicare plans in your area.
Bear in mind that, when you sign up for Part C, you are still part of the Medicare program and must continue to pay your Part B premiums.
What Is the SilverSneakers Program?
Another extremely popular exercise program is SilverSneakers, offered by a host of MA insurers. With approximately 17,000 participating fitness centers to choose from, you're likely to find a facility near you. Check the SilverSneakers website to determine whether your health plan offers the program as part of its benefits.
How Much Does SilverSneakers Cost?
A SilverSneakers membership is usually free to you if it's covered by your Medicare Advantage plan. However, check your plan's details.
What Are the Benefits of SilverSneakers?
Reasons to consider SilverSneakers include:
Amenities such as swimming pools, saunas, and exercise equipment
Special classes for seniors run by qualified instructors
Assistance and guidance from a Program Advisor
A variety of fun, social activities
The SilverSneakers FLEX option is also a popular choice with seniors. It offers over 50 innovative classes including walking groups, indoor and outdoor boot camp, and dancing.
If you prefer to exercise in the comfort of your own home, the SilverSneakers Steps program is for you. Upon registration, you receive a kit that includes a pedometer, resistance bands, and an exercise DVD. Use these tools to tailor your workout around your lifestyle and individual capabilities.
Silver&Fit Exercise and Healthy Aging Program
This exercise program is ideal for seniors; it works with your lifestyle to ensure you stay fit and active. Visit the Silver&Fit website to find a facility close to you. The benefits vary depending on the MA plan and provider you choose, but offerings may include:
Access to cardiovascular and strength training equipment
Access to fitness facility amenities, including whirlpools, swimming pools, and saunas
Fitness facility exercise classes
Online resources, such as health and wellness centers
If you wish to be fit and healthy but do not want to travel to a facility, or there is no center nearby, Silver&Fit offers a variety of home exercise kits, including:
Yoga
Strength training
Walking
Pilates
Tai Chi
Dance
These kits usually consist of a guide or DVD, making exercising simple and fun.
How Much Does Silver&Fit Cost?
While some providers offer Silver&Fit with no deductibles or copayments, others add a small annual fee of $10 to $25.
Does Original Medicare Ever Pay for Gym Memberships?
Original Medicare rarely covers the cost of exercise classes or the services of a personal trainer or exercise therapist. However, in a small number of cases, you may have Medicare coverage occupational and physical therapy, which could include some exercise and fitness training. This coverage only applies if your physician specifically prescribes the therapy.
Medicare Part B Covers Physical and Occupational Therapy
Medicare Part B helps pay for physical and occupational therapy deemed medically necessary by your doctor. He or she must prescribe and regularly review the therapy, which must be provided by a Medicare-certified therapist on an outpatient basis.
Part B pays 80 percent of the Medicare-approved amount, leaving you responsible for the remaining 20 percent. In addition, the Part B deductible applies. All Part B beneficiaries are covered assuming the services are medically reasonable and necessary.
Always talk to your provider to determine your costs as well as why they recommended the services. Medicare doesn't cover a cost just because your doctor recommended it. The service must be deemed medically necessary.
Additional Medicare Healthy Lifestyle Services
Although Original Medicare does not cover gym memberships or fitness classes, it does offer services designed to help you improve your fitness.
One of your Medicare Part B benefits is nutrition therapy services. Your doctor refers you to a registered dietician who performs a nutrition and lifestyle assessment, provides nutrition therapy services, and checks your progress during follow-up visits. Eligibility requirements include having Medicare Part B as well as at least one of the following conditions:
Diabetes
Kidney disease
Had a kidney transplant in the past 36 months
Your cost for these services is zero as long as the dietician accepts assignment.
Medicare Part B also covers obesity screening and behavioral counseling sessions to help you lose weight assuming services occur in a primary care setting. This is because your counseling must be coordinated with your other care and include a personalized prevention plan. If you have Medicare Part B and a BMI of 30 or higher, you qualify. Again, your cost is zero as long as your primary care physician accepts assignment.
Conclusion
Although it offers some services to help you live a healthier lifestyle, Original Medicare does not cover the cost associated with exercise programs for seniors. If you are looking to get fit and active, however, a number of Medicare Advantage plans provide free or low-cost options. Staying in shape ensures you get the most out of your golden years, so look for the right Medicare Part C plan and get active!
Find a Medicare Plan in your area
It's FREE with no obligation
Speak with a Licensed Insurance Agent
M-F 9:00am-9:00pm | Sat 9:00am-3:00pm EST