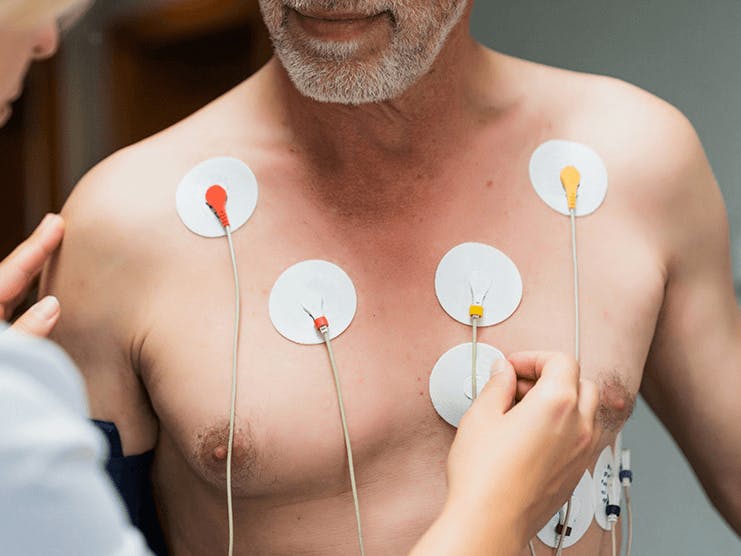 Cardiac stress tests help diagnose problems with your heart to reduce your risk of cardiovascular disease.
The term heart disease encompasses many types of heart conditions, but most often refers to coronary artery disease (CAD). CAD affects the blood flow to the heart and can lead to a heart attack or heart failure. Other heart conditions can lead to a stroke.
About 47% of people in the U.S. have at least one risk factor for heart disease, such as high blood pressure, high cholesterol, smoking, diabetes, obesity, unhealthy diet, physical inactivity, and excessive alcohol use.
That said, there are several screenings and prevention steps you can take to help diagnose or treat CAD or other cardiovascular disease. Read on to learn more about one example, cardiac stress tests, and other Medicare coverage for cardiovascular disease.
Medicare cardiac stress test coverage
Cardiac stress tests are performed to evaluate a patient for the presence or severity of CAD, exercise-induced arrhythmias or hemodynamic changes, and/or cardiac functional capacity.
These tests are covered by Medicare for those who meet certain criteria or are considered high-risk, and it must be considered medical necessary. For a test to be covered, a patient must have at least one of the following:
Have signs or symptoms consistent with CAD, such as
Angina pectoris or anginal equivalent symptoms
Cardiac rhythm disturbances
Unexplained syncope
Heart failure
Significant atherosclerotic vascular disease elsewhere in the body
Have a metabolic disorder known to cause CAD, such as
Diabetes mellitus
Syndrome X
Atherogenic hypercholesterolemia
Have an abnormal ECG consistent with CAD, such as
Needing evaluation for progression of CAD with the potential for change in treatment following coronary artery bypass graft surgery, a myocardial infarction, a percutaneous transluminal coronary angioplasty or other coronary revascularization procedure, medical treatment to reverse or stabilize CAD, or a history of a coronary artery ischemic event without symptoms
Needs an evaluation as part of a preoperative assessment when surgery is likely to induce significant cardiac stress
Needs an evaluation when information from a clinical assessment doesn't adequately assess functional capacity and that information is necessary
In most cases, your doctor must provide documentation that shows you have a condition that meets requirements, as well as all treatments you're currently getting. You must also get a referral for the test.
What is a cardiac stress test?
Also called an exercise stress test, a cardiac stress test shows how your heart works during physical activity. When you're active, your heart must pump harder and faster, so a stress test can show your doctor if there are problems with blood flow in your heart.
Most of the time, a stress test involves walking on a treadmill or riding a stationary bike while your heart rhythm, blood pressure, and breathing are closely monitored. The results can help:
Determine treatment decisions
Show how well heart treatment is working
Diagnose coronary artery disease, heart rhythm problems, or the severity of an existing heart condition
Check your heart before a surgery
Your doctor will give you instructions for preparing for the test, such as not eating or drinking anything for four hours before the test or not taking any heart medications on the day of your test.
During the test, a technician will place small, flat, sticky patches called electrodes on your chest. These patches are attached to an electrocardiogram monitor (EKG) that charts your heart's electrical activity during the test. Before starting, they will measure your heart rate at rest and take your blood pressure.
Then, you'll start exercising. You'll be asked to exercise until you feel exhausted, with the rate of exercise or difficulty gradually increasing. The technician will monitor you for feelings of discomfort, shortness of breath, dizziness, lightheadedness, or other symptoms. They will also watch for any changes on the EKG monitor.
Once finished, you'll take a few minutes to cool down until your heart returns to normal. Typically, appointments last about 60 minutes, though actual exercise time is usually about 7-12 minutes.
If you have abnormal results, your doctor will work with you to understand the results and devise a treatment plan.
Medicare cardiovascular disease screening coverage
Medicare Part B covers cardiovascular screening blood tests once every five years. These blood tests help detect conditions that may lead to a heart attack or stroke, and check your cholesterol, lipid, and triglyceride levels.
These screenings are included as preventive screenings and services covered by Medicare, so you don't need to show signs of heart disease or have any specific risk factors to be eligible. If your doctor or provider accepts Medicare assignment, you pay $0 for these tests.
Other cardiovascular disease screenings and coverage Medicare offers include:
Abdominal aortic aneurysm screening: If you're considered high risk, such as if you have a family history of abdominal aortic aneurysms or you're a man ages 65-75 and have smoked at least 100 cigarettes in your lifetime, this screening is covered by Part B once in your lifetime. However, be sure to get a referral from your provider for this test to be covered.
Cardiovascular behavioral therapy: Part B covers one visit per year with your primary care provider (PCP). During this screening, you'll talk with your PCP about your aspirin use, blood pressure, and diet to help lower your risk for cardiovascular disease.
Cardiac rehabilitation programs: These programs, which include exercise, education, and counseling, are covered by Part B if you've had a heart attack in the last 12 months, coronary artery bypass surgery, current stable angina, a heart valve repair or replacement, a coronary angioplasty, a heart or heart-lung transplant, or stable chronic heart failure. You pay 20% of the Medicare-approved amount (as well as a co-pay if received in a hospital outpatient setting) and the Part B deductible applies.
Cardiac catheterization: If medically reasonable and necessary, this procedure, which is when a catheter is positioned into the heart to assess cardiac function and structure, is covered by Medicare.
In general, Medicare Part A will cover hospitalization for a heart condition, such as heart surgery or stroke. This coverage also includes prescriptions, equipment, tests, therapies, and other services you may need while an in-patient in a hospital.
In addition to preventive screenings, Medicare Part B also covers any outpatient treatments you may need. For example, heart procedures, like angioplasties and stents, echocardiograms, cardiac catheterizations, and other scans, may be covered.
You can also talk to your doctor about your risk factors and any screenings or services you may need during your yearly "wellness" visit, which you can get once every 12 months.
Why early detection of cardiovascular disease is important
Heart disease is the leading cause of death for men, women, and people of most racial and ethnic groups in the U.S. In fact, about 18.2 million adults aged 20 and older have CAD and about 805,000 people in the U.S. have a heart attack each year.
While these numbers can be scary, early detection of cardiovascular disease gives the opportunity to manage risk and get treatment faster, before it turns into heart disease or you have a heart attack or stroke.
You can help lower your risk of heart disease, heart attack, and stroke by managing your health behaviors, risk factors, and getting heart screenings when you're eligible. Few people have ideal risk levels on all heart screening tests, but it doesn't mean you will develop heart disease. Working closely with your provider to manage risk factors and symptoms can help ensure your heart stays healthier, longer.
Find a Medicare Plan in your area
It's FREE with no obligation
Speak with a Licensed Insurance Agent
M-F 9:00am-9:00pm | Sat 9:00am-3:00pm EST