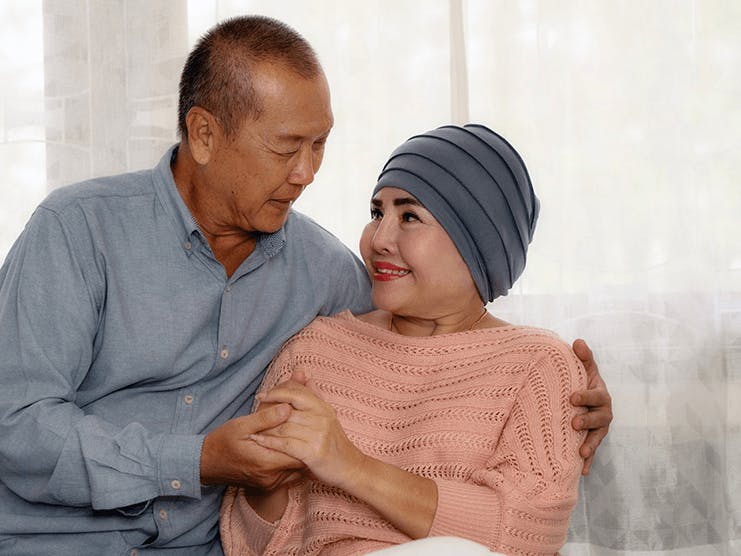 Medicare covers a variety of cancer treatments as well as preventive screenings like mammograms and colonoscopies.
The costs of receiving cancer treatment can add up fast, and the bills can be overwhelming. The good news is with Medicare, many of your expenses and needs are covered.
Original Medicare will cover many of the treatments you will need to help fight, and even cure, your cancer. Most treatments and surgery would be covered by either Part A (hospital insurance) or Part B (medical insurance). Prescription drugs or oral chemotherapy drugs you may need would be covered by Part D (prescription drug coverage).
Does Medicare Cover Cancer?
Depending on your specific cancer and circumstances, your doctors will work together to develop a treatment plan for you that meets your needs. Medicare helps cover the services, tests and items you may need for your cancer treatment. Typically, these may include surgery, chemotherapy, immunotherapy and/or other treatments, which would be covered either under Part A, Part B or Part D.
Part A (hospital insurance) covers:
Inpatient hospital stays (up to 150 days), including cancer treatments you get while an inpatient in a hospital. Diagnostic testing is also covered while inpatient
Inpatient surgical procedures to remove a cancerous mass
Skilled nursing facility care (following a 3-day related hospital stay)
Home health care, such as rehabilitation services for physical therapy, occupational therapy, or speech-language therapy
Hospice care
Blood work
Some costs of clinical research studies (while you're an inpatient in the hospital)
Surgically-implanted breast prostheses after a mastectomy (if the surgery takes place in an inpatient setting)
Part B (medical insurance) covers:
Medically necessary cancer-related services and treatments provided on an outpatient basis.
Doctors' visits
Many chemotherapy drugs (administered through your vein in an outpatient clinic or at a doctor's office)
Some oral therapy treatments
Radiation treatments (given in an outpatient clinic)
Diagnostic tests, like X-rays and CT scans
Durable medical equipment (DME) such as wheelchairs and walkers
Outpatient surgeries, such as implantation of a port
Mental health services
Nutritional counseling (if you have diabetes or kidney disease)
Enteral nutrition equipment, like a feeding pump, that your doctor prescribes for use in your home
Some costs of clinical research studies (while you're an outpatient)
Breast prostheses (external breast prostheses, including a post-surgical bra) after a mastectomy, or surgically-implanted breast prosthesis if the surgery takes place in an outpatient setting.
In some cases, a second opinion for a surgery if it's not an emergency, and a third opinion if the first and second opinions are different
Part B also covers some preventive services for people who may be at risk for cancer, so talk with your primary care provider about which screenings or services may be right for you.
Part D (prescription drug coverage) covers:
Prescription drugs for chemotherapy (if taken by mouth)
Anti-nausea drugs and other prescriptions to treat side effects
Other prescription drugs used in the course of your treatment, such as pain medication
Medicare and cancer treatments
Does Medicare cover chemotherapy drugs?
If you're a cancer patient in a hospital, outpatient clinic, or doctor's office, Medicare typically covers chemotherapy drugs and treatment, as long as it's medically necessary.
If your chemo is administered through an IV at a doctor's office or as an outpatient, it may be covered by Part B. If it's administered orally or IV in a hospital or as an inpatient, it will likely be covered by Part A.
Chemotherapy, which can be administered orally through pills, capsules or liquids, intravenously through a vein, or by injection into a muscle, is used to treat cancer. There are many types of chemotherapy drugs, and what you receive depends on the type of cancer you have, how advanced it is, and whether or not you have other health issues or risk factors.
Does Medicare cover radiation treatment?
Medicare Part A typically covers radiation cancer treatment for hospital inpatients. Part B covers radiation treatment for outpatients, or patients in freestanding clinics.
In high doses, radiation can be used to kill cancer cells and shrink tumors. Essentially, it damages the DNA of the cancer cells, making them unable to multiply, therefore, killing them. Radiation therapy treats a specific part of your body externally, or it can be used as part of systemic therapy that travels in your blood throughout the body.
Does Medicare cover surgery for cancer treatment?
In most cases, Medicare covers most of the medically necessary surgical procedures for cancer treatments.
If you're an inpatient in a hospital, your surgery will be covered by Part A.
If you're an outpatient, your surgery will be covered by Part B.
Typically, surgery for cancer treatment is done when cutting out a tumor, and in most cases, it's combined with other treatments such as chemotherapy and/or radiation.
Does Medicare cover immunotherapy for cancer treatment?
If immunotherapy is deemed medically necessary by your doctor, it may be covered by Medicare.
Immunotherapy includes medications that help your immune system fight cancer. It could also include vaccines that boost your immune system's response to cancer cells, helping it to fight the cancer cells on its own.
Medicare cost for cancer treatments
You will be required to pay any copayments, coinsurance or deductibles that apply for each service, test or item you receive, though the exact costs vary on a number of factors including:
Whether or not doctor or provider accepts assignment
The type of the facility
Other insurance you may have
The location you get the test, item or service
In 2023, your Part B deductible is $226.
Depending on your situation, your doctor may recommend services or items that are not covered by Medicare, or more often than what Medicare covers. In this case, you'd have to pay some or all of the costs out of pocket.
Some items Medicare does not cover, therefore you will have to pay completely out of pocket, include:
Room and board in assisted living facilities
Adult day care
Long-term nursing home care
Medical food or nutritional supplements
Services that help you with activities of daily living (that don't require skilled care)
Wigs
Chemotherapy costs vary depending on whether you take the drugs orally, through an IV, or via an injection. If you receive chemo under Part B in a hospital outpatient setting, you'll pay a copayment. If it's given in a doctor's office or freestanding clinic, you pay 20% of the Medicare-approved amount, and your Part B deductible applies.
Do Medicare Advantage Plans Cover Cancer Treatments?
Because Medicare Advantage plans (Part C) must cover everything Original Medicare covers, most of your cancer treatments including radiation, chemotherapy and surgery will be covered.
Most MA plans bundle Part A, Part B and Part D, so you have hospital, medical and prescription drug coverage. The difference is that "rules" or costs associated with services may be different than Original Medicare.
Do Medicare Supplement Plans Pay for Cancer Treatment?
Medicare Supplement plans, or Medigap, may help pay some or all of your out-of-pocket costs for cancer treatments under Part A and Part B. Your plan may pay:
Coinsurance amounts under Part A and Part B
Your Part A and/or Part B deductibles
Part B excess charges
Coinsurance under Part A for hospice and skilled nursing care
Typically, if Medicare Part A or B covers your cancer treatment or treatment drug, your Medigap policy will as well. However, it does not cover prescription medications you'd take to help treat cancer symptoms or side effects. This would be covered by your Part D plan.
Medicare Enrollment Period
After diagnosis, you may want to talk with your doctors and review your existing coverage to ensure you have the right coverage for your needs. However, there are only a few times per year when you're able to make changes to your Medicare coverage and prescription drug coverage.
Initial Enrollment Period
If you're not already enrolled in Medicare, you can do so during your initial enrollment period. This is a 7-month period surrounding your 65th birthday, including the three months before the month you turn 65, the month you turn 65, and the three months after the month you turn 65.
If you do not pay a premium for Part A, it's mandatory to enroll unless you also give up your Social Security or Railroad Retirement Board (RRB) benefits. In most cases, you should only decline Part B if you have group health insurance from an employer you or your spouse is actively working at, and that insurance is primary to Medicare, meaning it pays before Medicare does.
If you do not sign up for Part B when you're eligible, and you do not have other coverage in place, you'll have to pay a late enrollment period.
You should sign up for Part A and Part B when you're first eligible to avoid a delay in coverage. If you wait until after the month you turn 65, your coverage may be delayed depending on your birthday.
Open Enrollment Period
Medicare's open enrollment period runs from October 15 - December 7 each year, with coverage starting January 1 the following year. During this time, you can:
Change from Original Medicare to a Medicare Advantage Plan
Change from a Medicare Advantage Plan to Original Medicare
Switch from one Medicare Advantage Plan to another
Switch from a Medicare Advantage Plan that doesn't offer drug coverage to one that does offer drug coverage; or, from one that does offer drug coverage to one that doesn't.
Join a Prescription Drug Plan
Switch from one Prescription Drug Plan to another
Drop your prescription drug coverage completely
Medicare Advantage Open Enrollment Period
From January 1 - March 31, you can:
Switch to another Medicare Advantage Plan (with or without drug coverage) if you're already enrolled in a Medicare Advantage Plan
Drop your MA plan and return to Original Medicare
During this time, you cannot switch from Original Medicare to a MA plan. You also aren't able to join a Medicare Prescription drug plan or switch from one drug plan to another if you're enrolled in Original Medicare.
Does Medicare cover cancer screenings?
In order to help prevent cancer, Medicare covers some cancer screenings and prevention services. While there are determining factors, such as your age, risk factors, and symptoms you may have that link to cancer, screenings covered under Part B include:
Mammogram (breast cancer)
Pap smear test (cervical cancer)
Fecal blood test and colonoscopy (colon cancer)
Prostate-specific antigen test and rectal exam (prostate cancer)
Low dose CT scan (lung cancer)
To help understand your risk factors and ensure you're getting the proper screenings, talk to your doctor.
Find a Medicare Plan in your area
It's FREE with no obligation
Speak with a Licensed Insurance Agent
M-F 9:00am-9:00pm | Sat 9:00am-3:00pm EST