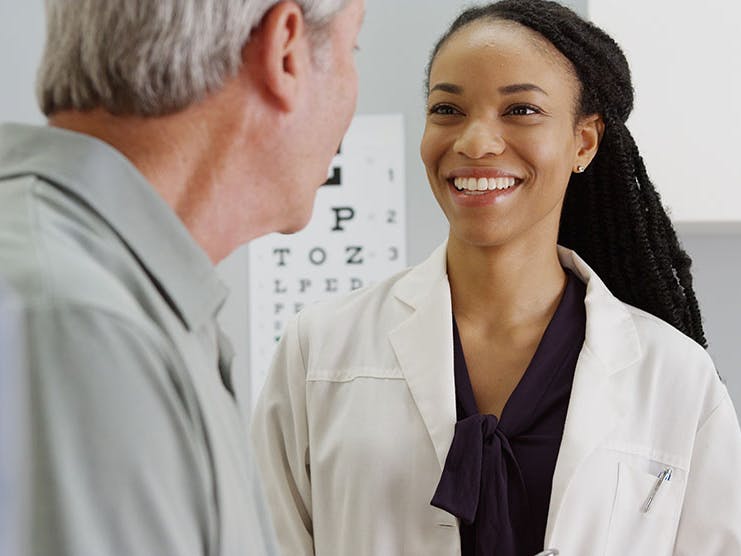 These days, most insurance companies cover a variety of preventive services, such as an annual wellness visit, for one simple reason: they work. These types of screenings help diagnose potential health issues early, while they are easier (and less expensive) to treat. And, if a condition develops between yearly wellness visits, it is less likely to have advanced far, meaning it is also easier to treat.
Medicare Part B covers an annual wellness visit at zero cost to you, assuming you meet the qualifications for this coverage. During your first year with Medicare, though, this is called the Welcome to Medicare Visit.
What Is the Annual Wellness Visit?
The annual wellness visit includes a complete examination and medical history. In addition to taking your vitals like height, weight, and blood pressure, it includes a mental health assessment.
There are two main goals of the annual wellness visit. The first is to assess your risk for a variety of chronic and acute conditions. The second goal is developing or personalizing a prevention plan designed to lower your risk to prevent disease and disability.
This appointment shares some characteristics of an annual physical, such as measuring height and weight, but it is not head-to-toe assessment.
Is the Annual Wellness Visit the Same Thing as the Welcome to Medicare Visit?
All new beneficiaries qualify for the Welcome to Medicare preventive screening within their first 12 months of having Part B. This appointment is nearly identical to the annual wellness visit, but it also includes a simple vision test and body mass index calculation.
If you complete the Welcome to Medicare visit, 11 full months must pass before you become eligible for the annual wellness screening. However, you may take advantage of the yearly assessment even without completing the Welcome to Medicare visit. Of course, if you are still within your first year of having Medicare, you get the Welcome to Medicare visit.
What Services Are Included?
Your wellness visit begins with your provider asking you to complete a questionnaire called a Health Risk Assessment. The assessment is designed to ensure you get the most value from your annual wellness visit. It includes questions about any urgent health needs, your overall health status, and risk of disease or injury due to behaviors and lifestyle. Your answers to these questions help your provider develop your prevention plan.
In addition to the assessment, this yearly screening includes:
Routine vital measurements, including height, weight, and blood pressure
A review of your and your family's medical history
An assessment of your functional abilities, including a screening for hearing impairment
A review of your ability to perform daily tasks, such as dressing or bathing, to help determine your level of safety and risk of falling
Creating a list of current medications, including prescriptions, vitamins, and supplements
Completing a list of current providers and durable medical equipment suppliers (if applicable)
Creating a checklist or schedule detailing screenings your physician recommends over the next five to 10 years (the Medicare site offers details about which screenings and services it covers)
Screening for depression
Screening for cognitive impairment, including conditions such as dementia and Alzheimer's disease
Providing referrals for treatment or suggestions regarding further testing for identified risk factors – may include counseling and education services intended to reduce risk factors, such as smoking cessation or weight loss programs
A discussion about advance directives
What Happens at Next Year's Wellness Visit?
After your or Welcome to Medicare screening, the appointment changes somewhat. Your doctor measures your weight and blood pressure and updates your Health Assessment Risk. He or she also updates your personal and family medical histories and asks for an updated list of your medications and healthcare providers.
Your physician performs another cognitive screening and updates your preventive services schedule. Finally, he or she offers advice on current and potential risks, including referrals for preventive counseling and health education.
What Is My Cost for the Annual Wellness Visit?
Under Medicare Part B, you pay nothing for the Welcome to Medicare screening and annual wellness visit, assuming your provider accepts assignment. For these screenings, the Part B deductible does not apply.
However, if your provider performs additional tests during your appointment and they are not covered under Part B, you may be responsible for the deductible, co-insurance payments, and some or all of the costs of services not covered by Medicare. A Medicare Supplement Insurance plan may help cover these costs. Ask your doctor why he or she recommends these services and whether Medicare covers them.
How Do You Qualify for an Annual Wellness Visit?
If you have Medicare Part B (or a Medicare Advantage Plan), you qualify for an annual wellness visit if you:
Did not have your Welcome to Medicare preventive visit in the past 12 months
Have had Part B for more than 12 months
Have not had an annual wellness visit in the past 12 months
You can – and should – complete a wellness visit once every year. So long as 11 full months pass between appointments, Medicare Part B covers the full cost. That means, if you had your prior wellness visit in January, you do not have to wait until February of the following year for the next one.
Final Thoughts on Medicare's Annual Wellness Visit
Health insurance providers cover preventive screenings because they are highly effective at preventing disease and chronic conditions, or ensuring issues are discovered early. They are a powerful way to take control of your health and lower your risk of cancer, diabetes, and a host of other chronic conditions. If you have yet to schedule your Welcome to Medicare Screening or your annual wellness visit, call your provider today to get started.
Find a Medicare Plan in your area
It's Free with no obligation
Speak with a Licensed Insurance Agent
M-F 8:00am-10:00pm | Sat 9:00am-6:00pm EST