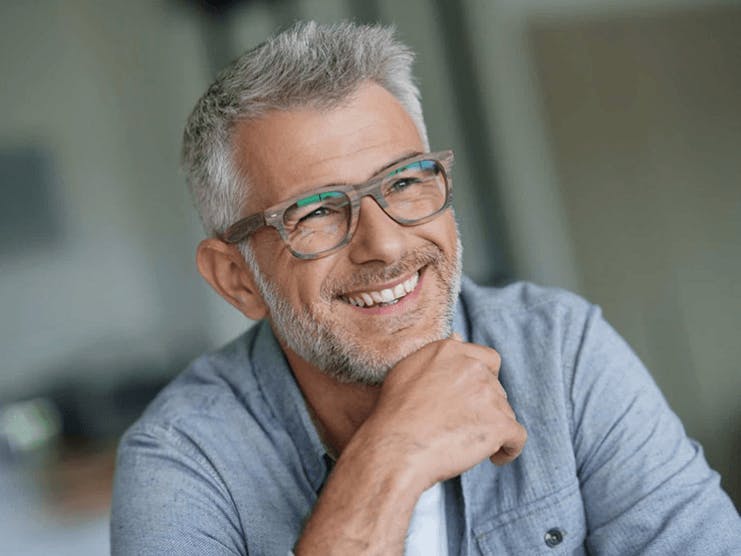 Medicare coverage for most vision services is extremely limited, including prescription glasses or contact lenses.
Original Medicare rarely covers prescription glasses or contact lenses.The exception is if you require cataract surgery and have an intraocular lens implanted. In that case, Medicare Part B coverage includes a single pair of corrective lenses as prescribed by an ophthalmologist.
Medicare Glasses Coverage: When Will Medicare Pay for Prescription Lenses?
Although eye care is a common need as we age, Medicare coverage for most vision services is extremely limited. It is generally predicated on whether you experience certain medical conditions that may affect your eyesight.
Prescription lenses includes glasses and contact lenses. And the only time Medicare helps pay for glasses or contacts is if you have an intraocular lens implanted during cataract surgery. Coverage for this service falls under Medicare Part B.
At all other times, you are responsible for 100 percent of the cost of prescription eyeglasses or contact lenses.
How Does Medicare Part B Cover Prescription Glasses?
As with most covered services, Medicare Part B pays 80 percent of the cost of prescription lenses after cataract surgery to implant an intraocular lens. This includes either one pair of eyeglasses with standard frames or a single set of contact lenses. Additional guidelines include:
The Medicare Part B deductible applies
The supplier who provides your glasses or contacts must be enrolled in Medicare
You pay any additional costs if you choose to upgrade the standard frames
Medicare Part B will also cover cataract surgery when performed using either lasers or traditional techniques. Again, you pay 20 percent of the Medicare-approved amount and your healthcare provider must accept assignment.
Does Medicare Cover an Eye Exam?
Medicare does not cover routine eye exams, such as yearly vision tests to see if you need glasses. Unless you meet certain medical requirements (more on that below), you will pay 100 percent of the cost for routine eye exams. This is true even if you choose an eye doctor who accepts assignment.
When Does Original Medicare Cover Eye Exams?
Eye exams may be covered for Medicare beneficiaries who have certain medical conditions. Coverage is under Medicare Part B. Your provider must accept assignment, the Part B deductible applies, and your out-of-pocket cost is 20 percent of the Medicare-approved amount. If you receive services as a hospital outpatient, your out-of-pocket may also include a copayment in addition to your 20 percent Part B coinsurance.
The following vision care is covered by Medicare Part B:
Glaucoma Screening
If you are considered high-risk for glaucoma, Medicare Part B will cover one glaucoma test every 12 months. According to Medicare.gov, you are considered high-risk if any of the following describes you:
You have diabetes
There is a family history of glaucoma
You are an African American who is age 50 or older
You are a Hispanic American who is age 65 or older
This eye test must be either performed or supervised by an eye doctor who is licensed in your state to perform glaucoma screenings.
Eye Exams for Diabetes
If you have diabetes, Medicare Part B covers a yearly eye exam to check for diabetic retinopathy. This vision exam must beperformedby an eye doctor licensed to perform the test by your state.
Age-Related Macular Degeneration
If you have age-related macular degeneration (AMD), Medicare Part B may cover a variety of diagnostic tests and treatments. AMD is relatively common, particularly as we age. It causes deterioration in the field of vision and is chronic, meaning it cannot be cured. The most common symptom of age-related macular degeneration is blurred vision.
Talk to your ophthalmologist, optometrist, or other healthcare provider about tests and treatment options that are covered by Medicare.
Does Medicare Part A Cover Eyeglasses?
Original Medicare includes two parts. Part B is sometimes known as medical insurance, because it covers outpatient services like doctor visits and lab work. Medicare Part A is also known as hospital insurance. It helps pay for inpatient care received in a hospital or skilled nursing facility (SNF) as well as hospice care.
Medicare Part A does not cover vision services, routine eye exams, or prescription lenses.
Medicare Advantage and Prescription Glasses Coverage
Also known as Medicare Part C, Medicare Advantage plans must provide the same coverage and benefits as Original Medicare. These plans are not limited to this coverage, though. In fact, around 90 percent of Medicare Advantage plans provide additional benefits. The most common of these is prescription drug coverage, but vision care is also included in around three-quarters of Advantage plans.
Common vision benefits if you have a Medicare Advantage plan include:
Routine and preventive eye exams
Prescription eyeglasses, including frames and lenses
Contact lenses
Although the Centers for Medicare & Medicaid Services (CMS) oversees Part C, private insurance companies provide Medicare Advantage plans. Covered services vary from plan to plan. Check details carefully to see whether Advantage plans in your area include vision benefits.
Does Medicare Part D Pay for Prescription Lenses?
Medicare Part D provides prescription drug coverage, which is not included with Original Medicare. And although prescription lenses are prescribed by an eye doctor (as the name suggests), they are not covered by Medicare Part D.
You can compare your Medicare Part D and Advantage plan options with our Find a Plan tool. Just enter your location and coverage start date to review Medicare plans in your area.
Find a Medicare Plan in your area
It's FREE with no obligation
Speak with a Licensed Insurance Agent
M-F 9:00am-9:00pm | Sat 9:00am-3:00pm EST