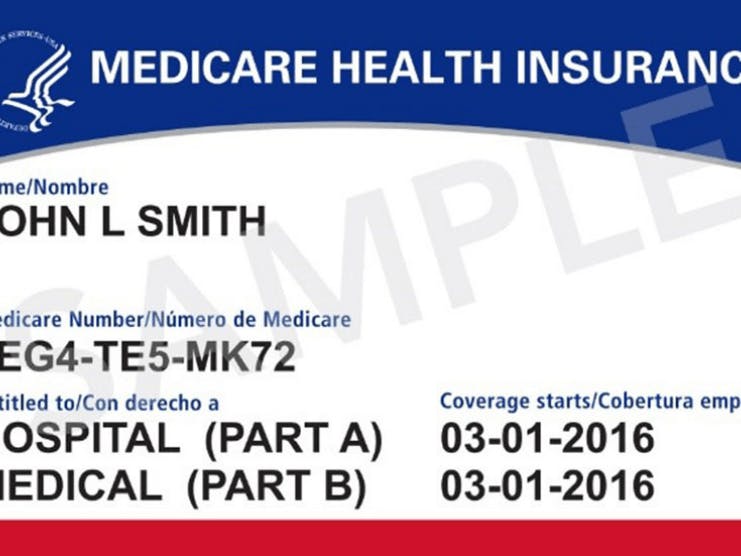 You can do a lot with your My Medicare account, including printing and/or ordering  a new Medicare card.
Yes, you can. Your Medicare health insurance card is the way that you access your Medicare benefits, so understanding how this card functions is important to make sure that your coverage is always simple to receive. We'll go through how to print your card online, as well as several other issues related to your Medicare card, so you can be prepared no matter what situation you find yourself in.
How Do I Get My Card in the First Place?
If you automatically enroll in Medicare, you will get your Medicare card in the mail three months before your 65th birthday. If you receive disability benefits, the card will come on the 25th month after you started receiving your benefits. You need your Medicare card to receive Medicare coverage.
Your Medicare card contains all of the information that you need to receive coverage when you visit your health care provider. It functions as an ID card, as well as an explanation of what coverage you have. The terms used on the card are "hospital" for Medicare Part A and "medical" for Medicare Part B. These two parts together are referred to as Original Medicare.
If you have other forms of Medicare health insurance, like Part D prescription drug plan, a Medicare Advantage plan, or a Medicare Supplement Plan, this coverage won't be represented on your card. You will likely receive a separate card from the private insurance companies that you will use for this coverage.
All of the basic information about your Medicare card is available online at medicare.gov.
What Happens If I Lose My Card?
Losing your Medicare card can be stressful because this is the way that you usually make sure that you receive proper coverage. Replacing your Medicare card is easy, and you can also print your card details from the internet to make sure you have all of the information you need to receive coverage.
Receiving a Replacement Card
To receive a replacement Medicare card, you will have to use the website for your Social Security benefits. This is because Medicare is administered by the Centers for Medicare & Medicaid Services (CMS) which works together with the Social Security Administration for enrollment purposes.
To order a card replacement, simply log in to your My Social Security account at ssa.gov. From here, navigate to "Replacement documents", and simply select "Mail my replacement Medicare card". Once this is done, your new card will be sent to you in the mail and should arrive fairly quickly.
Make sure that your mailing address on file with your Social Security account is correct, or your card could be sent to the wrong address, resulting in further delays.
If you want to order your new card over the phone, call 1-800-MEDICARE or 1-877-486-2048 if you are a TTY user. You'll be able to go through all of the same steps, but for some people, it is easier to do with another person on the line. This is also the number you will call if you suspect that your Medicare card is being used for fraud, which we will discuss more below.
You can also request a new card in person at your local Social Security office.
Printing Out a Replacement Card
If your card has been lost or damaged, you can print out a copy via your MyMedicare.gov account. This will allow you to print an official copy of your Medicare card that you can carry with you and use when you go to the doctor.
Although this isn't technically a Medicare card, the information will be the same as what is found on your card. This means that anywhere that you can use your real Medicare card, you can also use this printed out version.
Risks Associated with Losing Your Card
If your card is lost, the information that it contains can be used to commit Medicare fraud. Medicare fraud consists of somebody using your Medicare information to receive the benefits that you are due. This can also result in you receiving bills for coinsurance payments and other out-of-pocket fees associated with the care that the fraudster is receiving.
If you lose your card, make sure that you order a new one rather than just permanently using a printed out copy. When you order a new Medicare card, you will receive a new Medicare number, which will prohibit your old number being used for fraud.
Aside from losing your card, fraud can also occur in other cases. Many fraudsters target seniors and Medicare beneficiaries on the phone to request their information, such as their Medicare number of Social Security number. Medicare will never request your Medicare number from you over the phone, so be careful about who you share this information with! In general, Medicare advises that you treat your Medicare card like a credit card: don't share the information with anybody.
Final Thoughts on Your Medicare Card
Overall, your Medicare card should be a convenient way for you to receive the benefits you deserve. It is advisable to print out a copy of your card in advance, so on the off chance that you do lose it, you will already have a copy ready. Although printing out a copy is convenient, make sure that you replace a lost card as soon as possible, to limit the chances that you are subject to Medicare fraud.
Find a Medicare Plan in your area
It's FREE with no obligation
Speak with a Licensed Insurance Agent
M-F 9:00am-9:00pm | Sat 9:00am-3:00pm EST