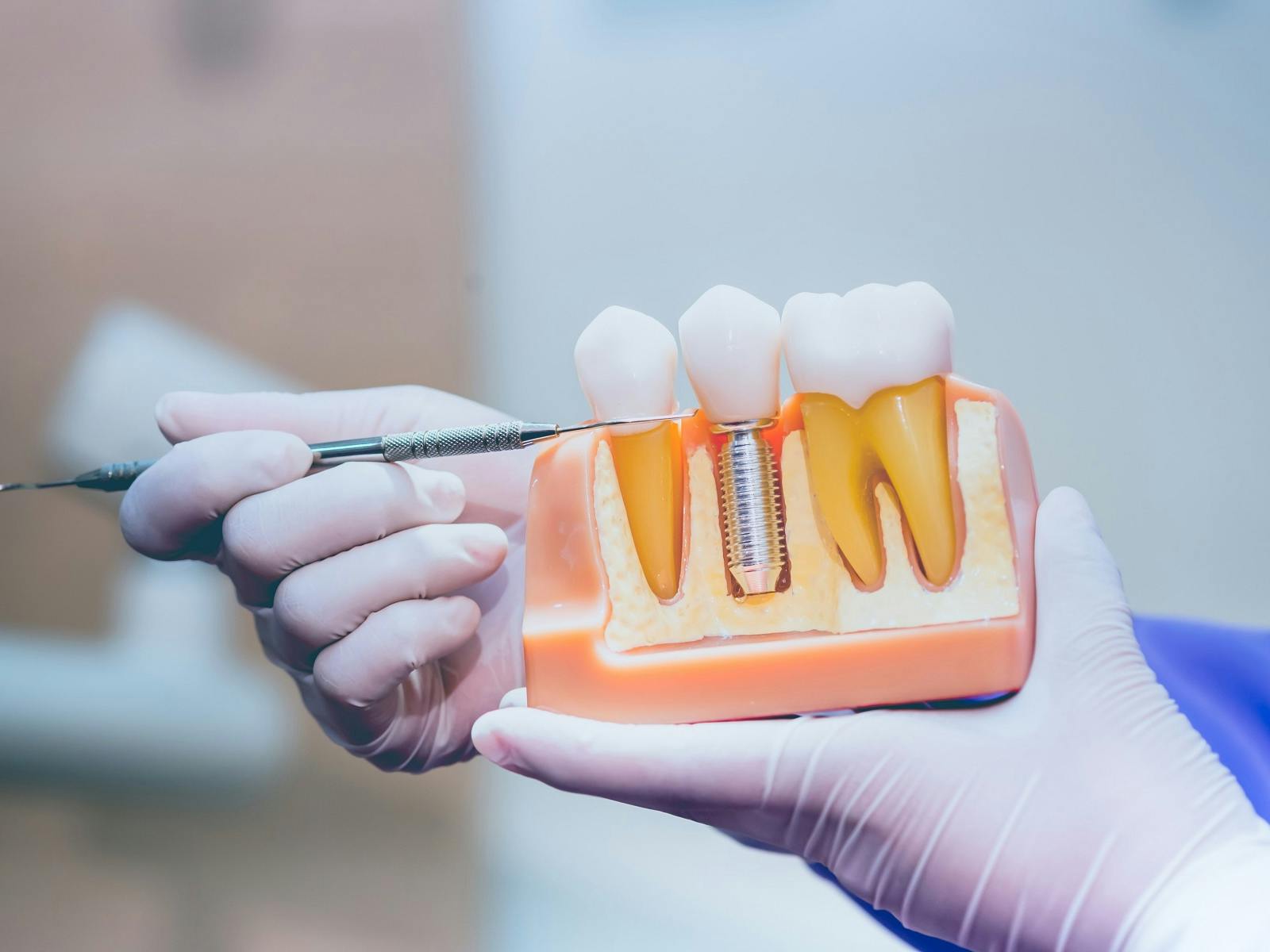 Dental implants help preserve jawbone, making them the preferred choice to replace missing teeth. But will Medicaid help pay for them?
Missing teeth can make it difficult to chew, impact your confidence, and cause other oral issues. While dentures can be an option, people often want to simply replace their missing tooth (or teeth) in a way that doesn't involve removing them on a daily basis – or leave them open to bone loss. In this case, dental implants may be the perfect option.
Dental implants may be covered under Medicaid, depending on your specific state and the root cause of the missing teeth.
When does Medicaid cover dental implants?
For the most part, Medicaid does not cover dental implants for adults. To be covered, the implant must be considered medically necessary, which means the service, in this case a dental implant, would be required to fix the function of your teeth, such as chewing.
It is also likely that they would not be covered unless implants were the least costly solution. In addition, tooth loss would need to be the result of a medical condition that started in the body, like diabetes, osteoporosis, or periodontal disease. Outside of these conditions, dental implants are considered a cosmetic procedure and are not covered.
However, Medicaid recipients under 21 may be able to have at least part of their dental implants covered. People under 21 have a right to Early and Periodic Screening, Diagnostic, and Treatment (EPSDT). There is a higher chance of Medicaid covering the implants if an issue is uncovered during EPSDT.
Though Medicaid is a federal program, with certain benefits that are required by federal law, each state program is different. States can decide to cover additional benefits and choose which benefits they want to include. Check your state's Medicaid office to see exactly what's covered.
Why are dental implants better than dentures?
Dental implants are growing in popularity as the preferred tooth replacement method in comparison to dentures.
The implant is made up of three pieces: the implant body (which screws into the jaw), the abutment (where the crown attaches), and the crown (the "tooth" portion). It is the implant body that makes them more like real teeth, which also "root" into your jaw, and help reduce bone loss. (Think of that sunken look that is so common with removable dentures.) The saving of jawbone is a big part of why implants are considered the superior option.
Another reason dental implants are considered better than dentures is that they last longer. As long as you continue to take care of your teeth and brush, floss, and go to regular dental checkups, the implant body can last a lifetime. The crown will likely need to be replaced every 10 to 15 years due to wear and tear, but that is still better than the average of 8 years for denture replacement.
Typically, dental implants also look more natural and feel more comfortable for the wearer than dentures. The crown of the implant is made by making a mold of your other teeth, so it matches the rest. There is no need for adhesives that might wear away and cause the teeth to fall out or misalign, since they are attached to your jaw.
With dentures, you also run the risk of tooth decay or infection if they have not been perfectly fitted. Dental implants help keep your surrounding teeth stable in a way that dentures do not. Even though you only remove your dentures for short periods of time, or even just to sleep, you can still run into issues with shifting teeth.
Think about it like wearing a retainer after the braces come off. Without something to help keep them in place, there's a chance your teeth will move.
Common types of dental implants
Once your jaw has healed from the placement of the implant body and the mold has been made of your teeth, the crown can be installed. There are two types to choose from:
Fixed: This type of implant has the artificial tooth permanently cemented or screwed to the abutment and it cannot be removed for cleaning or sleep. Generally, each crown is attached to its own implant, but if they are bridged together, multiple teeth can be replaced with a single implant.
Removable: As the name suggests, this type of dental implant can be taken out. It consists of one or more artificial teeth surrounded by fake gum. It is mounted on a metal frame that attaches to the implant abutment and can be removed for cleaning or repair.
If you need multiple dental implants, you can always choose a combination of fixed and removable implants. It is important to discuss what the best option is for you with your dentist to ensure you have the best fit for your mouth. Regardless of the type of dental implant you choose, you can expect to experience the following after surgery:
Bruising around the skin and/or gums
Minor bleeding
Pain around the implant area
Swelling in the gums and/or face
How much do dental implants cost?
The cost of dental implants varies depending on the type of implant you choose, how many teeth you are replacing, and any other dental work you may need done before or in conjunction with the implant.
In general, you can expect a single dental implant to cost anywhere from $1,000 to $3,000. While Medicaid rarely covers dental procedures, and Medicare does not include dental benefits, a Medicare Advantage plan that includes dental coverage may help you with at least some of the cost. But this, too, depends on several factors, including whether your Advantage plan offers dental for a procedure often considered cosmetic.
If you qualify for both Medicare and Medicaid, you may also be eligible for additional benefits. Call us toll-free at 888-992-0738 and one of our licensed ClearMatch Medicare agents will help you understand your Medicare options.
You can also look into a dental plan, typically packaged with vision and hearing insurance. Called a dental vision hearing plan, or DVH, this type of insurance will help pay a variety of dental costs. You can learn more here.
Find a Medicare plan that covers dental
It's FREE with no obligation
Speak with a Licensed Insurance Agent
M-F 9:00am-9:00pm | Sat 9:00am-3:00pm EST