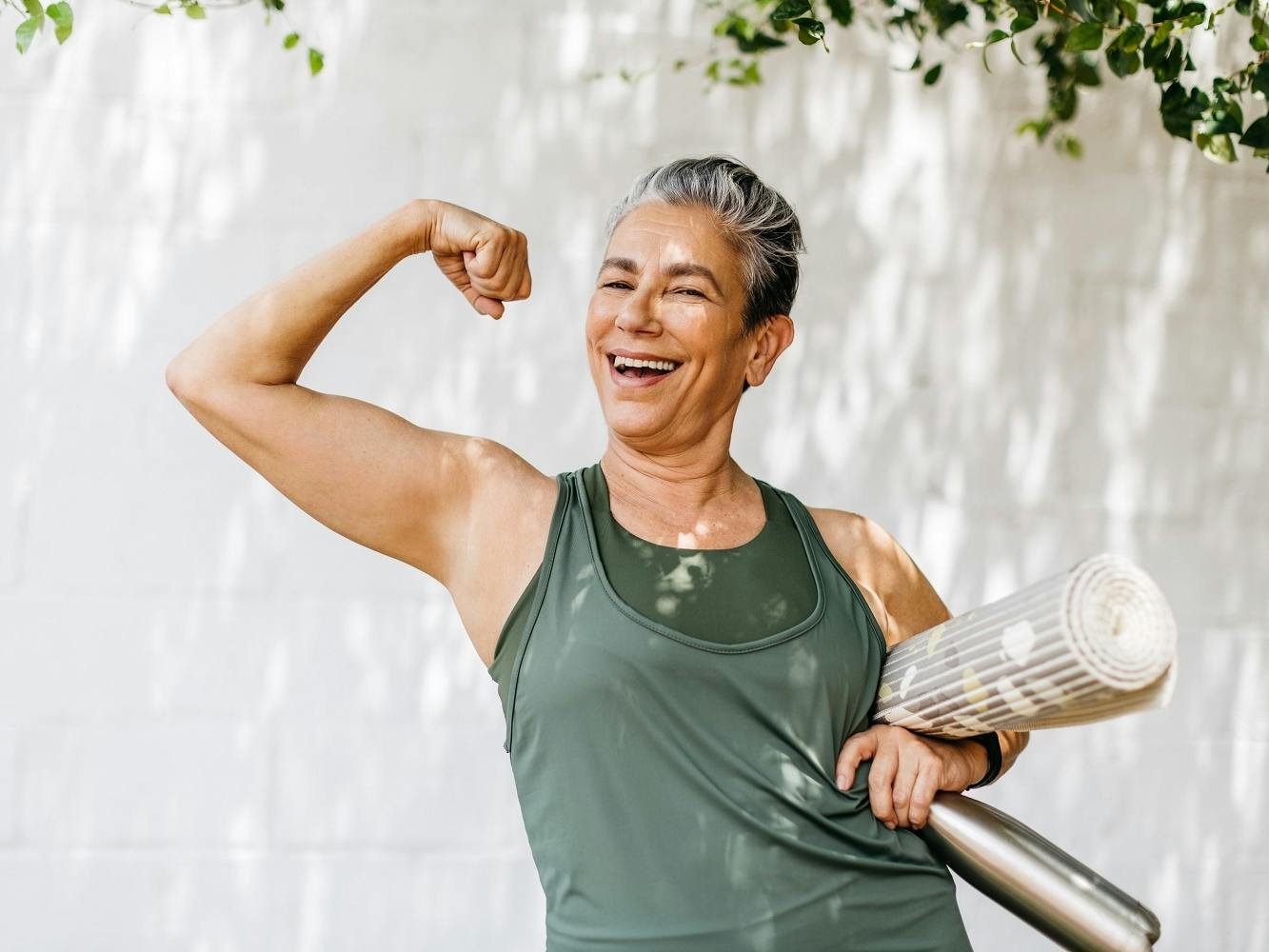 While one's aging and changing body can be difficult to accept, reframing your perspective so that it is rooted in gratitude will help.
As we age, it's only natural to notice the many changes going on in our bodies, both on the inside and the outside. Sometimes it can be tough to keep a positive attitude about these changes.
While there are myriad reasons older adults might struggle with body image, a review of dozens of studies related to body image found that older adults who reported poor health, lower levels of physical activity, and a higher body mass index (BMI) tended to have higher body dissatisfaction.
The good news? The studies also showed that older adults tend to come around to appreciating their bodies more than they did when they were younger.
Redefining yourself as you age
If you're not quite at the appreciation stage yet, it may help to recognize that aging is a somewhat subjective concept.
"There's no biological measure of aging," Dr. Becca Levy, a Yale professor of psychology, told NPR. "We're not like trees that have a number of rings that we can count [as] a biological measure of aging. And there are many different things that go into it, including how culture defines aging and how we ourselves define our own aging."
Choosing your own definition and reframing your perspective can help you move toward embracing the skin you're in. Here are a few approaches you can try.
Lead a healthy life
Taking care of your body is crucial, no matter your age. Self-care includes exercise, eating a healthy diet, getting enough sleep, having a supportive community, and reducing stress. When you prioritize the pillars of wellness, you are reframing the way you think about your body so it comes from a place of gratitude rather than criticism.
Cherish your story
Instead of thinking of wrinkles, scars, and other marks as "imperfections" (which we all have, by the way!), think of them as testaments to the experiences you've had and the challenges you've overcome.
Find new role models
Age and beauty aren't mutually exclusive. Helen Mirren, Martha Stewart, Goldie Hawn, Alfre Woodard, and Christine Baranski all prove older women can be sexy and confident in their changing bodies. Spending some time looking at images of glamorous mature women can help dispel stereotypes of what being older means.
Of course, men haven't had to meet the same lofty physical standards that women have, but let's not leave them off the eye-candy list. John Travolta and Denzel Washington are just two examples of men redefining what "older" looks like.
Focus on everything your body does for you
Instead of dwelling on how your body looks different or the things it can no longer do, focus on what it can still do. Maybe you can still walk or run for miles, hit the gym, dance, or play an instrument. Celebrate these abilities and find joy in them.
Lean on your support system
Talk to friends, family, or a therapist about your struggles with body image. Getting these feelings out in the open can often help change your mindset and quiet your inner critic.
Accept change
There is nothing constant in life but change, and our bodies are no exception to that rule. Instead of fighting to stay the same, try to embrace the changes as just another part of your remarkable life journey.
The key to being less critical about your physical appearance is to reframe the way you think about it. This will help you discover a new appreciation not only for your body but your life as well.
How Medicare Can Help
If you're finding it difficult to accept the changes that come with growing older, you might benefit from psychotherapy. Original Medicare offers coverage for mental health care screening and treatment.
You may also benefit from adding regular exercise to your routine. Not only can exercise boost your mood, you may develop a new appreciation for all your body can do. Look for a Medicare Advantage plan that offers SilverSneakers, a program that provides access to numerous gyms and exercise classes around the country. Check out plans in your area with our easy-to-use Find a Plan tool.
Additional resources
Find a Medicare plan in your area
It's FREE with no obligation
Speak with a Licensed Insurance Agent
M-F 9:00am-9:00pm | Sat 9:00am-3:00pm EST