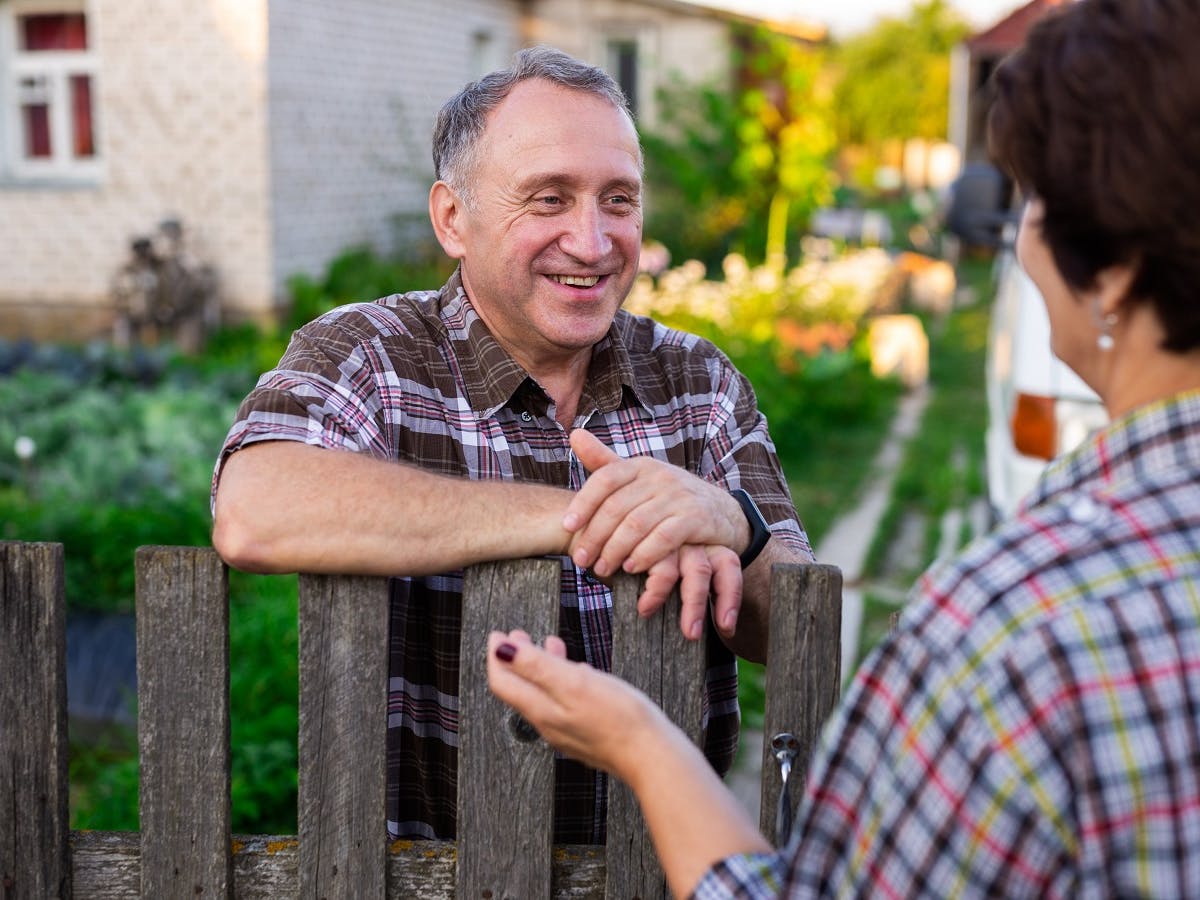 More adults over the age of 65 are embracing living apart together. Here's a look at this trend and whether it's right for you.
When you were in your 20s, it seemed a rite of passage that you would first leave personal items at your significant other's home, move on to swapping keys, and then, eventually, take the big step of moving in together.
But increasingly, among people of all ages, it seems a growing trend is living apart together (LAT). In 2022, there were 3.89 million Americans who chose to live apart from their spouse—almost three percent of all married Americans, according to the US Census Bureau.
Not surprisingly, celebrities have jumped on this trend: over the last few years, stars such as Kourtney Kardashian, Gwyneth Paltrow, and Claire Danes have all 'fessed up to living separately from their spouses. It occurs among people of all walks of life, and all ages, including adults over the age of 55. About 7% of people between the ages of 57 and 85 describe themselves as "living apart together," according to a survey by the National Social Life, Health and Aging project.
"It's a new, emerging form of family, especially among older adults, that's on the rise," Laura Funk, PhD, an associate professor of sociology at the University of Manitoba in Canada, who's studied this topic, told Kaiser Health News in 2018.
Here's what you should know about this trend.
What is living apart together, exactly?
You won't find an exact definition of this term in the dictionary, but in general, it refers to a couple who doesn't live together but considers their relationship to be significantly more serious than just dating. They may or may not be married. They are generally monogamous (meaning they don't see other people) and their significant other is included in their lives on a regular basis.
Unlike a long-distance relationship, they usually live close to one another and in fact, they may see each other daily and even cook and shop together. But each person lives in their own home and manages their own finances.
There are a few reasons why living apart together might be appealing, especially if you're over the age of sixty. They include:
You see each other when you want to
It's easy to take for granted someone you see every day, and retirement means even more time together. For some spouses, living apart can lead to an increased appreciation for one another.
You can leave the dishes in the sink
Sometimes two people who love each other have habits that drive each other crazy. If you and your spouse argue about household matters, having separate households could be a solution.
You won't be forced into caregiving
A 2016 study published in the Journal of Marriage and Family found that many women who took care of ailing parents or husbands worried that they'd find themselves in the same roles again with a new partner. That doesn't mean that you wouldn't take care of your significant other if they needed it, but you want the freedom to feel like you are choosing to do so, on your own terms.
You like your independence
Before meeting your new partner, you may already have a life filled with work (if you haven't yet retired), hobbies, interests, friends, and family. You also may already have a set routine that you're reluctant to give up. This way, you can still maintain your own life and have space while enjoying the benefits of a relationship.
You're worried about what your kids may think
Even if your children really like your new partner, they may have mixed emotions about you living with someone else, especially if it involves changes to the family home.
The flip side of living apart together
There are some downsides about not living together. Some research suggests that some people over the age of 65 who are in a LAT relationship may be less happy and receive less support from their partner than people who are married.
Another downside if you aren't married is that you may have no say in your partner's care if they do get sick. Your partner's family–siblings or children from an earlier marriage–may not recognize your relationship as significant enough to consult you on health decisions.
And of course, there are cost considerations to maintaining separate homes. Depending on your financial situation and the cost of living in your area, it may simply not be feasible for spouses to live apart.
What to keep in mind
If you are thinking about living apart together, it's a good idea to talk about the following with your partner.
Define what your relationship will look like
How often do you expect and want to see each other? Will Saturday nights always be spent together?
Discuss caregiving
Make sure that you are on the same page. It may be that you both have different ideas about roles and responsibilities if one of you gets sick.
Update necessary legal documents
If you want your partner to have a say in your medical care, for example, you may want to designate them as your health care proxy. This means that they will be able to make any necessary medical decisions for you in case you're unable to speak or communicate health care wishes. You can find more information about health care proxies here.
Consider couples counseling
If you have trouble ironing out some of the LAT kinks, counseling may help. This is often covered by Medicare if it falls under the category of family counseling and mental health care. Medicare Part B covers 80 percent of the cost once you've met your annual deductible if it's provided by a behavioral health care provider like a psychologist, social worker, or nurse specialist. The same holds true for Medicare Advantage plans, and some even offer additional benefits.
Do you have Medicare questions? We have answers.
When it comes to Medicare, one plan definitely does not fit all. At ClearMatch, it's our mission to match you to the policy that best serves your unique needs. It's all we do, and we do it better than anyone. Check out our extensive library of articles for answers to your Medicare questions. Or, compare plans in your area to get started finding the policy that's right for you.
Find a Medicare plan in your area
It's FREE with no obligation
Speak with a Licensed Insurance Agent
M-F 9:00am-9:00pm | Sat 9:00am-3:00pm EST