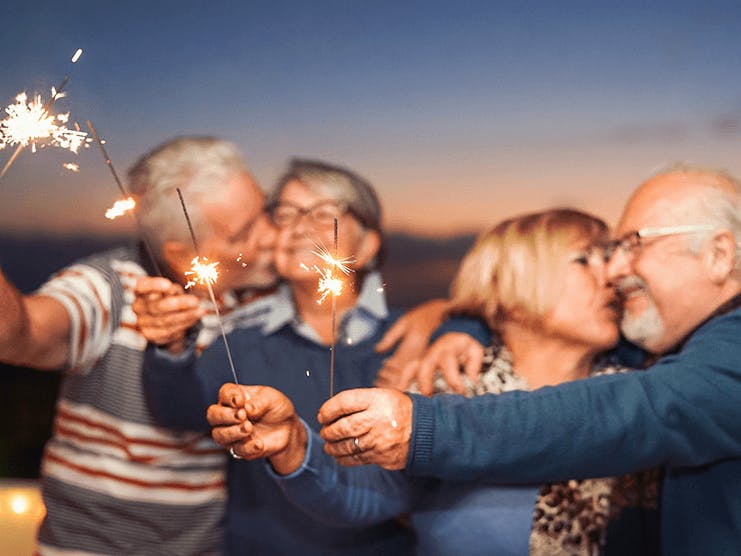 Surviving cancer is a momentous occasion and should be celebrated as just that. Most of us know someone who has beat the Big C. Actually, you probably know more people than you even realize. The American Cancer Society estimates there are 16.9 million cancer survivors in the U.S. – about 5% of the country's population!
Sunday, June 5 is the 35th Annual National Cancer Survivors Day. It's a day to raise awareness of the ongoing challenges cancer survivors face. It's also a day to celebrate and reflect on your journey.
In an interview with The Washington Post, Shelley Fuld Nasso, CEO of the National Coalition for Cancer Survivorship, noted the significance of observing individual milestones as well as Cancer Survivor Day.
"For some, it is an opportunity for empowerment, to define a certain date to share with family, friends and others about their experience and what they went through. For others, it is simply a personal time to reflect on their experience, while perhaps closing one chapter and starting a new one," she told the Post.
Here are some tips on how to celebrate the cancer survivors in your life (especially if that means celebrating yourself).
Ways to observe the day
Whether you'd like to have a day of solo time and reflection, or you'd like to gather with others to share stories about your journey, there are a lot of different options to celebrate the day.
Attend a cancer survivors event in your area and show your support for people who have gone through cancer
Get together with family and friends to celebrate the day and thank them for their support
Take yourself on a "date" or treat yourself to a spa day
Go for a quiet walk of reflection
Express your gratitude for help you've received by giving back to a non-profit cancer organization – or pay it forward with a random act of kindness
Light a candle in remembrance of your journey
Show your support for the day by raising awareness online. Be sure to use the hashtags #NationalCancerSurvivorsDay or #NCSD2023 if you share any photos or articles on social media
Every cancer journey is unique. Do what's best for you on this day of gratitude and contemplation.
Taking care of yourself
Of course, maintaining your health is the best way to celebrate surviving cancer. Take the opportunity to create or review your survivorship care plan. This plan will outline any symptoms to look out for in the future and how often you should be seen for follow-up appointments. It will also list the tests or scans you should have.
Cancer treatment can cause some long-term side effects. Make a plan to manage these, too, whether through medication or other therapy. You deserve it!
Medicare coverage after cancer
If you have Original Medicare or are transitioning to it, there's good news: Medicare covers pre-existing conditions, like cancer, at no additional cost. Tests, scans, and follow-up exams are covered, as well as treatment if your cancer comes back.
Treatment for long-term side effects may be covered if it's medically necessary, such as rehabilitation therapy.
Medicare Advantage plans may offer broader coverage, such as rides to your follow-up appointments or home health aides.
Cancer Survivor Day can be a good time to review your coverage options. For help comparing plans, try our free Find a Plan tool.
Do you have Medicare questions? We have answers.
When it comes to Medicare, one plan definitely does not fit all. At ClearMatch, it's our mission to match you to the policy that best serves your unique needs. It's all we do, and we do it better than anyone. Check out our extensive library of articles for answers to your Medicare questions. Or, compare plans in your area to get started finding the policy that's right for you.
Find a Medicare Plan in your area
It's FREE with no obligation
Speak with a Licensed Insurance Agent
M-F 9:00am-9:00pm | Sat 9:00am-3:00pm EST