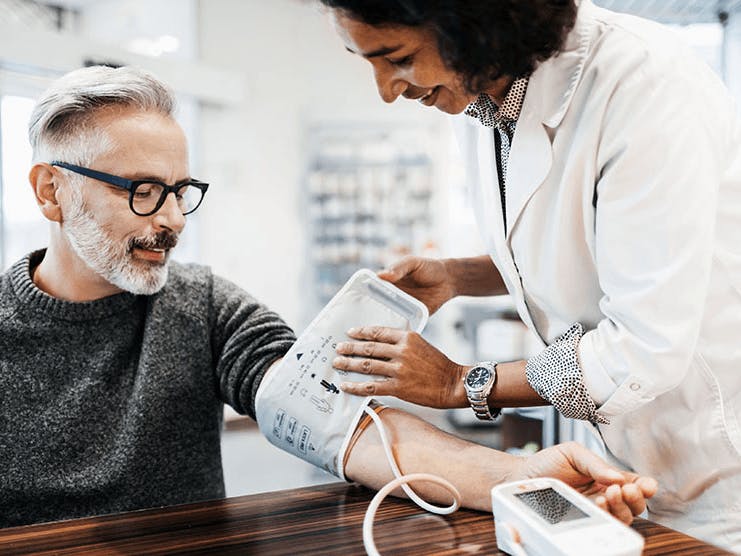 Aging well may mean adding a few new tests to your checkups.
When you see a healthcare provider, you expect them to check things like blood pressure and cholesterol. You're probably not surprised if they also screen you for diabetes or heart disease. These are all important. But depending on your age or other factors (family history, lifestyle, etc.), there may be other tests you should ask about.
We talked to doctors about the important screenings that aren't always included in routine exams. If many cases, if you want them, you'll have to make a special request. So ask your provider if these should be part of your care plan.
Gait Stability
When it comes to being active and mobile, you've got to "use it or lose it," as the saying goes. The more movement you can include in your everyday life, the more mobility and range of motion you can potentially keep as you age. It helps to know your starting point.
That's where assessing your stability can help, says Ankita Sagar, M.D., a primary care physician at Northwell Health, New York state's largest healthcare network. Looking at how you walk can help a provider spot potential problems. To get a good look at your gait, your provider may ask you to walk normally across the room. Then you may be asked to do it again, this time walking heel to toe.
"Using these types of tests can help your doctor understand how you move—and where the difficulties in movement are," says Dr. Sagar. There may be issues that can be helped by physical therapy or regular exercise that improves strength, mobility, and flexibility. Just bear in mind that exercise should be done under the guidance of a physical therapist or other professional — and with the approval of your doctor.
Vitamin D
Research shows that more than 1 in 6 older adults in the United States are deficient in vitamin D. And low levels of vitamin D in older people can have serious consequences, including increasing the odds of the following conditions:
Osteoporosis
Mental decline
Depression
Cardiovascular disease
High blood pressure
Diabetes
Your vitamin D level can be checked with a simple blood test. If you're low, your provider can prescribe the appropriate supplements. They can also recommend simple lifestyle changes that may make sense for you, such as getting more sunshine.
Sexually Transmitted Diseases
Intimate encounters aren't just for the young. And neither are the illnesses that can be passed along during sexual activity.
In fact, for people ages 55 and older, cases of gonorrhea rose by 164% from 2014 to 2018, according to the Centers for Disease Control and Prevention (CDC). In addition, cases of syphilis went up 120% and chlamydia increased by 86%.
There are many factors driving this trend, says gynecologist Christine Greves, M.D., who specializes in obstetrics and gynecology at Orlando Health in Florida.
People are staying sexually active longer, she says. And since pregnancy is no longer an issue later in life, older adults may believe they don't need to use protection. But untreated sexually transmitted diseases can come with serious complications. These can include constant urinary tract infections and a lower immune system response.
"If you're having sex with a new partner, ask for an STD screening during your checkup," says Dr. Greves. "Talk with your doctor about your risk profile and ways to protect yourself and your partner. Ideally, you and your new partner should both have STD screenings before becoming sexually active with each other, to make sure you don't have any asymptomatic infections."
STD screenings, like many of the tests on this list, are covered by Medicare. (You can check out the Medicare screenings list to see which tests are covered.)
Mammograms and Pap Smears
Women start getting regular mammograms and Pap smears in their younger years. These tests are critical for detecting breast and cervical cancer, respectively. But as much as women may want to stop these tests later in life, it may be important to keep getting them until age 75, says Bindiya Gandhi, M.D., an Atlanta-based functional medicine provider.
According to the American Cancer Society, women ages 55 and older should continue getting mammograms every two years. You can also continue yearly screenings, if you prefer. Screenings should continue for as long as you are in good health and expected to live at least another 10 years.
Likewise, Pap smears to screen for cervical cancer may continue to be recommended as you age, depending on your health history, Dr. Gandhi says.
If you're over 65 and have had regular cervical cancer testing during the past 10 years with normal results, you may no longer need to be screened for cervical cancer, according to the American Cancer Society. However, the organization recommends that those with a history of a serious cervical precancer should continue to be tested for at least 25 years after that diagnosis — even if testing goes past age 65.
Make sure your current doctor knows your medical history, and then talk to him or her about which tests make sense.
Bone Density
If you're a woman over age 65 or a man over 70, your provider may have suggested a bone density scan, Dr. Gandhi says. This x-ray-like test looks at calcium and other minerals, and it can tell your provider if your bones are fragile and have a higher chance of breaking. Your provider may also recommend the scan earlier, depending on your health history — especially if you are a smoker, a postmenopausal woman, or someone who has had previous fractures.
Maintaining strong bones is important for many reasons, including lowering your risk of falls, preventing fractures, and keeping joints healthy.
Plus, having low bone density may impact your risk of heart disease. Researchers have found that the process involved in bone mineralization may also play a role in the formation of calcium deposits in blood vessels.
Find a Medicare Plan in your area
It's FREE with no obligation
Speak with a Licensed Insurance Agent
M-F 9:00am-9:00pm | Sat 9:00am-3:00pm EST