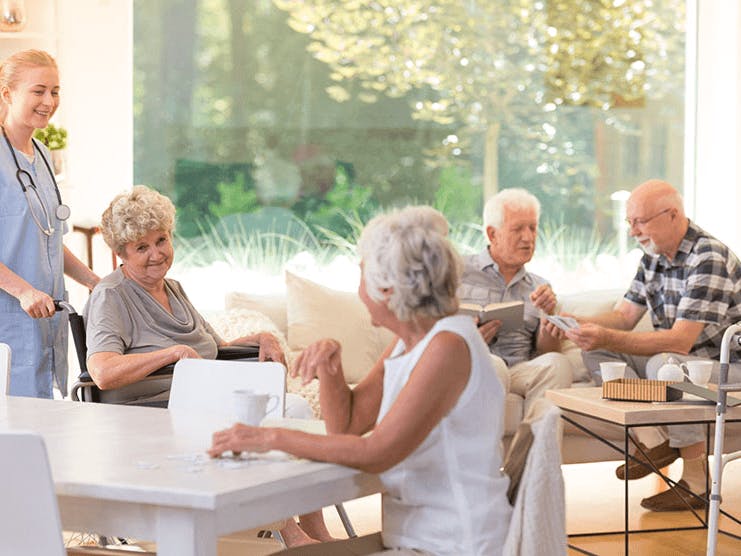 It's exceedingly rare for health insurance to pay for assisted living and Medicare is no exception.
As with most types of health insurance, Medicare does not pay for assisted living.
The need for assisted living is a fairly recent one, the result of Americans enjoying longer lives than previous generations. While people living longer is a good thing, it brings some unique issues our society is still figuring out how to handle. One of these is the increased need for elder care, with many adult children struggling to support their aging parents.
Although Medicare does not pay for assisted living, there are numerous options to help finance this type of long-term care.
What Does Medicare Cover?
Medicare is America's health insurance program for citizens aged 65 and older. You may also qualify if you have a disability, amyotrophic lateral sclerosis (ALS, more commonly known as Lou Gehrig's disease), or end-stage renal disease (ESRD).
Original Medicare includes two parts.
Medicare Part A, also known as hospital insurance, covers inpatient care received in a hospital or skilled nursing facility (SNF). It also helps pay for hospice care.
Medicare Part B, also known as medical insurance, helps pay for inpatient services such as you'd receive in a doctor's office. It also covers lab work, mental health services, durable medical equipment, and more.
Original Medicare coverage does not include long-term care. This includes personal care, custodial care, room and board at an assisted living facility, and assistance with the tasks of daily living (such as dressing yourself, eating, and getting in and out of bed).
If you have a qualifying 3-day hospital stay, Medicare will help pay for short-term care in a skilled nursing facility.
Does Medicare Advantage Pay for Assisted Living?
Medicare Part C, more commonly known as Medicare Advantage, provides the same coverage you get with Original Medicare. The plans are sold by private insurance companies working under the guidance of the Centers for Medicare and Medicaid Services (CMS).
All Medicare Advantage plans must provide the same benefits you have with Original Medicare. However, they are not limited to this coverage and most Advantage plans provide additional benefits. The most common is prescription drug coverage, which is included with around 90 percent of Part C plans. Routine dental care, prescription glasses, and hearing aids are also common extra benefits when you join an Advantage plan.
Since the plans are provided by private health insurance companies, coverage and benefits vary according to the plan. Although long-term care is rarely covered by health insurance, check the plan's details carefully for more information. You can also call the plan provider.
To compare Medicare Advantage plans, just enter your zip code into our Find a Plan tool.
Does Medicaid Cover Assisted Living?
While Medicare operates at the federal level, Medicaid is a state-run program (that accepts federal tax dollars). CMS allows each state to set its own guidelines around Medicaid, as long as they meet the minimum federal requirements.
Medicaid beneficiaries in most states are eligible for some type of assistance paying for assisted living. To learn more about your state's Medicaid program, click here.
Paying for Assisted Living with VA Benefits
Low-income wartime veterans and their surviving spouses may qualify for either Aid and Attendance or Housebound benefits through the U.S. Department of Veterans Affairs (better known as the VA).
Aid and Attendance eligibility starts with receiving a VA pension. In addition, you must meet at least one of the following qualifications:
Require assistance with activities of daily living
Are confined to bed rest due to illness
Have a mental or physical disability that requires nursing home care
Have limited eyesight even when wearing prescription lenses
Veterans may also qualify for Housebound benefits if they have a permanent disability that forces them to spend most of their time at home.
To apply, use the VA link above. Please note that you cannot receive both of these benefits.
What Is Long-Term Care Insurance?
Long-term care insurance (LTCI) is a relatively new type of insurance policy. Private insurance companies offer these plans, with coverage and premiums varying depending on the type of policy you buy.
You choose the level of coverage you want, as well as the types of services covered by your long-term care insurance policy. Coverage options may include:
Daily dollar amounts
How long/how much the policy pays
Activities of daily living (e.g. bathing, dressing, and eating)
Where you receive services (such as in-home care, nursing home, or assisted living facility)
The underwriting process means that the older you are, the more difficult it is to get an LTCI policy. If you have any preexisting conditions, you may be denied coverage or face extremely high premiums. Most experts agree that you should purchase LTCI while still in your 40s.
Paying for Assisted Living with Your Life Insurance
Some life insurance policies can be used to pay for assisted living or other long-term care.
Accelerated death benefits: Also known as ADBs, this feature gives you a cash advance on your life insurance policy. Details vary depending on your policy. Typically, you must meet certain qualifications, such as having a terminal illness, requiring long-term care, or being confined to a nursing home.
Combination products: Some insurance companies let you combine life insurance and long-term care insurance into a single policy. This way, if you're part of the two-thirds of people who never need long-term care insurance, there's still a payout at the end.
Life settlements: You may be able to sell your life insurance policy if you meet your insurer's requirements (generally, the only requirement is age-related).
Viatical settlements: If you are terminally ill, you may choose to sell your life insurance policy to a third party and use the money to pay for long-term care. The third party that buys your policy becomes the beneficiary.
We cannot stress enough how important it is to talk to a financial advisor before making any decisions on how you'll pay for long-term care. Most of these options have tax repercussions. And, of course, may result in either no death benefit being paid out or significantly reducing the benefit.
How Much Does Long-Term Care Cost?
The cost of assisted living and other types of long-term care vary widely according to the level of care services you need and where you live. National averages include:
Expect to pay around $3,700 per month for a one-bedroom unit in an assisted living community
A semi-private room in a nursing home costs around $6,900 per month
You'll pay around $7,700 per month for a private room in a nursing home
A home health aid costs between $20 and $25 per hour
Adult day care (sometimes called eldercare) costs around $70 per day
Certain conditions usually lead to higher healthcare costs. For example, patients who require memory care due to Alzheimer's disease or dementia usually have to pay more.
Most people who require long-term care receive it in their own homes, with a loved one providing care. They may also have a home health aide or someone who provides respite care for the primary caregiver.
Plan Ahead
When it comes to senior care, you can't start planning too early. Talk to your financial advisor and consider your care needs carefully. Also, remember that the majority of Americans never require this type of long-term care. Don't forget to check your state's Medicaid program to see if you qualify for financial assistance that way.
Find a Medicare Plan in your area
It's FREE with no obligation
Speak with a Licensed Insurance Agent
M-F 8:00am-10:00pm | Sat 9:00am-6:00pm EST