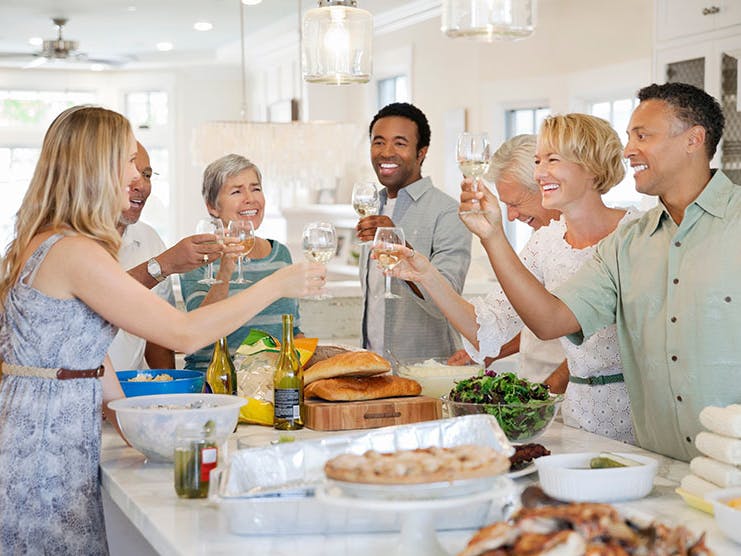 "So, what do you do?"
You've probably asked and been asked this question countless times in your life. It's a common way to start small talk with someone you don't know – and an acknowledgment of the importance our jobs can play in our lives.
After retirement, though, that question can become awkward. If your response used to be "I'm a teacher" or "I'm a customer service rep," you might struggle for a new way to quickly define yourself to other people.
Of course, you could avoid this problem by never engaging in small talk again! But if you want to form new friendships, small talk is inevitable.
"One of the things small talk does is it builds trust and rapport," Jessica Methot, an associate professor of human resource management at Rutgers, told Nasdaq. "You can't build a strong, collaborative, trusting, standing relationship with someone without having had small talk with them. … This is where we're able to get a sense of someone. We're reading them and getting attuned to their energy and emotions."
Assuming you don't want to live the rest of your life as a hermit, you're going to need some alternatives to the "what do you do" stand-by. No worries–we've got you covered.
Getting the conversation going
There are, of course, a million ways that you can strike up a chat with someone, and many can be specific to whatever situation you find yourself in. Still, there are lots of tried-and-true questions that can help get the conversation flowing.
"What do you like to do?" This question is similar but oh-so different from the question, What do you do? Asking people what they like to do offers them an opportunity to jump into a subject matter that they enjoy talking about. It allows people to define themselves as they choose.
"Where are you from?" Most people love talking about their hometowns. And whether they hold fond memories or more conflicting ones, there's always something to be said about where you grew up. Whether people have lived in the same place their entire lives or they moved around a lot as a child, lots of interesting conversation fodder can come from the simple question.
"Tell me about your family." For most people, their families are the most important thing in their lives, and they will happily chatter about their children, grandchildren, siblings, and extended family. The question is also a way of showing respect by asking about the most important people in their lives.
"What are you watching these days?" These days, asking about a favorite television show can be a safer bet than asking what someone's reading. Television has never been better, and most people are passionately involved in at least one show. Share what show you just finished binge watching, and say that you're looking for your next addiction. What do they recommend?
"What do you think of X?" Open-ended questions tend to lead to more interesting conversations. Find something in your surroundings to comment on, whether it be the music, the venue, the food, etc. Or ask their opinion about the new landscaping at town hall or the recently opened shopping center. Of course, stay away from controversial topics, and try to avoid negativity.
Truth is, "what do you do?" was never a great ice breaker, even when you were working. See how much further your small talk will go when you start with a fresher opening line!
So…what do you do?
Inevitably, though, someone is going to ask you this question. It can feel awkward, especially when you're newly retired, but it's easy enough to transition to other topics. Here's the script:
"Fortunately, I'm retired, so I get to do lots of different things! I volunteer at the animal shelter on Mondays, and I'm involved with the community theater. We're currently working on "My Fair Lady."
Now your new acquaintance has enough information to ask follow-up questions and find common ground. (And if they can't, they need to work on their own small talk skills!)
Now get out there, and get chatting!
Find a Medicare Plan in your area
It's FREE with no obligation
Speak with a Licensed Insurance Agent
M-F 9:00am-9:00pm | Sat 9:00am-3:00pm EST