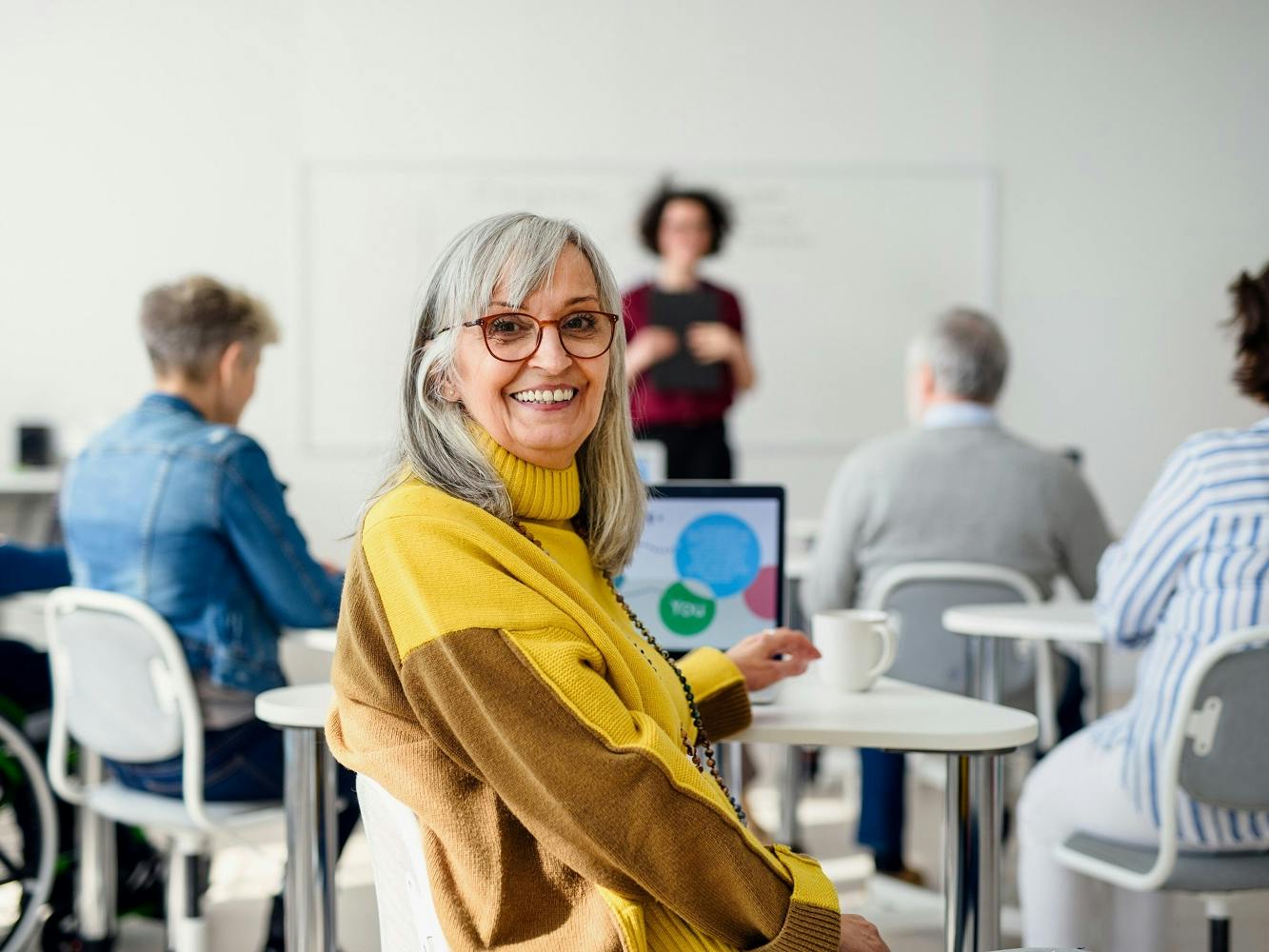 You're never too old to keep learning. Here's why it's good for your brain, along with some easy ways to incorporate it into your life.
Your height isn't the only part of our body that shrinks as you age. It turns out that your brain gets smaller, too! It's a natural part of getting older: the process starts as early as your 30s, then speeds up once you hit your 60s. This helps explain why you may sometimes find that a word's on the tip of your tongue and that it's harder to focus and concentrate.
It's unclear if this natural part of aging can be reversed or slowed. However, building new neural connections in the brain may help your brain work better with what it's got. The key to building these new connections? Learning.
Why you may stop challenging yourself
It's easy to slack off on brain boosting activities after age 65. If you've retired, you may find that you've swapped your work grind for long mornings over coffee and YouTube videos. (Hey, no judgments – you've earned the right to put your feet up!)
But even before retirement, many people find themselves unchallenged by jobs they mastered long ago. And what little time is left for leisure is often spent in front of the television or on activities we've already learned. Even healthy hobbies, like biking, may not give your brain the workout it craves. And once you can solve the daily Sudoku in ten minutes flat, it's no longer challenging enough to build new connections in the brain.
As enjoyable as your daily routines may be, only new experiences will stimulate new neural pathways. That doesn't mean you have to stop riding your bike or whipping through that Sudoku puzzle. You just have to add a new challenge.
How to stay mentally stimulated
The good news is that there are lots of ways to keep learning as you age. You don't have to slog through a course on quantum mechanics to qualify as learning (although if that's your passion, go for it!). Fun activities count, too!
There's also more places than ever offering ways to challenge your mind. Here are a few places to try.
Check out your town's adult education programs
Adult ed programs often offer a dizzying array of learning options. You could learn basic bicycle repair and maintenance in a Monday class; how to take the best photos with your cell phone on Tuesday; introductory mosaics on Wednesday; flower arrangement on Thursday; and how to build a bond portfolio on Friday! And since it's a community-run program, you'll probably also see some familiar faces and make some new local friends.
Listen to TED talks
If you've run out of cat videos to watch (and even if you haven't), try using YouTube to find interesting TED talks. Since its inception at a 1984 Technology, Entertainment, and Design (TED) conference, TED has published lectures from experts on almost any topic you can imagine. Are you interested in both the science of black holes and how body language helps shape who you are? It's one-stop shopping with TED. (Except it's not shopping because it's all free!)
Attend local author readings
Check out the event calendars for your local library or bookstore. For big-name authors, you may have to buy a ticket that includes a copy of the book. But for most writers, these events are free. Writers of non-fiction often talk about how they became interested in the topic, while fiction writers will answer questions about their inspiration and writing process. Who knows? You might discover your new favorite author!
Enroll in a free college class
College costs an arm and a leg (and probably some key organs, as well). But you can enjoy the stimulation of a rigorous college class for free. Online platforms like Coursera and edX allow you to benefit from professors at colleges across the country, taking what you want, when you want it. You could audit a 6-week class in project management so you can better understand your daughter's career. Or you could dive into modern poetry or military history. Whatever your interest, there's a good chance of finding a class on it.
You may also find free or reduced college courses at your local university or community college campus. Many state schools offer steep discounts to retirees, and some don't charge anything! Check your local schools for more information.
Learn a new language
Maybe you hated your high school Spanish class, but language instruction doesn't have to be dull conjugations and useless sentences. (When are you ever going to need to say "Pablo is cleaning the blackboard"?) Wouldn't it be fun to order your linguine in Italian? Or surprise your Brazilian neighbor with a greeting in Portuguese? Try the Babbel app for a structured approach, or the free app Duolingo for game-based lessons (there's even a leaderboard!).
Take up a new hobby
Any new activity will give your brain a nice dose of novelty and stimulation, but even better are hobbies that can present new challenges over time. Like music? Pick up a ukelele on the cheap at a yard sale, and hire a high school kid to teach you to play. Become a bird watcher, and learn to recognize each species by its song. Start your own blog, and learn how to set up your site, add photos, publish your posts, and reach new followers.
More ways to stay sharp as a tack
Did you know that a healthy diet and regular exercise can help keep your brain at its best? Many Medicare Advantage plans offer coverage for gym memberships and nutritional counseling. Compare available plans in your area with our easy-to-use Find a Plan tool.
Additional resources
Find a Medicare Plan in your area
It's FREE with no obligation
Speak with a Licensed Insurance Agent
M-F 9:00am-9:00pm | Sat 9:00am-3:00pm EST