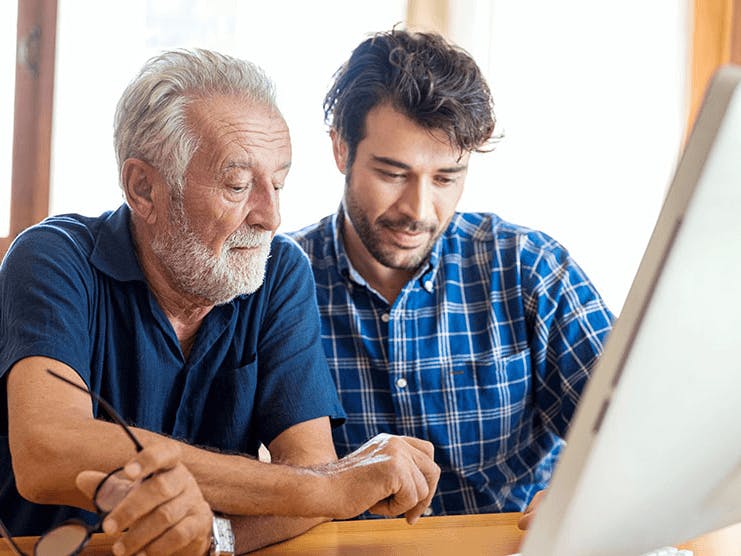 It may feel impossible. Even intrusive. But it's one of the most important conversations your family can have. In part one of the series, you'll learn how to do it, what to share, and what to do next.
In principle, parents agree with the professionals: It's important to talk to your kids about your finances. In reality, many put the conversation off—only 11% of parents will likely initiate a talk about money, according to a survey by the financial company TIAA. And when parents and their adult children do discuss these issues, more than 90% feel the conversations leave out important details.
Whatever your situation, now is the time to call a family meeting, experts say—before there's an emergency. You've probably started thinking about how you'll live out the rest of your life, including how you'll manage and maintain your independence, says Judith Stern Peck, LCSW, director of the Money and Family Life project at the Ackerman Institute for the Family in New York City.
"The more your children know about your preferences, the more likely those things can happen," says Stern. "But if you don't have those conversations, whether it's about a living will or about your financial situation, then a crisis happens and no one quite knows how to handle it."
Of course, this will be a tough conversation—for both you and your children. Money is a taboo topic, and if you haven't been talking to your kids about it from the time they were tots, it's much harder at this stage, says Peck, who's also the author of Money and Meaning, a guide for therapists and coaches on how to talk about money with their clients. But you can get over these hurdles, starting with these tips.
The problem: You don't really know what's holding you back
A lot of issues can get in the way of bringing up the topic of money. "It varies among individuals and from family to family," Peck notes. Perhaps you don't want to think about your own demise, or you want to stay independent. Maybe you're embarrassed that your kids will judge you for doing such a bad job with your finances, or vice versa—you don't want to show them how successful you are, Peck says.
That urge for privacy can be tough to overcome, says Alexandra Armstrong, a certified financial planner in Washington, D.C., and co-author of Your Next Chapter: A Woman's Guide to a Successful Retirement. "Some people are reluctant to have these conversations because they don't want to reveal their financial situation." In another Fidelity survey, nearly a third of parents worried their kids would count too much on getting an inheritance.
The fix: Do a little self-reflection about what's really holding you back, Peck says. Many times, it's plain old anxiety. Simply acknowledging that is an important first step in pushing past those emotional obstacles, she says.
When you face those worries head-on, you can rein them in by thinking about your values and what matters to you. For example, Peck says, you could tell yourself: "If I believe that family is important to me, one of the responsibilities is we take care of each other. If I translate that value into actions, then what's the big deal? Talking about finances is one way I can care for my family."
Another thing to remember, says Armstrong: You don't have to share all the details about your financial situation if that's what's stopping you. Instead, give them the big picture (at least during this initial conversation).
The problem: You really don't know what topics to cover
The fix: Think of this as the first in a series of meetings about your finances, Armstrong says. "I think starting with a discussion of the legal documents is a good idea. Of course, this assumes you have done your job of getting your legal life in order—healthcare and financial powers of attorney, wills, trusts, etc. Your family needs to know where all these documents are located," she says.
Peck also advises starting the conversation this way, with a show-and-tell about where everything is filed so that your kids know where to look if something happens to you. "That's kind of a benign opening," she says.
You also might want to provide a hard-copy list of all this information, recommends Armstrong, including passwords to your accounts (and your computer and other devices). Again, this is for their information in case of emergency—not for checking up on you without permission.
Other topics to touch on this first time, says Armstrong: Your funeral (Have you prepaid? Will you be cremated?) and whether you have long-term care insurance. If you do have it, make sure your family understands how it works and whom to contact at the insurance company if you become ill and need the assistance.
The problem: You're afraid the conversation will force you to make changes
The fix: You don't have to change anything, Peck says. "Having the conversation doesn't mean you have to do something. It's a step-by-step process. You can just say that to your child: 'I don't want to change anything.'"
The next conversation (or the one after that) can cover your sources of income—your IRA, Social Security—and how you manage your financial life, Peck says. That can come several months later. The key is to be transparent so that everyone feels comfortable. At this stage, you're still giving them information. You're not telling them they need to pay your bills or take over. (That's yet another conversation, when you give them the power of attorney.)
Consider this too: Sharing this information is another layer of safety for you, Peck says. One of the first signs of cognitive decline is the inability to pay bills or take care of finances. Bringing your children into your financial life so that they're comfortable asking you occasional questions can only be a good thing.
The problem: Your kids brush you off
Most kids really want to sit down with their parents to have an honest conversation about their parents' long-term plans, including finances, at least according to the surveys by TIAA and Fidelity. But if yours don't, they might have issues too, Peck says. "They might not want to talk about their parents' mortality, or they're worried about what-ifs, like, 'How will I manage to take care of my mom or dad?'"
The fix: Whatever your kids say, Peck suggests telling them, "I think we should really talk about this because one never knows—I could be crossing the street and end up in the hospital." It's also time for transparency. Just as you don't want to lose independence, your kids may not want to take responsibility. These issues need to be aired out.
Another way to get kids to the table is to call a family meeting, Armstrong says. Do it in person if possible, but if not, then Zoom is the next best thing, Peck says. And it's best if you can have the meeting with all your children. "What it can mean is that one of them will take on the responsibility of your health and one of them will take on the responsibility of your money," says Peck. "Like it takes a village to raise a child, it also takes a village to take care of parents as they age."
The problem: You really can't touch this topic no matter how hard you try
If you can't bring up the subject, you're not alone: 38% of parents never broach the topic, according to Fidelity. And TIAA research found that 1 in 5 parents are completely content to never discuss the issue. But not talking won't prevent stress now (or in the long term).
The fix: Go to a third party. "I think some people need that, and it's not a bad thing to do," Peck says. There are people who can help you facilitate that conversation, from a financial adviser to a therapist. You have to feel that it's someone who has your best interest and someone you have confidence in, she says. Just say, "I want to talk to my kids about my finances and I'm having trouble. Can you help me?" Most people who work in the financial world are comfortable doing that if you ask.
Find a Medicare Plan in your area
It's FREE with no obligation
Speak with a Licensed Insurance Agent
M-F 8:00am-10:00pm | Sat 9:00am-6:00pm EST