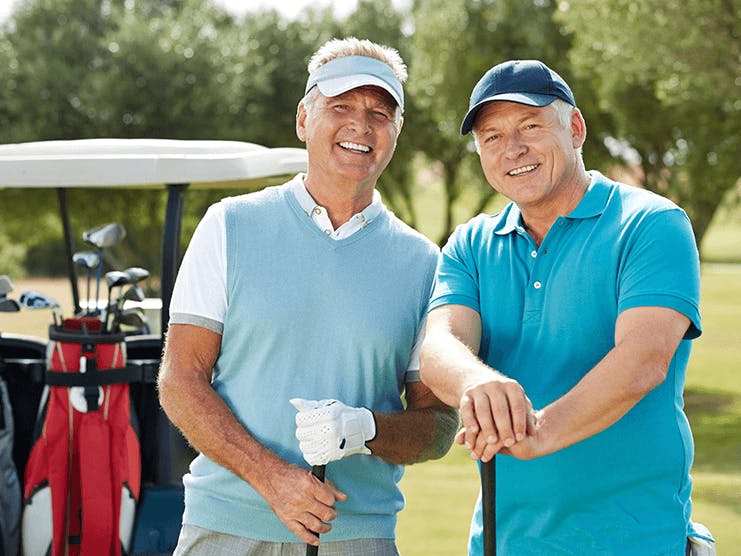 When it comes to retirement, you can never start planning too early – especially if you're looking to move to a 55+ retirement community.
By the time you retire, you've likely spent decades working a job, taking care of a family, and handling other responsibilities. You deserve retirement and the opportunity to spend your days relaxing and enjoying life. That's why more and more people are choosing to live in a retirement community, or senior living community, once they reach a certain age and have left the workplace.
You can find retirement communities all around the country, offering different types of homes, levels of assistance, and amenities. Knowing which is best for you can take a lot of research and planning, but depending on how you want to spend the next several years, it may be a great option.
In this article, read to learn more about what a retirement community is, how to choose one, and the top communities in the country.
What is a retirement community?
Retirement communities were developed for those who have retired and are looking for a way to remain active, but also have peace of mind that they will be taken care of and are safe. Families and residents can feel at ease knowing they can rest, live in a clean place, are fed, and their social and physical needs are being met in a secure environment.
These communities are also designed to allow residents to maintain independence for as long as possible, encouraging them to be active and involved with activities and other residents.
Some communities also offer assisted living or nursing home components, so if care needs change over time, the resident will not have to find a new community or make other arrangements. This makes getting the care you need easier, even as your personal circumstances slightly change.
Each retirement community is different, but some common perks and amenities may include:
24/7 access to staff and security
Activities schedules
Common areas for gathering
Daily meals served in a community dining area
Gyms or fitness facilities
Health care services
Housekeeping services
Linen and laundry services
Outdoor spaces and courtyards
Personal living quarters such as houses, townhomes, or apartments
Planned outings and excursions
Transportation services
Top 6 retirement communities
Here's our list of six of the top retirement communities in the U.S.
The Villages
Located in the heart of Florida, The Villages ranks as America's top-selling master-planned community for active adults ages 55 and older. As of 2017, more than 115,000 residents lived in The Villages, which consistently ranks as the #1 active adult community in the U.S.
Within 32 square miles, more than 60,000 households make up The Villages, as well as golf courses, country clubs, tennis courts, lakes, parks, swimming pools, restaurants, shopping, and more, all of which can be accessed via golf cart.
Cost of living depends on the type of home you choose, which can start at $190,000 and go up to $600,000 or more with six housing floor plan options to choose from.
There is also a $179 monthly amenity fee that covers more than 3,000 activities and clubs and provides access to 42 executive golf courses.
The Villages Public Safety Department includes EMS/EMT and fire department services, as well as a 307-bed acute care hospital that is located within the community for your healthcare needs.
Sun City Hilton Head
Sun City Hilton Head is located in Bluffton, South Carolina and home to more than 16,000 residents. Part of the Del Webb collection, it sits on more than 5,725 acres with 7.5 miles of walking trails and paths, 36 common area buildings, three state-of-the-art fitness centers, swimming pools, a performing arts center, crafts center, woodshop, sport park and softball field, pickleball courts, tennis courts, and bocce courts.
There are also two golf courses, 73 chartered clubs, and 46 registered community groups. You won't be bored at this award-winning retirement community, which has been nationally recognized on several occasions for being one of the best active adult retirement communities in the U.S.
The community includes more than 8,000 homes, starting from $339,900 and ranging in size and amenities, including a number of Smart Home options. With plans to build more on recently acquired land, options include 1,000-square-foot villa townhomes all the way up to 4,000-square-foot custom single-family homes and more than 10 floor plans.
Plus, the community is only 13 miles west of Hilton Head Island, known for its beaches, golf courses, and unique shopping experiences.
Sun City Huntley
Another of the Del Webb collection, Sun City Huntley is located in Huntley, Illinois. Sitting on more than 2,200 acres, members can enjoy an award-winning golf course, on-site restaurant, wellness center, state-of-the-art fitness center, pools and spas, tennis and pickleball courts, softball fields, woodworking facilities, walking and biking trails, and more than 80 chartered clubs and special interest groups.
It also has a 94,000 square-foot clubhouse (Prairie Lodge) and 20,000-square-foot facility (Meadow View Lodge) that hosts a variety of activities.
This resort-style community is located about 50 miles northwest of Chicago and is comprised of 41 neighborhoods with 5,481 homes. Homes range in style and size, including condos, townhomes, and single-family homes, priced from the mid $100,000s to the high $500,000s. In fact, there are 37 different single-family home models that range from 1,130 square feet to more than 3,000 square feet. Ranch-style homes have 13 floor plans to choose from, and there are three townhome plans.
Solivita
Close to Disney World, Universal Studios, and other Orlando attractions, this retirement community in Kissimmee, Florida has more than 40 amenities, 250 clubs, three restaurants, two fitness centers, two golf courses, pickleball courts, tennis courts, indoor and outdoor walking trails, and more.
The gated community Solivita sits on more than 4,300 acres with 5,900 homes offered across the 21 distinct neighborhoods. Homes range from 1,361 square feet to more than 2,540 square feet, and there are more than 20 home collections and multiple models to choose from.
The Solivita homeowners' association takes care of security, common area maintenance, lawn care, and road maintenance. This gives residents plenty of time to participate in the number of activities offered each week, from dancing to pottery to oil painting to yoga. You can also take part in a fitness class in the 19,000-square-foot Palms Amenity Complex or enjoy a spa day in the 32,000-square-foot Riviera Spa & Fitness Center.
If you're looking for a warm-weather destination with plenty of activities, a great location, and affordability, Solivita may be right for you.
Rio Verde Community and Country Club
Rio Verde is an award-winning retirement community located about 10 miles east of Scottsdale, Arizona. With more than 980 custom-built homes, townhomes, and villas ranging from less than $300,000 to more than $2 million, there's likely something here for everyone. Most homes are on large lots with golf course, mountain, or desert views, and homeowners will find unparalleled openness, peacefulness, and quiet.
The golf courses provide 200 acres of green space, and the recently renovated Clubhouse houses restaurants and social activities. The Community Center hosts a fitness center, massage room, art studio, community library, tennis courts, pickleball courts, bocce courts, and a heated pool with spa.
Rio Verde also has a community church and post office, and the Rio Verde Fire Department, with full emergency medical services and an on-site ambulance, is located within the community.
The HOA assessment, which was $4,468 in 2021, includes membership in Rio Verde Country Club and all Community Association amenities, weekly trash and recycling services, TV cable service, and street maintenance.
On Top of The World
Repeatedly named one of the best places to live, On Top of the World in Ocala, Florida is 13,000 acres of a master-planned community. "Where the cool kids retire," On Top of the World has several different communities and neighborhoods available featuring single family, maintenance-free, and luxury estate homes, as well as more than 250,000 square feet of indoor and outdoor amenities.
Three golf courses, a Community Town Square with indoor entertainment venue, fitness center, and lifelong learning programming, as well as more than 200 resident clubs and social and service organizations, provides an endless stream of concerts, dances, parties, happy hours, theatre, get-togethers, and more. There are also 17 miles of walking trails.
Plus, each home is built with superior material sand brands for better energy efficiency. Prices start at the mid-$240,000s and range to the mid-$400,000s. You have the ability to personalize your home and add your own personal taste with a variety of floor plans and options.
What that to look for in a retirement community
Each retirement community is different, so prior to deciding on one to move to, be sure to do your research, ask questions of the staff and other residents, and visit the community to check out particular amenities and services.
Item

What to look for/questions to ask

Staff

What are the hiring practices?
What is the staff-to-resident ratio?
What type of training does staff receive?
What are the roles of the staff?

Culture

Is it considered formal or casual?
Are other residents social? Or quieter?
What is the overall vibe, and does it match my personality?

Amenities

What are the amenities offered here?
What if I want something that isn't offered?
Do they fit my interests?
What clubs/activities are offered?

Safety

What are the safety features here? (cameras, gates, etc.)
Is there security available?
What types of security/safety issues have been reported?

Accreditation

Is the facility accredited?
Have they won any awards or been recognized in any way?

Levels of care

Is assisted living or nursing home care offered?
What if my health needs change over time? What is the process for transitioning to different levels of care?
What type of doctors are on staff? What type of illness/injury is the staff equipped to handle?

Housing

What type of housing is available?
What are the floor plans?
Are the residences equipped with appliances? Laundry?
Are there safety features in the home?
What is the privacy like?

Location

How far is it to the nearest hospital?
How far is it from my current doctor?
How far from other amenities, like the grocery store?

Food

What meals are offered?
Are special diets accommodated?
What if I have a request?

Personal services

Do you offer housekeeping, laundry, transportation, etc.?
Other questions you may want to ask staff include:
How much does it cost to live here?
What is the application fee?
What is the payment schedule?
What is included in the monthly fee? Maintenance fee?
What other charges would I have to pay for?
How do you help residents maintain freedom and independence?
What type of emergency response systems do you have?
What is the resident satisfaction level here?
Can you give me a copy of your residency agreement to review?
Remember, this is somewhere you could be living for years to come, enjoying the retirement that you worked so hard for. Don't make the decision lightly, and don't be afraid to ask questions, take a tour, and talk to whomever you can to ensure you feel comfortable with what you decide.
Find a Medicare Plan in your area
It's FREE with no obligation
Speak with a Licensed Insurance Agent
M-F 8:00am-10:00pm | Sat 9:00am-6:00pm EST