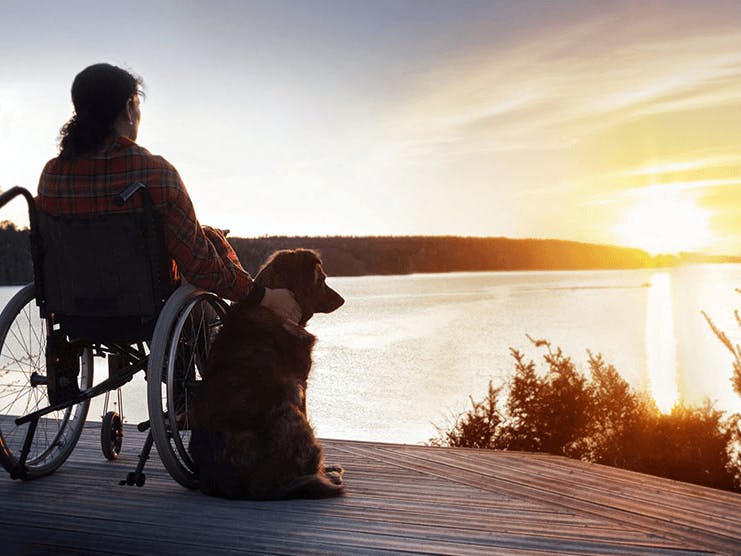 Your Medicare Part B benefits include durable medical equipment when considered medically necessary by a qualified healthcare provider.
Yes, Medicare can pay for a wheelchair. Like many other things, the coverage depends on several factors. Medicare health insurance will provide coverage for durable medical equipment, such as wheelchairs when they are determined by your doctor to be medically necessary for your health condition.
We'll go over what exactly this means, as well as what your wheelchair options are as a Medicare beneficiary.
Understanding Durable Medical Equipment
Wheelchairs qualify as durable medical equipment or DME. Durable medical equipment refers to any equipment that is used repeatedly for your health needs. This includes things like crutches and other mobility aids, hospital beds, and oxygen equipment.
Medicare will not always cover all of the durable medical equipment that you may need. There are some limits regarding the functionality that is covered. For example, certain types of electronically adjustable hospital beds are not covered, even though ordinary hospital beds will still be covered when they are medically necessary.
If you are looking at coverage options regarding wheelchairs to help with your medical condition, remember to look for information about durable medical equipment. Much of this information will be general and apply to wheelchairs as well as other equipment.
You can learn more about the types of equipment Medicare covers at medicare.gov.
Part B Coverage for Wheelchairs
Generally speaking, Medicare Part B will cover medically necessary wheelchairs and scooters, as well as other mobility aids. Part B is the part of Original Medicare that covers outpatient healthcare costs, so it makes sense that this is where your wheelchair coverage will come from. Medical necessity will vary from patient to patient. If you aren't able to perform the activities of daily living due to mobility issues without this equipment, it will usually be covered.
If you have to use a wheelchair within a hospital setting, then it will be covered under Medicare Part A. However, because hospital wheelchairs are usually not fully rented out or purchased by you, the payment may be nonexistent or simply itemized on your usual hospital bill.
Medicare-Approved Suppliers
Understanding approved suppliers is one of the most important things you can do to make getting your wheelchair simple and easy. Not all suppliers of durable medical equipment will accept the Medicare coverage that you have. You can think of approved suppliers as similar to healthcare providers who accept Medicare assignment.
If you go to a supplier who does not accept assignment, then you could end up having to pay significantly more for your wheelchair. Approved suppliers are only allowed to charge you the amount of your Part B deductible, along with a 20 percent coinsurance. Suppliers who are not approved can charge much more than this.
Make sure that your supplier is approved by Medicare before you sign any documents or make any commitments. Your doctor may be able to help you find Medicare-approved suppliers in your area.
What Type of Wheelchairs Are Covered?
If you need help with your mobility, then manual wheelchairs can differ widely from electric or power wheelchairs. Medicare can provide coverage for any type of mobility aid that is deemed medically necessary by your doctor. If you need a power wheelchair, then your doctor will be able to tell you if this can be covered by Medicare.
Can I Get a Wheelchair Using My Medicare Advantage Plan?
Yes, you can get a wheelchair through Medicare Advantage. Medicare Advantage, or Part C, offers you a way to get your benefits using private insurance companies. These private companies are legally required to provide you with at least the same benefits that Original Medicare provides. However, they will usually function as an HMO or PPO and will have their own provider network.
This means that anything Original Medicare pays for will also be paid for by Medicare Advantage.
There may be some differences, though. For example, you could have a higher cost-share, like a coinsurance or co-payment, and you may have a bigger (or smaller) selection of suppliers to choose from. Make sure that you check the details of your plan before you choose a supplier.
How Have Things Changed? Understanding Competitive Bidding
If you have gotten a wheelchair covered by Medicare in the past, then the system currently in place may differ from what you are used to. This will be due to something known as Competitive Bidding.
The Medicare Competitive Bidding program can be complex to understand as a whole, so we'll just cover the basics as it relates to your needs. In essence, Competitive Bidding mandates a certain method for DME suppliers to set their prices with Medicare each year. This is distinct from how price setting is done in other medical areas, like hospitals or private practices.
While understanding how competitive bidding has affected the market is very complex, the result for many consumers has been negative. This means that prices may have gone up and that there may be fewer suppliers in your area. This can result in more difficulty overall, especially if you need a less common type of mobility aid.
If you have used a Medicare-covered mobility aid or another form of durable medical equipment in the past, especially before 2003, don't assume that this same supplier is still approved by Medicare. As always, make sure that you check all of the details with your plan and doctor so that you can make sure that you are covered.
Replacing and Repairing Your Wheelchair: Is it Covered?
If your wheelchair has an issue, or if you need to upgrade to a mobility aid that has more features, your coverage may vary. In general, Medicare won't cover upgrades from manual to electric wheelchairs.
If your wheelchair has suffered normal wear and tear from everyday use, you may be able to get a replacement covered. However, this depends on how long you have been using the wheelchair. In most cases, Medicare will pay for the replacement if it has been in use longer than five years.
If you need a repair of replacement, the way to do this is by essentially getting a new prescription for this equipment from your doctor. They will have to determine that the repair or replacement is necessary. If it is, then a Medicare-approved supplier will be able to provide it to you and it will be covered by Medicare.
Summary of Medicare Coverage for Wheelchairs
If you understand how DME coverage works, then you understand 90% of how wheelchair coverage works. While wheelchairs do have a few special conditions, they function in the same way that many other types of equipment do. The important takeaways are to always make sure that your supplier is Medicare-approved, and to understand the repair and replacement conditions for your specific wheelchair.
Find a Medicare Plan in your area
It's FREE with no obligation
Speak with a Licensed Insurance Agent
M-F 9:00am-9:00pm | Sat 9:00am-3:00pm EST