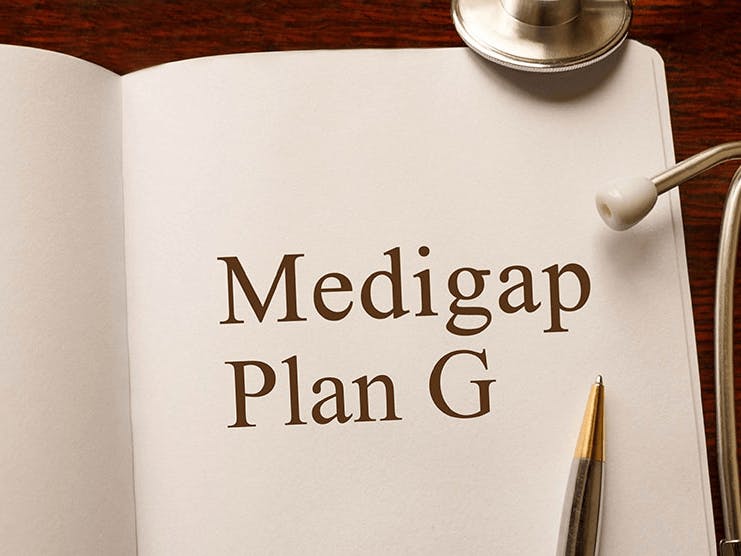 Medigap Plan G covers nearly all of your out-of-pocket costs under Original Medicare.
Although Medicare provides ample coverage for most people's healthcare needs, it does leave you with many out-of-pocket costs to pay for. In order to get extra help paying these out-of-pocket costs, many people choose to buy a Medicare Supplement plan, also known as a Medigap plan.
These plans function very differently from ordinary health insurance plans, and can sometimes be confusing to understand. We'll go through how these plans work in detail, with a special emphasis on Plan G. Plan G is one of the most popular plans out there right now, so understanding it in detail can help make your experience looking for a plan much easier.
How much will I pay for Plan G?
Understanding Medigap costs and plan comparisons can be complex, and we'll delve into all of the details below. However, let's start with a simple discussion of average Plan G costs.
As always, we have to note that plan cost can vary widely depending on many factors, including your age and your location in the United States. With that said, you can expect to pay somewhere between $100-250 per month in premiums for Plan G. This can be a bit lower, or significantly higher depending on the factors listed above.
High deductible Plan G, which will be discussed below, will have lower premiums, ranging from $50-$150 per month. However, you will still have a yearly deductible of over $2,000, meaning that it can end up not being worth it.
As always, the most important thing is to look at your own situation and get quotes from as many insurance companies as possible. That way, you can rest assured that you're finding the best deals.
What is Medigap?
Medicare Supplement plans, also known as Medigap plans, are private insurance plans that pay for your out-of-pocket costs. They are unique in that they don't directly help pay for your medical expenses, but focus only on your out-of-pocket costs.
Medicare Supplement insurance is sold by private insurance companies. This means that their cost will vary, depending on who you purchase from. However, plans are also standardized with respect to what they cover. This means that Plan G will always cover the same things, no matter who you buy it from.
What do Medigap plans cover?
Medigap plans cover 9 different categories of out-of-pocket costs. There are a variety of plans out there, and each plan will cover a different selection of these categories. The categories are as follows:
Medicare Part A coinsurance
Part B coinsurance
Blood (first 3 pints)
Part A hospice care coinsurance
Skilled nursing facility coinsurance
Part A deductible
Part B deductible
Part B excess charges
Foreign travel emergency
As you can see, this covers basically every type of out-of-pocket cost you could need to pay if you have Medicare. The fact that there are a variety of plan types available means that you can probably find something that will work for your needs.
For example, Plan A covers the Part A coinsurance, Part B coinsurance, the first 3 pints of blood, and Part A hospice care coinsurance. Plan B covers all of these same categories, plus the Part A deductible. As you go down the list of plans, (10 in total), you can find a range from partial to more comprehensive coverage.
Use this chart to compare Medicare Supplement plans: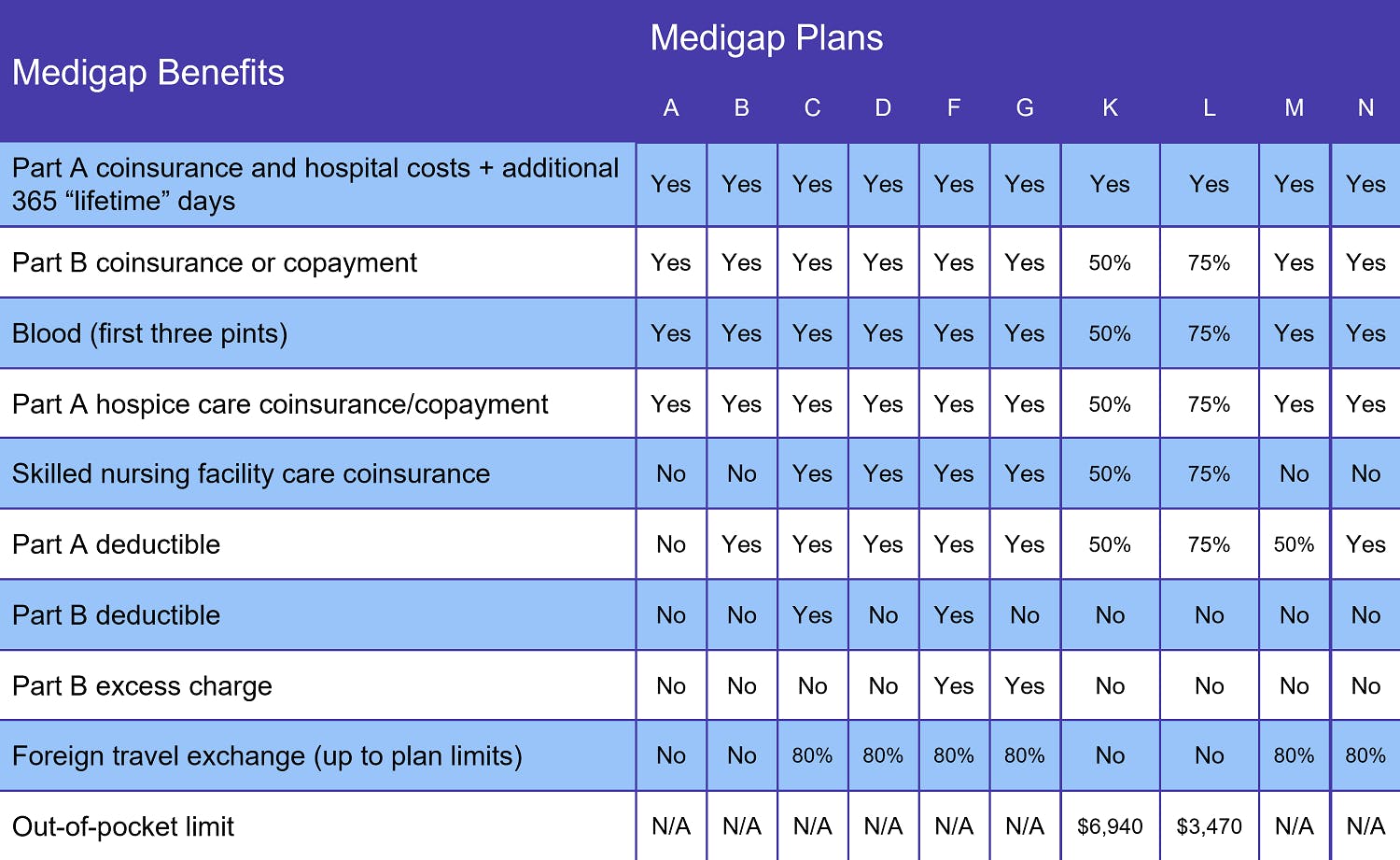 What does Plan G cover?
Of the categories listed above, Plan G covers:
Medicare Part A coinsurance
Part B coinsurance
Blood (first 3 pints)
Part A hospice care coinsurance
Skilled nursing facility coinsurance
Part A deductible
Part B excess charges
Foreign travel emergency (80 percent)
Medigap Plan G availability
Medigap plans are widely available, and you should have many options no matter where in the country you live. However, Plan G is not sold in Massachusetts, Minnesota, or Wisconsin, and Medigap in general functions in a different way in those states. Although Plan G won't be available in those states, other Medigap plans will be.
Eligibility for Medigap
Medigap coverage only extends to out-of-pocket costs for Original Medicare. This means that if you have Medicare Advantage (Part C) or a Medicare Part D prescription drug plan, your Medigap plan won't help cover the costs.
Because having Part C means you receive no Original Medicare coverage at all, you won't be able to buy a Medigap plan if you have a Medicare Advantage plan.
Medigap enrollment
You will be free to purchase a Medigap plan during your Initial Enrollment Period when you turn 65, as well as the Open Enrollment Period at the end of each year. In some circumstances, you can also purchase a plan during a Special Enrollment Period.
Plan F and Plan C: Are they available?
If you became eligible for Medicare before 2020, then you will be able to buy Plan F and Plan C, period. This is the case even if you didn't have Plan F before then, and even if you didn't actually enroll in Medicare at that time. The only thing that matters is that you were eligible.
In this way, Plan F and Plan C are being slowly phased out. Although Plan F is desirable to many because of how comprehensive it is, Plan G is very similar. In fact, Plan G covers everything that Plan F covers except for the Medicare Part B deductible. This comes to $226 per year. For many, the difference in monthly premiums is enough that Plan G still ends up being the better deal.
High deductible plans: Understanding high deductible Plan G
Plan F and Plan G are also unique in that they come in what's known as a high deductible version. These plans will have lower premiums but will have an additional deductible you have to pay in order for your coverage to begin.
This deductible can be as high as $2,700 in 2023. The way that this works is that you have to pay your out-of-pocket costs for Medicare up to that amount, and then your plan will start paying. If you have high deductible Plan F, this can be a combination of copayments, coinsurance, and deductibles for Part A and Part B.
Alternatives to Medicare Supplement Plan G
With Plan F on its way out, Plan G is likely to become the most popular Medigap plan over the next few years. This is due to its availability and comprehensive coverage. In general, as plans increase in popularity, their price will go down as they are offered by more insurance carriers.
Although Plan G offers great coverage, that doesn't mean it's right for everyone. There are a few plans that you may be able to find at a better deal, or that simply suit your needs more directly.
Plan D vs. Plan G
On paper, Plan D looks almost the same as Plan G, in that it covers the same categories with the one exception of Part B excess charges. Part B excess charges are costs that your doctor can charge you if they do not accept Medicare assignment.
Although some people find this coverage useful, especially if they don't know how much they will pay in excess charges each year (the amount can vary), it is irrelevant for others. If you know that your physician accepts Medicare assignment, then you won't have any excess charges anyway. In this case, Plan D can be a good choice.
Plan N vs. Plan G
On paper, Plan N looks the same as Plan D, in that it covers all of the same categories. While this is true, Plan N has a different pricing structure.
With Plan N, you will receive the same coverage as Plan D but will have an additional copayment. This will be up to $20 for doctor visits and up to $50 for emergency room visits. This copayment will usually result in slightly lower monthly premiums when compared to Plan D.
Plan G: What to know before you buy
With Plan F on it's way out, Plan G is likely to become the most popular Medigap plan on the market. However, understanding the pros and cons of this plan is key before you rush into any purchases. Before you settle on a plan, make sure to compare quotes from different insurance companies, explore the cost of high-deductible Plan G, and compare the cost to Plan D and Plan N. Remember, lower premiums don't always translate to lower overall cost per year.
Comparing Medigap plans is easy with our Find a Plan tool. Just enter your zip code to see which Medicare Supplement plans are available in your area.
Find a Medicare Plan in your area
It's FREE with no obligation
Speak with a Licensed Insurance Agent
M-F 9:00am-9:00pm | Sat 9:00am-3:00pm EST