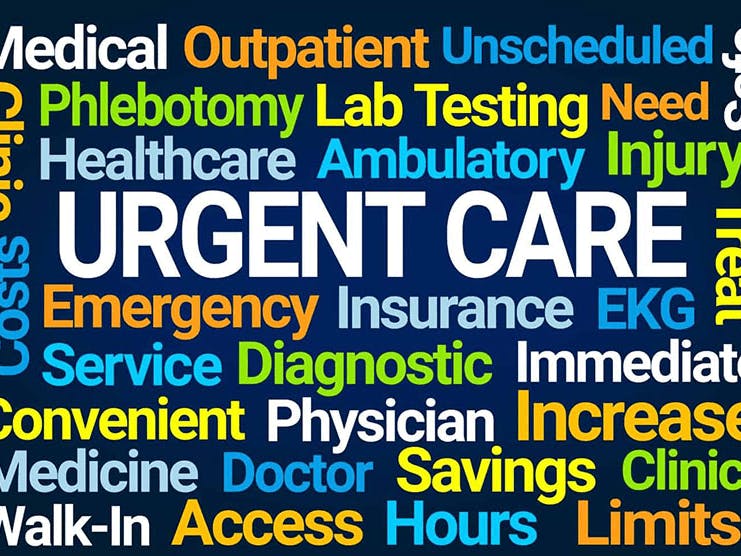 Medicare may cover urgent care treatment, but it may cost you more out-of-pocket than seeing your primary care doctor.
Medicare Part B (medical insurance) covers urgently needed care to treat a sudden illness or injury that isn't life-threatening or a medical emergency. At urgent care, the doctor or medical professional can take an X-ray, draw blood, and perform minor procedures to help treat your illness or injury.
If you're not feeling well, but it's not an emergency, you can choose to visit your doctor, or visit an urgent care clinic if your doctor can't get you in right away. At urgent care, you'll be able to get the care you need faster.
In most cases, urgent care visits are less expensive than visits to the emergency room, so if your needs aren't an emergency, you may want to avoid the ER and go to urgent care instead. However, your actual costs depend on your plan type. Urgent care visits can also be faster than visiting an emergency room.
Here is how Medicare covers urgent care, how much it will cost, and when you should visit urgent care vs. an emergency room.
Medicare Coverage for Urgent Care Visits
Depending on your plan, your urgent care visit will either be covered by Part B or Part C.
Medicare Part B
Original Medicare covers urgent care visits under Part B (medical insurance) as long as you have both Part A and Part B.
In addition to the urgent care visit, Part B would cover other needs such as lab work, X-rays, and any durable medical equipment (DME) like a walker or cane you may need (depending on your injury).
Medicare Part C
If you have a Medicare Advantage (MA) plan (Part C), your costs and coverage may differ. MA plans are offered by private insurance companies contracted with Medicare, so they cover everything Original Medicare does (under Part A and Part B) and more. Additional coverage may include dental, vision or hearing coverage. Your urgent care visit would be covered by your MA plan.
Does Medicare Pay for Urgent Care While Traveling?
If you're traveling within the United States, your urgent care visit will be covered with Original Medicare as long as you go to a participating urgent care clinic that accepts Medicare assignment. This means they will accept the amount Medicare will pay for services you receive.
Outside of the U.S., Original Medicare will likely not cover an urgent care visit. However, some Medicare Advantage and Medigap plans may offer some urgent care or emergency room coverage while outside the U.S.
Your MA plan costs will vary, but with most Medigap plans, emergency services will be covered for the first 60 days that you're traveling. After you meet the plan's deductible, Medigap will likely pay for 80 percent of the cost.
How Much Does Medicare Pay for an Urgent Care Visit?
Medicare Part B
You must meet your Part B deductible ($226 in 2023) before Medicare will pay toward your urgent care costs.
After meeting your deductible, you'll pay 20 percent of the Medicare-approved amount for the urgent care services. Medicare will pay the remaining 80 percent. If you're in a hospital outpatient setting, you'll also pay a copayment.
Typically, at urgent care, you'll receive multiple services, such as lab work, X-rays or other tests. In this case, you'll get several bills in addition to the bill from the urgent care center. However, all of these bills are usually also covered by Part B, so you'd pay 20 percent and Medicare would pay the remaining 80 percent.
Medicare will likely also cover (80 percent) of any IV infusions or shots you get at the urgent care clinic. It may also cover oral medications given while in urgent care.
Medicare Part C
If you have a MA plan, your costs may differ. The deductible you must meet and the cost for the visit depends on the plan you have. However, in most cases, the plan has a set copay amount you'll pay for an urgent care visit no matter what services you receive there. Contact your plan for more information.
Medicare Supplement Plan
A Medicare Supplement plan, or Medigap, will also cover your urgent care visit. Medigap plans are sold by private insurance companies and help fill the "gaps" in Original Medicare coverage. Some costs Medigap policies may pay for include deductibles, copayments, coinsurance or other out-of-pocket costs.
Every Medigap plan provides some coverage for urgent care costs. Some plans may even cover Part B coinsurance costs completely. Call us or use our Find a Plan tool to learn more about the Medigap plans in your area..
What Isn't Covered by Medicare?
While Medicare will cover most of your needs from an urgent care facility, there are a few things it won't.
Because Original Medicare doesn't include prescription drug coverage, the cost of any medications you may need will not be covered and you'll have to pay for those out-of-pocket. However, if you have a Part D prescription drug plan, or a Medicare Advantage plan that includes Part D coverage, your prescription needs will likely be covered.
Additionally, if you choose an urgent care center that doesn't participate in Medicare or accept assignment, you may have to pay for the services out-of-pocket. In some cases, you may have to pay those costs up front, or before leaving the facility. While most urgent care centers do accept Medicare, keep in mind that there are some that don't.
If you do visit an urgent care center that isn't participating, you still will receive care.
How Do I File a Reimbursement Claim?
If you do visit a non-participating urgent care center and have to pay for costs out-of-pocket upfront, you can submit a reimbursement claim with Medicare to get those costs back.
To do so, you must submit:
A receipt showing the amount you paid
A letter explaining the urgent care center didn't accept Medicare coverage
A completed reimbursement claim form
Urgent Care vs. Emergency Room
Debating whether to go to urgent care or an emergency room? Typically, urgent care is for illness or injury that isn't an emergency, but you can't wait to get an appointment with your doctor. The emergency room is for medical emergencies or life-threatening illness or injury.
Use this chart to help you decide which may be more appropriate for your needs.
Stroke
Heart attack, chest pains or trouble breathing
Seizure
Head injuries, loss of consciousness, dizziness, fainting
Serious burns
Broke bones
Uncontrollable bleeding
Suicidal thoughts
Serious wounds
Poisoning or overdose
High fever, coughing or vomiting blood, severe vomiting or diarrhea
Urgent Care

Emergency Room

Insect or animal bite
Sprains
Cold or flu symptoms, such as low-grade fever, nausea, vomiting and diarrhea
Allergies
Minor cuts, burns or fractures
Urinary Tract Infections, or other bacterial infections
Infections such as sinusitis, ear infection, upper respiratory infection, strep throat, or conjunctivitis
Rash

 

Urgent care centers may also provide services like physicals, vaccines, drug tests and blood work or other lab tests.
Additional benefits to urgent care centers typically include shorter wait times, walk-in service, and the ability to make appointments and even check in online.
However, don't hesitate to go to an emergency room if your illness or injury requires greater care and even potentially hospitalization.
How to Prepare for an Urgent Care Visit
Since you're not seeing your regular doctor and they typically won't have your medical records on hand, being prepared for your urgent care visit can help make the visit as quick and easy as possible.
1. Have your health history information ready. Be ready to share all applicable medical history information with the provider you see at the urgent care clinic since they won't have access to your usual medical records.
2. Be detailed about your main health concern. In order for the urgent care provider to treat you completely, they need to know everything about the reason you came in. This may include how long you've had symptoms, if they've gotten worse, if you've had this issue before, if you've done anything already to help, etc.
3. Take notes. While you're there, you may get information and instructions for how to care for your issue when you leave, and even what to do for a follow-up. Don't leave the facility until you completely understand the diagnosis and treatment plan.
You may also want to share all of this information with your primary care provider the next time you have a visit to make sure it's captured in your medical record.
Find a Medicare Plan in your area
It's FREE with no obligation
Speak with a Licensed Insurance Agent
M-F 9:00am-9:00pm | Sat 9:00am-3:00pm EST