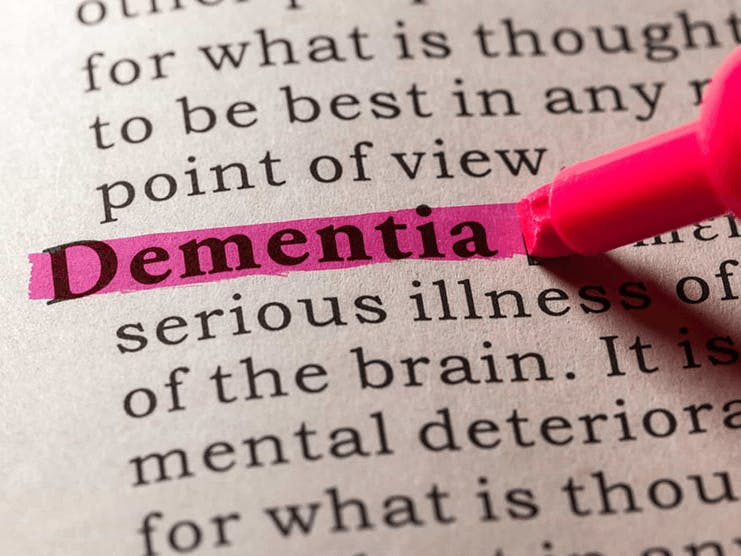 Medicare coverage usually comes down to determining medical necessity and whether treatment is ordered by a qualified healthcare provider.
Rather than referring to a single condition, dementia refers to a general decline in mental functioning. Dementia can be stressful to deal with both for patients, and their caregivers or loved ones. If you or your family member has dementia and receives benefits from Medicare, it can be confusing to understand your benefits for a few reasons.
Chief among these is the fact that dementia can result from a number of specific medical conditions or no conditions at all. Some Alzheimer's patients may develop dementia, but it can also develop with no relationship to Alzheimer's or other conditions. This can make looking up general information about dementia care confusing, since many materials will refer to specific conditions, rather than dementia.
Medicare coverage will vary depending on what type of care is needed and which plan you have, but some coverage options are available. Some of these are less well-known than Original Medicare, so making sure you understand all of the options is essential.
What is "Medical Necessity"
In the discussion below, we'll be referring frequently to medical necessity. So, it can be useful to understand what this is before we get into the details.
Medical necessity is, as the name implies, a designation that a doctor can provide for a service, treatment plan, or medical equipment. Medical necessity can vary, so what is medically necessary for one patient won't be for another; it is up to your doctor to make that call. Medicare pays for medically necessary services, but not much else.
Unfortunately, many services that help with activities of daily living will not be considered medically necessary. For example, custodial care, or in-home health care that involves taking care of basic personal care needs, is not considered medically necessary. While it may improve the patient's life, it doesn't bear a direct relationship to their medical condition, and so it isn't designated as medically necessary.
Many long-term care treatment options related to dementia will fall into this non-medically necessary category. However, there are still options for you to consider when you examine your coverage options.
Dementia Care Under Part A
Medicare Part A covers medically necessary inpatient services such as inpatient hospital care. This includes care received in skilled nursing facilities and hospice care. In some situations, it can also cover medically necessary in-home health services.
While many patients with dementia may need to receive skilled nursing care or other inpatient services such as respite care, these may not be covered by Part A unless they are medically necessary. If a patient is unable to function in a way that allows them to perform tasks related to daily life, custodial care may still not be deemed medically necessary. If a patient has dementia and is admitted to a hospital stay, their hospital coverage will proceed as usual.
This can be frustrating for many people to learn. If your loved one has dementia or Alzheimer's disease and their Medicare health plan doesn't cover their care, it can seem futile to try to get any kind of coverage. While Part A and Part B are specifically oriented towards medical care, there are other types of Medicare health plans that provide more coverage. We'll cover these Medicare Advantage plans and Special Needs Plans later on.
Part B Coverage for Dementia
Similar to Part A, Medicare Part B coverage applies only to medically necessary services. Part B covers outpatient care, such as ordinary physician visits and other visits to your healthcare provider that don't require inpatient care.
In some cases, Part B may cover things that are related to dementia care, but it will typically be limited. For example, your Part B coverage will cover an annual wellness visit to a physician, which will typically include a cognitive assessment that can be used to screen for dementia symptoms. If the doctor deems that dementia symptoms are present, they can provide further advice about how to proceed. However, some of the treatment options that they suggest may not be covered by Medicare.
Part B will cover treatment options that may be the indirect result of dementia. This can include things like physical therapy and occupational therapy.
A physician can also help you with understanding care planning and care costs. Even if the care options that they describe aren't covered by Medicare, their help in coming up with a plan can be very useful, and will usually be covered as part of the wellness check.
Part B will often cover durable medical equipment (DME) if it is required. This can be relevant for some conditions resulting indirectly from dementia, such as treatment for falls or accidents that result in the use of a cane or other equipment related to a medical condition.
Medicare Advantage: More Care Options
Medicare Advantage, also known as Medicare Part C, allows you to purchase a health insurance policy offered by a private insurance company, rather than the government. While Part C has some downsides, like provider networks, the main benefit that it offers is additional coverage.
While Medicare Advantage plans are regulated so that they must cover at least what Original Medicare covers, they are also free to cover more. This means that to stay competitive, many Medicare Advantage plans offer coverage that Original Medicare does not.
In most situations, this will be things like dental and vision plans. However, it's also possible to find plans that offer coverage that may be useful for those who are dealing with dementia. This can include some coverage for custodial care as well as treatment options that aren't classified as medically necessary. Coverage for nursing home care, memory care, and other assisted living facilities may be available as well.
It's important to note that these options will vary quite a lot between plans. They may also not be worth it financially: it could be that a plan is so expensive that it's easier to pay the cost out-of-pocket. If you're looking at a Medicare Advantage plan, make sure you understand all of the details so you know if it's a good fit for you. Still, this is an option that people who are looking for additional benefits should not ignore.
Enrolling in Part C
If you have Original Medicare and are looking to enroll in a Part C plan, you have to do so during the Open Enrollment Period. This period lasts from October 15th to December 7th of each year and allows you to change which Medicare plan you are using.
You may also be able to change your plan if you trigger a Special Enrollment Period. This can happen if you leave your job, lose your private coverage, move, have a child, and under some other circumstances.
Medicare Part D Prescription Drug Plans
Part D prescription drug plans are fairly simple to understand in this context. They are private insurance plans that offer prescription drug coverage just like any other private plan would. If some medication is prescribed for dementia, and it is covered by that plan somewhere in their formulary, then you will be able to receive that coverage. Understanding which drugs are covered is the most important thing here since it will vary from plan to plan.
Special Needs Plans: Specialized Dementia Care
Special Needs Plans (SNP) are a type of Medicare Advantage plan that, as the name implies, are reserved for people with special conditions. Each Special Needs Plan will have its own eligibility requirements that you will have to meet to purchase that plan. Because these plans are private, they may have a type of provider network that limits which physicians will be covered under that plan. However, these plans are highly variable.
If you or your loved one require more targeted dementia care, then an SNP may be your best option. While these plans can vary in price, they may be the only plans in your area that cover the type of dementia care that you are seeking Even if you don't end up choosing a Special Needs Plan, make sure to take a look at a few options. SNPs are often overlooked.
You can find more information about Special Needs Plans from The Alzheimer's Association.
How Do Medigap Plans Fit In?
Medigap plans, also known as Medicare Supplement plans, are another type of private insurance plan. These plans, rather than covering medical care directly, will cover out-of-pocket costs associated with Original Medicare. This includes things like your deductible, copayment, and coinsurance payments.
While Medigap plans can be helpful to cover these costs, they won't offer any specific benefits for those who are dealing with dementia.
What About Medicaid Coverage?
Medicaid is a government program that offers health insurance for people in a certain income bracket. Medicaid covers some care services that Medicare does not, and will usually cover nursing home care. However, not all nursing homes will accept Medicaid. Medicare and Medicaid aren't technically related, but it is possible to qualify for both.
Summary of Dementia Care under Medicare
Due to its complex nature, many aspects of dementia care will not be covered under Medicare. These care options, which can make life so much easier for the patient, may not be medically necessary. In these situations, they won't be covered by Original Medicare, despite how useful they can be.
In these situations, Medicare Advantage and Special Needs Plans are a great option to consider. These plans can offer more coverage, including coverage targeted to dementia patients, and will often remain affordable and easy to use. Nevertheless, make sure to look at the details of each plan to compare coverage options and prices to make sure that the plan you've chosen fits the needs of you or your loved one.
Find a Medicare Plan in your area
It's FREE with no obligation
Speak with a Licensed Insurance Agent
M-F 9:00am-9:00pm | Sat 9:00am-3:00pm EST