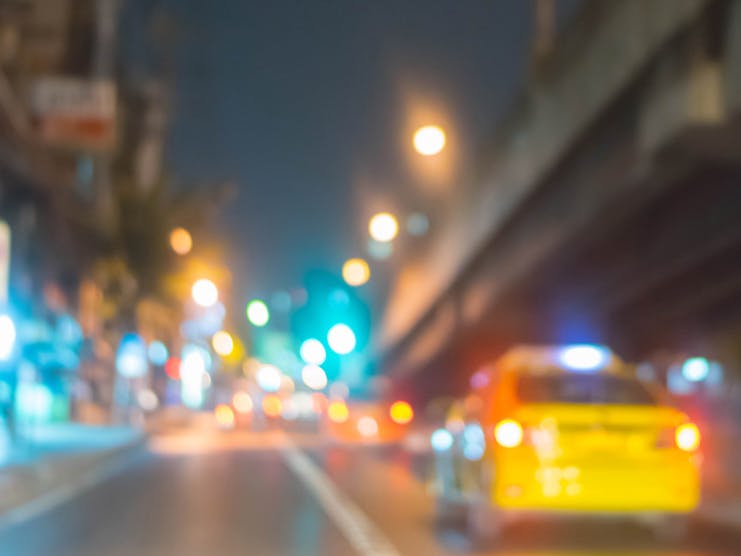 Nighttime driving can be a challenge for anyone, but throw in age-related vision changes and it can be downright dangerous.
Have you ever had trouble spotting the exit ramp when you're on a dark highway? You're not alone. Night driving can be pretty different from daytime, and those differences can get even more noticeable as you get older.
Age-related vision issues
While you're only as old as you feel, your eyes might not have gotten the memo. As we age, it's normal for our vision to change, too. Older eyes often need more time to adjust to changing light. You might lose some of your ability to see up close or have difficulty distinguishing certain colors.
"Everyone has more trouble seeing at night or under dim lights, but that struggle also could indicate that you need to update your glasses prescription, or that you have another condition," Dr. Rebecca Deffler wrote for Ohio State University's "Health and Discover" blog.
About 12.2 percent of Americans 65 to 74 years of age report having vision loss, according to the American Foundation for the Blind. That number increased to 15.2 percent for Americans 75 and older.
Cataracts, or clouding of the lens of the eye, is a common age-related condition. While this typically occurs slowly, eventually cataracts can cause blurry vision.
Macular degeneration, which usually begins to affect people in their 50s or 60s, is another fairly common age-related eye condition. It happens when tissue inside the retina begins to deteriorate.
Both of these conditions can make it more difficult to see at night. Be sure to talk to your doctor if you have either of these conditions to figure out whether it's still safe to drive.
Driving at night
Even without a diagnosed eye condition, you may find it more challenging to drive at night. Fortunately, there are lots of ways to make it easier and less stressful:
Stay up to date on your vision exams and prescriptions. Tell your doctor about any changes or difficulties you've recently noticed in your vision, whether it relates to darkness or not.
Do not drive if you're feeling tired or stressed. Both fatigue and stress can impair your driving and increase the risk of an accident. It's safer to stay overnight and drive home in the morning..
Try to drive only on roads you're familiar with. Plan ahead and map out the route beforehand so you know exactly where you're going before you even get in the car.
Keep your windshield clear. Many people complain that the glare of headlights from oncoming cars can hinder their ability to see properly. Keeping your windshield clean (both inside and out) will help cut that glare.
Clean your headlights periodically. Headlights that are free of dirt and grime will do a better job illuminating the road in front of you..
Drive defensively. Be aware of your surroundings, remove any distractions, and always think about safety first. Stay at least one car length behind the car in front of you for every 10 miles per hour of speed.
Take a driving class. Be honest with yourself: Do you feel like you could use a refresher? If the answer is yes, there's no shame in that! Renew your skills behind the wheel every few years for some added assurance. Some car insurance companies will even lower your premium if you take a refresher course.
Keep your car in good driving shape. Avoid any unexpected breakdowns after dark by keeping your car up-to-date on any inspections or maintenance.
Using these tips may help keep you more comfortable and safe behind the wheel.
How Medicare can help
Original Medicare does not cover routine vision exams, prescription glasses, or contact lenses, but many Medicare Advantage plans do.
Original Medicare does cover exams and treatment for vision conditions like glaucoma and cataracts. It covers one glaucoma screening test once every 12 months if you are at high risk. And if you need cataract surgery, Original Medicare will cover the lens replacement surgery (as long as it's done with traditional surgical techniques or using lasers).
Do you have Medicare questions? We have answers.
When it comes to Medicare, one plan definitely does not fit all. At ClearMatch, it's our mission to match you to the policy that best serves your unique needs. It's all we do, and we do it better than anyone. Check out our extensive library of articles for answers to your Medicare questions. Or, compare plans in your area to get started finding the policy that's right for you.
Find a Medicare Plan in your area
It's FREE with no obligation
Speak with a Licensed Insurance Agent
M-F 9:00am-9:00pm | Sat 9:00am-3:00pm EST