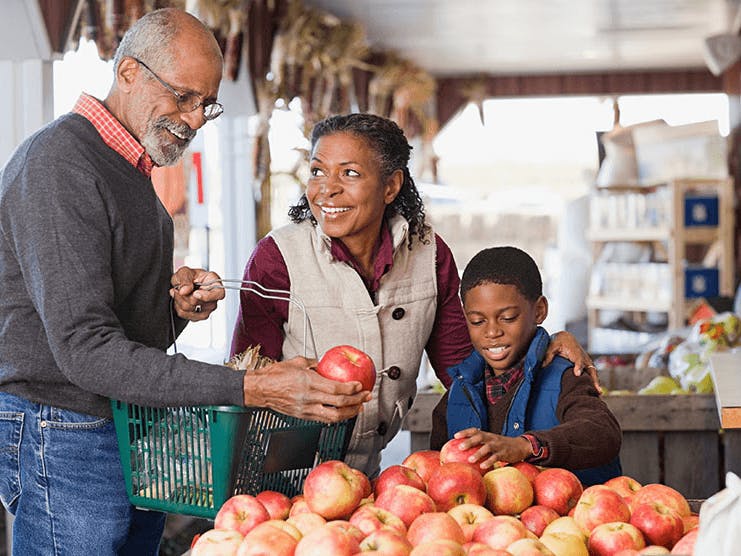 Eating fruits and vegetables fresh from harvest maximizes both flavor and nutrition. Here's what to look for during your next trip to the market.
What's a tasty route to a healthy diet? Choose foods that just came from the earth. "Eating what's in season is not only cheaper and better for the environment. It's also ideal for your health," says Lucy Berman, RD, founder of the Minneapolis nonprofit Nutrition for All. "Fresh fruits and vegetables have the highest levels of vitamins and nutrients, which tend to degrade over time in storage." Indeed, the longer the time since harvest, the fewer nutrients a fruit or vegetable offers.
Take broccoli, for instance. It has twice as much vitamin C in fall, its natural harvest season, as it does in spring, according to research from New Jersey's Montclair State University. Twice as much! That's in addition to broccoli's payload of lutein and zeaxanthin. Studies link these antioxidants to lower rates of cataracts and macular degeneration. (Speaking of eyes, here's how to keep your eyes safe at the pool or beach.)
But that nutritional hero, broccoli, isn't the only produce you should be eating right now. Below, dietitians weigh in on six more foods that should regularly land in your supermarket cart during autumn.
Sweet Potatoes
"Starting in August, farmers plow rows and transplant sweet potatoes, so these superfoods are ready and primed for fall," says Sarah Schlichter, RDN. Schlichter is a Maryland-based nutritionist and cohost of the Nail Your Nutrition podcast. These spuds are versatile, providing a delicate balance of sweet and savory. "Because of that taste profile, they can be used in nearly every type of recipe," she says.
Use sweet potatoes in baked goods, soups, and salads. Or just bake them whole and add a drizzle of olive oil and a spritz of sea salt. The payoff is 3 to 6 grams of fiber per tuber, along with potent doses of potassium and vitamins A and C. That nutritional heft makes them great for preventing inflammation, boosting immunity, and improving cardiovascular health, says Schlichter.
Apples
Apples are at their peak flavor and nutrition in fall, giving you the perfect excuse to hit an orchard with the grandkids. "The phytochemicals in apples can be powerful in preventing disease," says Berman. She adds that they've also been found to reduce the risk of several cancers.
To select the best apples, look for firm flesh with no soft spots. And give them a sniff: "Fresh apples should have a noticeable and wonderful fragrance to them," says Berman. If you wind up with more apples in your fruit bowl than you know what to do with, make an apple slaw as a healthy side dish for dinner. Just swap apples in for cabbage in your favorite vinegar-based coleslaw recipe.
Pumpkin
This gourd is more than just a doorstep decoration, and cooking it shouldn't be daunting: If you can roast a squash, you can roast a pumpkin. Then, after roasting it, you can make puree: Just cube the pumpkin flesh and throw the cubes into a blender or food processor. The puree adds easy flavor to smoothies or oatmeal. "Pumpkin is not only delicious and versatile, but also a nutrient-dense food with 50 calories per cup," says Trista Best, RD. Best is a dietitian with the Whitfield County Health Department in Georgia and a consultant for Balance One supplements. "Plus, it's rich in carotenoids. These phytonutrients give pumpkins their vibrant color and act as antioxidants in the body."
The nutrients in pumpkin flesh can reduce inflammation in your body and brain, and may even help prevent cancer, Best says. Why? "Carotenoids play an important role in preventing and reversing cellular damage," she says. That's a great way to battle chronic disease.
Pumpkin Seeds
After scooping out the pumpkin's innards, you might be tempted to toss the seeds. Don't! Instead, rinse away the stringy bits, set the seeds aside to dry, and roast them later. "These edible seeds are rich in antioxidants and contain many minerals your body needs for optimal health," says Best. One serving provides 42% of your recommended daily intake of magnesium. Pumpkin seeds can help regulate blood pressure and have anti-inflammatory properties. They're also a good source of zinc, a mineral that can improve immune function.
Not sure what to do with the roasted seeds? Toss them into a salad. For a fall-themed side dish, mix them with a whole grain, such as bulgur wheat, and cooked pumpkin. Or just bring them along on your next hike for a snack on the trail.
Butternut Squash
This versatile gourd can enhance the nutrition profile of a variety of dishes. "One serving of butternut squash provides 40% of your daily vitamin C and 100% of your daily requirement for vitamin A," says Best. These nutrients are extremely important for immune health, she adds.
Try topping chili with cubes of roasted butternut squash, or puree the flesh as a creamy base for soup that doesn't need heavy cream or butter. (If you're eating healthy on a budget, check out our money-saving supermarket tips.)
Beets
Forget about canned beets. By early fall, you can find the freshly harvested vegetable at your local grocery store or farmers market, says Schlichter. And these purple power foods are great for active people. "Beets are low in calories but high in fiber and micronutrients, like B vitamins, potassium, magnesium, and iron," she says. "They also contain plant compounds known as nitrates, which can help reduce blood pressure and manage inflammation." Once in the body, nitrates convert to nitric oxide, which dilates blood vessels to reduce pressure and help blood flow faster.
In a study review from Spain, researchers found that athletes who drank beetroot juice often had more muscle power and fewer signs of fatigue. But even if you're no marathoner, it's hard to argue with a side of roasted beets on your fall harvest table.
Find a Medicare Plan in your area
It's FREE with no obligation
Speak with a Licensed Insurance Agent
M-F 8:00am-10:00pm | Sat 9:00am-6:00pm EST