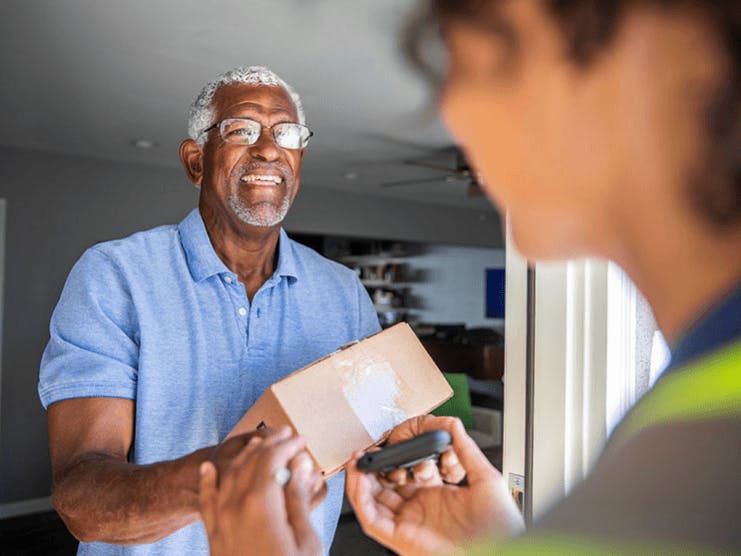 Technology has made it possible to skip time-consuming pharmacy trips by getting your medications right at your door. Here's how to get started with prescription delivery.
During the COVID-19 pandemic, delivery services boomed. With stay-at-home orders in place, people were eager to get everything from groceries to tech gadgets delivered within hours of ordering. So it's no surprise that the demand for convenience reached medication. Today, people are increasingly getting their prescriptions delivered straight to their door.
Late last year, Amazon launched Amazon Pharmacy. Not long after, ride-sharing service Uber announced it had partnered with ScriptDrop to begin delivering medications to homes. Those aren't the only options, though.
Prescription delivery service is also available at certain locations of large stores such as CVS, Kroger, and Walmart. Even some smaller local pharmacies launched delivery services to compete.
There are also pharmacy delivery startups such as Capsule, Medly, and NowRx. In many cases, these services are tech-enabled. That means you can order right from an app rather than placing a call.
"Connecting pharmacies with digital health has expanded the ways that patients can communicate with their pharmacists," says Danielle Plummer, PharmD, a pharmacist who runs her own consulting firm, HG Pharmacist. This new tech allows you to ask a pharmacist questions through text messaging, online chats in real time, video calls, emails, and phone calls, she adds.
"This all means that, increasingly, patients no longer have to wait in lines at consultation windows to speak to a pharmacist or to get their prescriptions filled," she says.
If you're ready for pharmacy-to-door service, here are some things to keep in mind.
Plan to have an adult at home to receive your medications if you can't be there
Depending on state laws and the type of your prescription, an adult may need to sign for the medication delivery, says Plummer. In other words, it can't just be dropped off. For example, Plummer has found that many pharmacies will deliver only if the prescriptions can be handed directly to the patient or another adult.
That might be less convenient if you're running errands, but it's a solid policy for helping to reduce theft, says Alex Evans, PharmD. He is the founder of Pharmacy Compliance Specialists, which helps community pharmacists understand compliance issues.
"[Theft] is a big concern with medications, especially controlled substances," he says. "If it's delivered and you're not there, and then someone takes it, will the pharmacy replace that? Will your doctor order a replacement, or will you have to wait for the end of the refill time frame? It's not worth taking the risk."
Ask about temperature control
Medications are developed to stay within certain temperature ranges, Plummer says. Extreme heat or cold may alter the medication so that it no longer works as designed.
If you live in a climate with dramatic weather shifts, ask the pharmacy what it's doing to make sure your medication stays within the manufacturer's temperature guidelines, she suggests.
Say a driver has several stops before yours. If your medication must be refrigerated — that's the case with several common medications, such as injectable insulin — hours in a hot car could compromise it.
A good pharmacy delivery service should be able to tell you exactly how it will handle that issue. If it can't, shop around for one that can.
Know your costs
Whether you're on Medicare, have private insurance, or have a separate prescription plan, always check in with your insurer before using a pharmacy delivery service, Plummer advises.
"Insurers dictate which are the preferred pharmacies and offer lower co-pays through them," she says. Before sending your prescriptions to a new pharmacy that delivers, see if it can give you the cost. If not, ask your insurer what your co-pay will be so you're not in for a surprise.
Another way to avoid needless costs is to ask about delivery charges up front, suggests Evans. As with the restaurant industry, delivery is expensive for the pharmacy, so that cost may be passed on to you.
Expect pharmacy delivery to become the norm
The popularity of this service makes it likely to stick around. And that means innovation and competition will probably be fierce. That's good news for you as a consumer because pharmacies and their delivery services will be vying for your business.
For example, Plummer says, some new pharmacies will be delivery-only. If so, most will include a tracking app similar to a ride-share or food-delivery service. The app lets you see where your driver is in real time so you know when to expect your meds.
Also, she adds, some pharmacies will deliver to your work, hotel, or other location. You may even be able to get your medications delivered to the park as you're enjoying some fresh air, depending on the pharmacy's policies.
"As the pharmacy model changes, keep an open mind to see if there's a better option available," says Plummer. "If you're happy with your pharmacy, talk to your pharmacist. You may be surprised to find they already offer delivery."
Find a Medicare Plan in your area
It's FREE with no obligation
Speak with a Licensed Insurance Agent
M-F 8:00am-10:00pm | Sat 9:00am-6:00pm EST