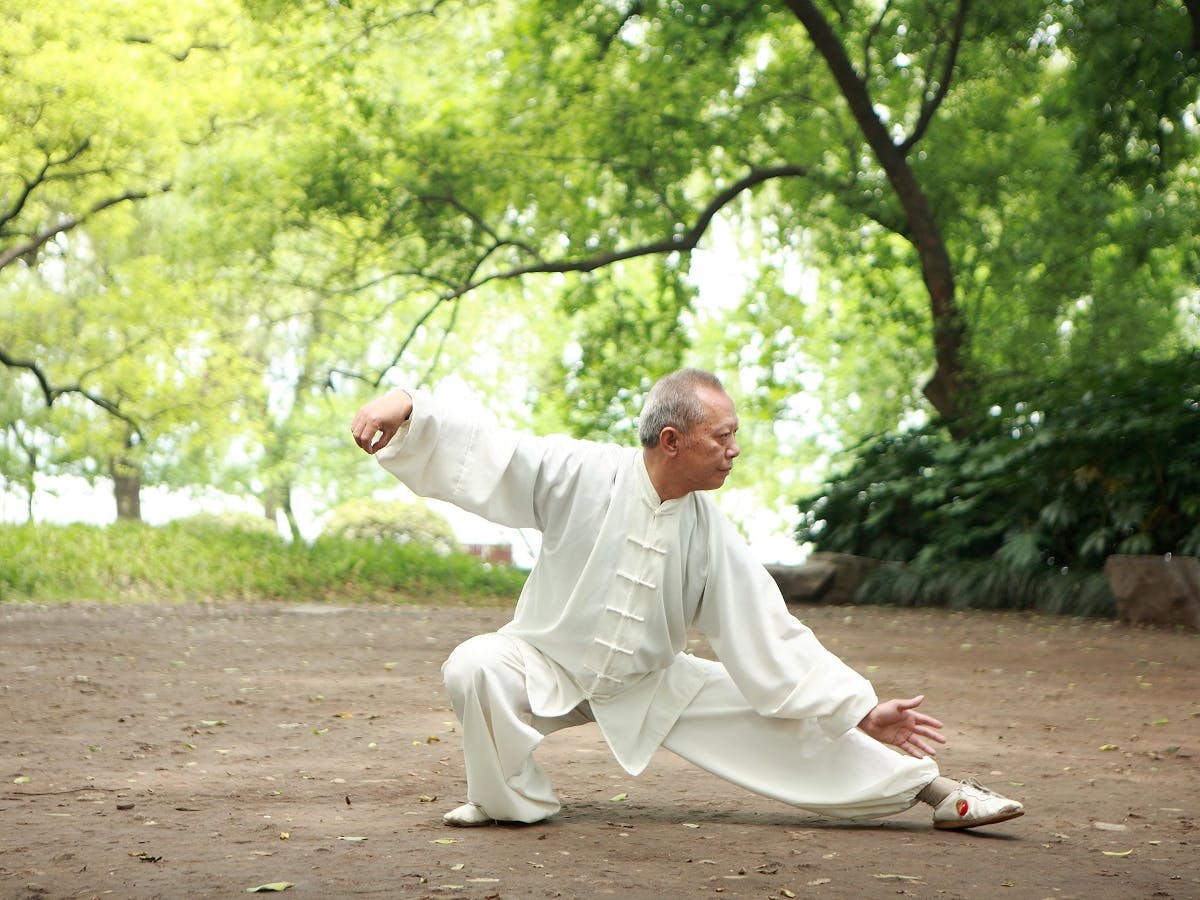 Tai chi, a Chinese martial art described as meditation in motion, can improve balance, mobility, strength, and more.
Have you heard of tai chi? The ancient Chinese martial art, also sometimes referred to as shadow boxing, is known for its flowing, gentle movements, in which practitioners focus on slow movement, along with their breathing. It's sometimes described as "meditation in motion."
"The way of doing tai chi — the slow gentle movements, bending knees, using weight transfer — leads to much more benefits than normal walking," tai chi master trainer Dr. Rhayun Song told Everyday Health. She added that a regular tai chi practice can bring "significant improvements" to a variety of health issues.
While tai chi has been practiced in China for centuries, it has steadily become more popular throughout the world, particularly among older people. That's because, instead of focusing on speed or explosive strength, the exercise is low impact. Practitioners move slowly and steadily, relaxing while flowing through the various poses. As with yoga, tai chi aims to foster a better mind-body connection.
Health benefits of tai chi
You might be moving slowly when practicing tai chi, but that doesn't mean you're not exercising. In fact, a regular tai chi practice is known not only for its many physical benefits, but its mental and psychological benefits as well. It is especially recommended for older adults — several studies have shown that a consistent tai chi practice improves balance and reduces falls in older adults.
Tai chi's surprising range of physical health benefits include:
●      Improved flexibility and mobility
●      Greater muscle strength and cardiovascular endurance
●      Lower blood pressure
●      Better sleep quality
●      Weight loss and maintenance
●      Reduced chronic pain, including fibromyalgia and arthritis
And the benefits go beyond your physical well-being. If you regularly practice tai chi, you may experience reduced stress, anxiety, and depression. Your self-esteem, cognitive function, and ability to concentrate may also improve.
Tai chi can give you all that, while at the same time protecting your joints from the strain of higher impact forms of exercise. Sounds almost too good to be true, doesn't it?
How to get started
If you're looking for somewhere to try tai chi in-person, it might be worth asking your local gym or fitness center if it holds classes. Many towns also offer tai chi as part of their adult continuing education programming.
If you can't find in-person classes nearby, you'll find a number of options online–and often for free. Here are a few to check out.
●      On the Tai Chi Foundation website, you can find free live online courses, ranging from beginners to more advanced practitioners. Check out the website's full listing to find a time and level that works for you.
●      On Coursesity, you'll find dozens of free tai chi videos. Scroll through to find an option that sounds best for you.
●      And on the YouTube channel Taiflow, you can find free classes, where there are videos for a variety of fitness levels and lengths of class times. (In a hurry? Check out the 5- and 10-minute sessions!)
Remember that some Medicare Advantage plans offer coverage for exercise programs! To find out if yours covers tai chi, or to shop for a new Medicare plan that fits your needs, check out our easy-to-use plan finding tool.
Find a Medicare plan in your area
It's FREE with no obligation
Speak with a Licensed Insurance Agent
M-F 8:00am-10:00pm | Sat 9:00am-6:00pm EST