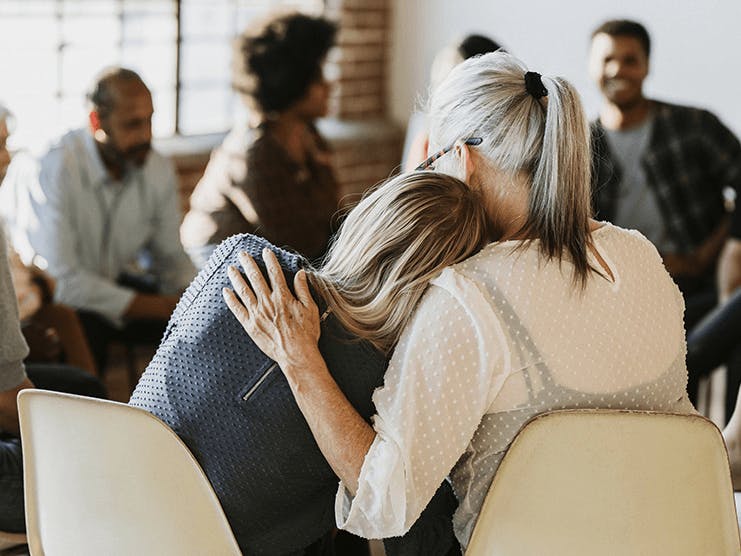 Your Medicare benefits include a variety of services to help you overcome addiction.
September is National Recovery Month, a national observance held each year to educate others that substance use treatment and mental health services can help those with a mental and/or substance use disorder live a healthy, rewarding life. The mission is to reinforce the ideas that:
Behavioral health is essential to overall health
Prevention works
Treatment is effective
People can and do recover
More than 50 million Americans have used illegal drugs within the last year. If alcohol and tobacco are included, that number jumps to more than 165 million (used within the last 30 days).
If you or someone you love is a Medicare beneficiary, know that both Original Medicare and Medicare Advantage (Part C) plans cover a variety of treatment options for substance use disorder. Here is more information about substance abuse/addiction, Medicare coverage options, and how you can help or get help.
What is substance use disorder?
Substance use disorder, or drug addiction, is a disease affecting a person's brain and behavior. Usually, it leads to the inability to control the use of a legal or illegal drug or medication. This could include legal substances like alcohol and nicotine, or illegal substances such as marijuana, heroin, or cocaine.
This disorder can affect people of all walks of life. While the illnesses are common, recurrent, and often serious, they are treatable. They occur when the recurrent use of alcohol and/or drugs cause clinically significant impairment, including health problems (both physical and mental), disability, and failure to meet responsibilities at work, school, or home.
Signs of substance use or addiction
It can be difficult for a loved one to recognize the signs of substance use or addiction, but here are a few general things to look for:
Work: Poor work performance, being chronically late to work, appearing tired and disinterested in work duties, receiving poor performance reviews
Physical: Changes in physical appearance, such as wearing dirty clothing or lack of interest in grooming, bloodshot eyes, poor skin tone, appearing tired or run down, weight loss
Behavior: Altered behavior, such as an increased desire for privacy, defensiveness, and lack of energy when performing activities
Financial: Spending more money than usual, requesting to borrow money, not paying bills on time, or other issues with financial management
Alcohol use disorder also has a number of signs and symptoms. Some people may be able to hide or minimize these signs at first, but over time they become more obvious.
Blackouts or memory loss
Flushed skin or broken capillaries
Trembling hands
Lack of control over how much one drinks and for how long
Preference to drink alone, in secret, or during odd times
Continuing to drink despite personal, physical, and psychological problems related to it
Depression, irritability, and mood swings
Drinking to cope with problems, to relax, to sleep, or to improve mood
Drinking when it's not safe, such as when driving
Alcohol withdrawal symptoms include headaches, nausea, insomnia, and anxiety.
There are other behavioral, physical, and psychological aspects of addiction. Being aware of what to look for or notice can be the first step in helping a loved one get help.
Medicare coverage for substance use disorders
Medicare covers both inpatient and outpatient care and prescription drugs for treatment for substance use disorder.
To find a Medicare-approved alcohol treatment or drug rehabilitation provider, use Medicare's Provider Comparison tool.
Inpatient treatments covered by Medicare
Medicare Part A (hospital insurance) covers medically necessary inpatient hospitalization, including for substance use disorder. It may also cover inpatient care in a rehabilitation facility or hospital.
Coverage includes:
Inpatient hospitalization
Inpatient drug rehabilitation services
Coordinated care and nursing services
Any drugs necessary for treatment
There are costs associated with each benefit period of inpatient hospital care:
Deductible: $1,600
Days 1-60: $0 co-insurance (after meeting your deductible)
Days 61-90: $400 co-insurance per day
Days 91 and beyond: $800 co-insurance per each "lifetime reserve day" after day 90 for each benefit period, up to 60 days over your lifetime
Each day after lifetime reserve days: All costs
You are eligible for this coverage if your doctor has deemed it medically necessary to treat your condition.
Outpatient treatments covered by Medicare
Medicare Part B (medical insurance) will cover outpatient mental health counseling, alcohol misuse screenings and counseling, and intensive outpatient programs for substance use disorder. These services include:
Individual and group psychotherapy
Family counseling
Psychiatric evaluation
Medication management
Alcohol misuse screening and counseling (once per year)
Certain prescription drugs
While you pay nothing for most preventive screenings, you'd pay 20% of the Medicare-approved amount for visits to your provider. You may have an additional co-pay or co-insurance for hospital outpatient services. Also, the Part B deductible ($226 in 2023) applies.
You are eligible for this coverage if you meet certain requirements, and your doctor certifies they are medically necessary.
Prescription drugs covered by Medicare for substance use disorder
Medicare Part D (prescription drug coverage) can be purchased as standalone coverage or can be included with a Part C Medicare Advantage plan that has prescription drug coverage.
Part D may cover medications needed during treatment for substance use disorder, including treatment for opioid, alcohol, or nicotine use. 
You'll find the list of approved drugs in the plan's formulary, which will also outline the cost of the drug. Premiums, co-pays/co-insurance, and deductibles also vary by plan.
What isn't covered by Medicare for substance use disorders?
Fortunately, most treatment for substance use disorders is covered by Medicare. However, there are a few things not covered that you should be aware of:
Private nursing
A private hospital room
Medical equipment not deemed medically necessary
Some prescription drugs (though all Medicare Part D plans must cover antidepressants, antipsychotics, and anticonvulsants)
To learn if a test, item, or service is covered, use Medicare's Coverage Search Tool or talk to your loved one's provider.
What to do if you don't have insurance
Addiction treatment can be expensive, but there are resources available to help those who are underinsured or don't have insurance.
Every state is different but most have financial assistance available for those who don't have insurance and need low-cost or free rehab programs. You can start with a quick internet search for low-cost local mental health or substance abuse programs or services.
If you feel like you're in a crisis but non-emergency situation, try searching for and calling a local crisis hotline for assistance.
Another option is to contact your community's resource center to learn if they can provide a referral or offer more information.
Finally, you may be able to work with a rehab facility to help you afford your stay. Ask about options such as sliding scales for cost, financing options available, loans, or scholarships. Just because you are uninsured doesn't mean you can't get the treatment you need.
SMHSA's National Helpline
If you or a loved one are facing mental and/or substance use disorders, call the Substance Abuse and Mental Health Services Administration (SAMHSA) National Helpline: 1-800-662-HELP (4357).
This free, confidential treatment referral and information service is available 24/7, 365 days a year. It provides referrals to local treatment facilities, support groups, and community-based organizations. Callers can also order free publications and other information.
You can also visit the online treatment locator to find a treatment facility near you.
In 2020, the Helpline received 833,598 phone calls. If you or a loved one is suffering or needs help, you are not alone, and help is available.
Find a Medicare Plan in your area
It's FREE with no obligation
Speak with a Licensed Insurance Agent
M-F 8:00am-10:00pm | Sat 9:00am-6:00pm EST