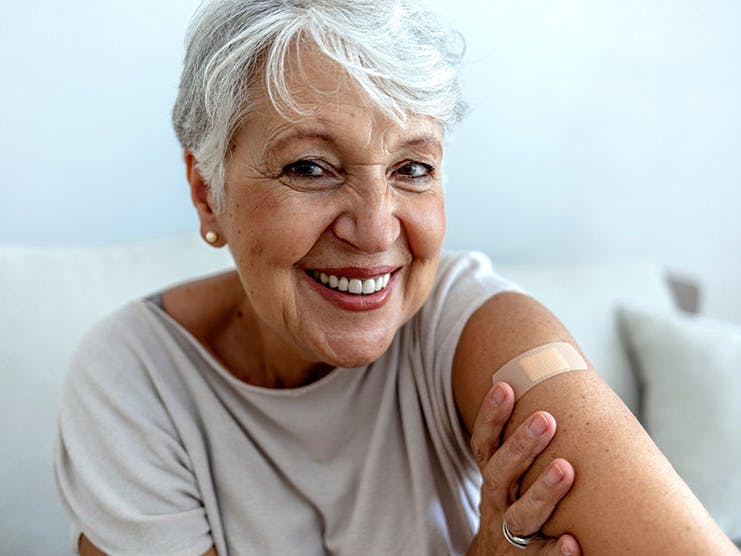 Vaccines are all about teaching your body how to fight disease BEFORE you get sick.
Got vaccine fatigue? Many people do. After more than two years of pandemic life, it's not surprising that we're tired of hearing about vaccines.
But experts say we may be in for a bad flu season this year, which makes getting your flu shot and the latest COVID-19 booster extra important.
Here's what you need to know.
Nobody had the flu last year, so why should I worry?
Since the start of the pandemic, we've had two very mild flu seasons. But a big reason we had so little flu is all the precautions put in place for COVID-19.
"When everybody stayed home, schools were closed, everybody was masked, everybody was washing their hands ... all the other respiratory viruses, including influenza, just fell off a cliff – they just dropped out of sight," Frank Esper, MD, an emerging infectious diseases specialist at the Cleveland Clinic Children's Hospital, told WebMD.
Experts predict that the flu will return with a vengeance this year. Australia's flu season–which coincides with our summer–was especially severe, with case numbers surging earlier than in prior years. Australia's flu season is often a good predictor of ours.
And with contact tracing, quarantines, and masking rules disappearing, the flu virus will spread more easily this year.
What's more, because so little flu virus circulated during the last two years, you may have less immunity to the virus. That could mean a more severe course of illness.
Is the flu really that serious?
If you're 65 or older, it can be. The CDC estimates that flu kills between 12,000 and 52,000 Americans each year. In 2019, people 65 and older accounted for 77% of all flu-related deaths.
COVID also continues to be a serious concern. Although COVID no longer dominates the news, more than 2,000 people died from COVID during the first week of September 2022 alone.
Can you get "flurona"?
Yes, it's possible to get both COVID and the flu at the same time.
Up until now, co-infections have been uncommon, probably because of how mild the past two flu seasons have been. This year may be different.
Fortunately, for most healthy people, a double infection doesn't mean a double-whammy of symptoms. But if you're already vulnerable because of age or pre-existing health conditions, you may have a tougher time.
"It is probable that those people who would have had a bad outcome from flu will have a very bad outcome from the combination of flu and COVID," Dr. Badley, an infectious disease specialist and chair of Mayo Clinic's COVID-19 Task Force, told The New York Times.
I can't keep up with the COVID-19 recommendations. How do I know if I should get another shot?
The latest COVID-19 booster targets the omicron variants that are prevalent right now. You should get boosted as soon as you are eligible.
The CDC has a simple interactive quiz to determine when you're eligible, based on your age, the type of your initial vaccine, and how long it has been since your last shot.
Find out when to get your booster.
And if you haven't had any COVID-19 vaccines, this is a great time to get started!
Can I get both vaccines the same day?
Yes! Experts say it's safe to get both the flu and COVID vaccines at the same time, although you may want to have them in different arms.
Both vaccines can cause temporary side effects that mimic a mild flu. Generally, these last only a day or two.
How much do the vaccines cost?
Medicare part B covers the cost of the flu and COVID-19 vaccines at 100%.
Find a Medicare Plan in your area
It's FREE with no obligation
Speak with a Licensed Insurance Agent
M-F 9:00am-9:00pm | Sat 9:00am-3:00pm EST