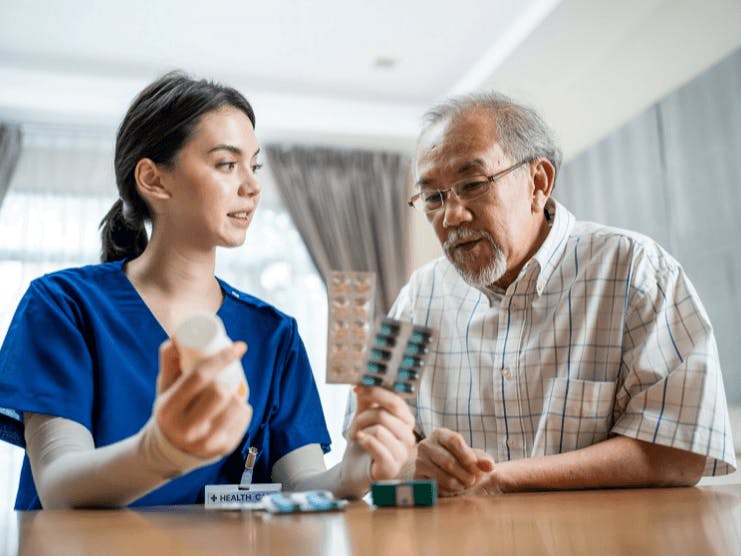 A yearly comprehensive medication review can save you from harmful side effects. This is what you need to know.
Medications are a modern marvel. They have the power to heal us, help us feel better, and even prevent future illness. But more isn't always better.
A 2020 poll from the University of Michigan found that 41% of adults ages 50 to 80 take two or more prescription medications, with 23% of respondents taking five or more.
Unfortunately, the more medications you take, the higher your risk of adverse drug interactions.
Drug interactions can change how your medications work and cause unanticipated (and often harmful) side effects. According to the Centers for Disease Control and Prevention (CDC), adverse drug reactions account for 1.3 million emergency room visits each year. And Americans older than 65 report visiting the hospital for adverse drug reactions nearly twice as much as younger people.
Those reactions can be anything from low blood sugar to excessive bleeding to difficulty breathing. The most common medications that can cause issues include blood thinners, diabetes medications, seizure medications, and opioids, per the CDC.
One of the best ways to lower your risk of an adverse drug reaction? A comprehensive medication review (CMR). It's a meeting with a medical professional to review your medications. A CMR can help you find opportunities to simplify your routine, save money, and reduce (or eliminate) potential medication side effects and interactions.
Even better: If you have a Medicare Part D plan, the review may be covered. But it's a benefit that's hardly used.
The same University of Michigan poll also found that only 1 in 4 people taking two or more prescription medications had ever had a CMR, and 85% of Medicare users didn't know the service might be covered under their plan.
Here's how to make the most of your benefits — and stay safe, too.
What happens during a comprehensive medication review?
Your pharmacist or doctor will review all of your medications with you. They'll explain why you take each one, talk about potential side effects, and help you create an action plan to make the most of your medications. When you leave, you'll receive a written summary of the review.
They'll also list and prioritize any medication-related problems they find, says Alyssa Wozniak, PharmD. She's a clinical assistant professor at D'Youville College School of Pharmacy in Buffalo, New York.
This could mean potential drug interactions, dosing issues, or just ways to scale down or save money. Then they'll work with you, your prescriber (if you're meeting with a pharmacist), and/or your caregiver to resolve them.
What can I do to prepare?
Be ready to discuss the full list of prescription and nonprescription medications you take. This includes over-the-counter (OTC) medicines, herbs, vitamins, and supplements. Don't forget lotions and creams too.
Make a list of each medication or supplement, the dose, and how often you take it. You may also want to keep a diary for a week or so beforehand to note how you're feeling or to jot down any sticking points in your routine.
"If possible, bring your physical prescription and supplement bottles with you for the discussion," says Wozniak. It can be helpful to also bring your vaccination records and recent medical test results (such as blood glucose or blood pressure readings). And bring any recommendations your doctor made during your last visit, adds Wozniak.
How can I make the most of my CMR?
Yes, preventing any adverse drug interactions is paramount. But you can take advantage of the time with your pharmacist or prescriber in other ways too.
Are you having a hard time affording your pharmacy bills? Do you find it difficult to take your medications on time? Now is the time to lay it all out on the table.
"The pharmacist may give you tips about how to take your medicines as prescribed, help you find more affordable medication options, and request a prescription from your doctor," says Wozniak. "Sometimes, the pharmacist may even recommend ways to manage your conditions with lifestyle changes, such as healthy eating or exercising."
Related reading: How to Find Help for Opioid Dependence at Any Age
What can I do to avoid adverse drug interactions?
A CMR is an important step for getting the most out of your medications. (And maybe for saving a few bucks too.) But what happens afterward? How do you use this information all year long?
Well, the first way is by educating your other providers. "It's important that you and all the members of your healthcare team are aware of all medications that you take, especially if you see many doctors or have many health conditions," says Wozniak.
Each time a doctor prescribes a new medication, show them your medication review summary. Discuss all of your prescriptions and OTC supplements with them. And make sure you understand any special instructions or potential side effects.
Wozniak suggests asking your doctor and pharmacist the following questions:
Can I take this new drug with other drugs?
Are there any drugs, foods, beverages, or OTC products I need to avoid with this new drug?
What signs and symptoms would alert me to a possible drug interaction?
How does this drug work in my body and what side effects can I expect?
Where can I find reliable information about this drug and my health condition?
Each time you change a medication or add one to your routine, be sure to update your medication list. And be empowered to educate yourself too. Read the label and any supplementary information that comes with your medications. They'll alert you to the most serious drug interactions.
Your medication routine doesn't have to be stuck on autopilot. A CMR is a great way to take a bird's-eye view of your health needs, discuss changes, and get answers to your most pressing medication questions.
Find a Medicare Plan in your area
It's FREE with no obligation
Speak with a Licensed Insurance Agent
M-F 9:00am-9:00pm | Sat 9:00am-3:00pm EST