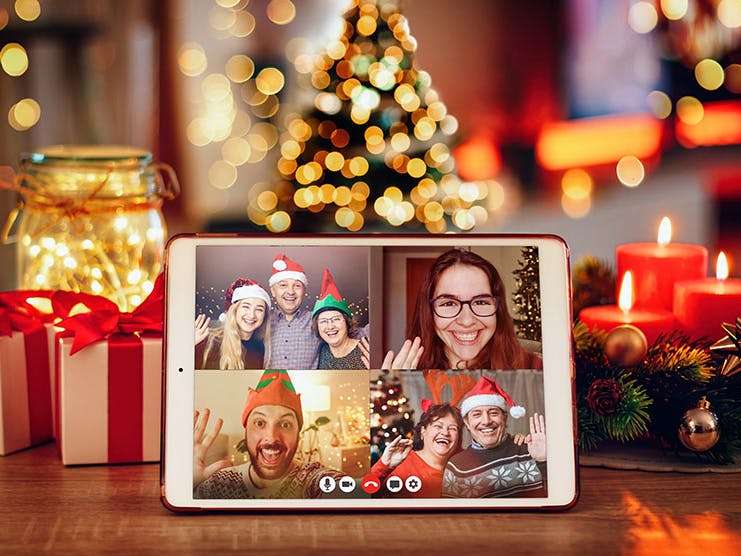 Whether it's a matter of distance or health, virtual celebrations are a viable option – and can be a lot of fun with a little planning.
Since 2020, virtual holiday visits have become increasingly common. With the COVID virus still circulating, many people may choose to still celebrate the holidays with their loved ones through their screens.
While it's not the same as meeting in person, Denise Myers, national director of behavioral health services at Marathon Health, told Shape Magazine that people shouldn't focus on what's lacking in an online gathering.
Instead, try thinking about the positive.
For all the disruption COVID has caused, it has taught us all how to maintain connections in new and creative ways. With a little forethought, you can make your virtual holiday celebration unique, memorable, and meaningful.
Tips for a fun and festive virtual holiday celebration
Whether your virtual party is a success or a flop depends a lot on the setup, the guests, and the activities planned for the celebration. Below are some tips on how to make the party fun for everyone.
1. Make sure you're prepared
You don't want to have to be fiddling with devices in the middle of your celebration, and you want to make sure the other "guests" can see you and talk to you clearly. Make sure your technology is ready to go — the microphone and video are on and you'll be visible to everyone on the screen.
(Pro tip: If you're sitting at a table, it's usually best to set the computer or device at the head of the table so everyone is in full view.)
2. Have a dress code
You might not be meeting in person, but that doesn't mean you can't get dressed for the occasion. Encourage your party goers to put on their holiday best. That can range from evening wear to a theme, like the popular ugly sweater party. You decide what the dress code should be!
3. Have a game ready
With several people in one virtual gathering, it can be tough to have a natural conversation in the same way you would if you were all sitting around a table. Setting up a game where everyone can participate is a good way to encourage fun and chatter. Holiday-themed trivia, holiday ice breakers, and holiday bingo are great ways to get things going.
4. Have a playlist
No holiday party is complete without a proper playlist filled with the classics. Create a playlist on Apple Music, Spotify, Pandora, or your favorite online music site. Make sure everyone knows your username so they can follow and access it, too. These platforms allow others to add to the playlist, as well.
5. Sing Christmas carols
On top of the playlist, set aside some time to sing some carols together in real time. Be sure to poll people's favorites beforehand so you're ready!
6. Host a mixology party
Whether you hire a professional or just find recipes online, find holiday-themed cocktails (or "mocktails" for the non-alcohol drinkers) that you can all create in your own homes. Just be sure to give a heads-up to your guests beforehand so everyone has the necessary ingredients available during the party.
7. Have a virtual Secret Santa
This requires a few weeks of preparation beforehand, but it's worth the fun. First, set a price limit, then pull names and assign everyone a person to give a gift. Let the party goers know who they are buying for, and make sure they have mailing addresses. With enough lead time, everyone can open a gift during the party.
While there's no replacing getting together in person, you can still make your holiday celebrations merry and bright with a festive virtual party. Happy holiday season to you and yours!
Find a Medicare Plan in Your Area
It's FREE with no obligation
Speak with a Licensed Insurance Agent
M-F 9:00am-9:00pm | Sat 9:00am-3:00pm EST