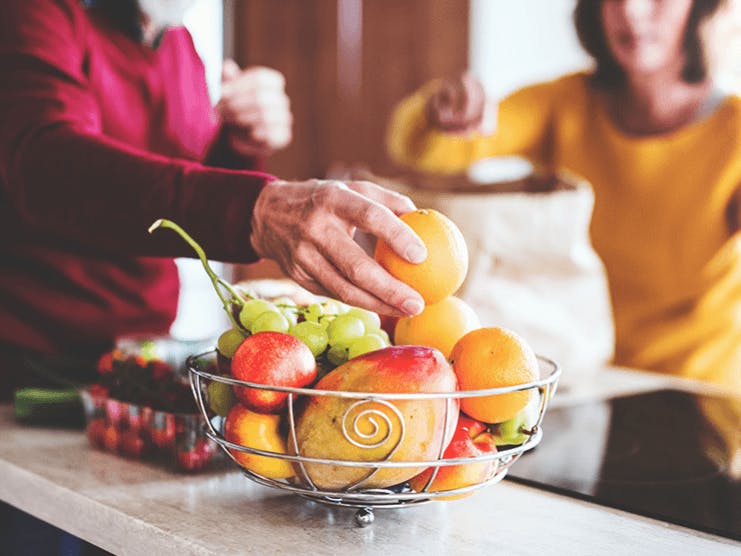 You know the old saying: An apple a day keeps the doctor away. But really, replace that apple with any sort of fruit (an orange, a mango, a pear, strawberries, you get the idea) and you'll still get loads of health benefits.
Eating a lot of fruit helps to lower blood pressure and reduce your risk of heart disease, cancer, diabetes, obesity, and inflammation. What's more, getting enough fruit in your diet can even help sharpen your cognitive function!
In an interview with Eat This, Not That, board-certified physician Dr. Paul Goodman emphasized the importance of fruit for older people. "It is safe to recommend including a couple of servings of fruit per day in your diet, especially berries, as a way to prevent cognitive changes associated with aging," he told the publication.
So eat more fruit! Sounds easy enough, right? But sometimes, for lots of different reasons, people have a hard time getting fruit into their daily diet. If you're one of those people who would love to eat more produce but aren't sure how to break old habits and/or create new ones, here are a few tips and tricks to up your intake.
1. Make a smoothie!
Blending up some fruits (and veggies, of course) is an easy way to eat (er, drink) lots of fruit in one sitting. You'll find hundreds of smoothie recipes online. Or just get creative on your own. All you need is a good old-fashioned blender and whatever fruit is calling your name. The best part is you can use fresh or frozen fruit – either way will deliver tasty - and healthy - benefits.
2. Break the fast — with a dash of fruit
Do you usually eat cereal or oatmeal as your first meal of the day? Top it off with some fresh fruit – bananas and berries are usually a hit for breakfast. Or sprinkle in some dried fruit. Raisins, cranberries, and coconut are some excellent options.
3. Have a fruity dessert
Say yes to the sweet stuff – the fruit, that is. Instead of a cookie or ice cream, indulge in your favorite fruit for dessert. Top it with vanilla Greek yogurt to add a creamy texture that will feel like you're eating ice cream (well, almost).
4. Plan your meals
It's been shown time and again that planning meals ahead of time (read: before you're famished and want to eat anything in sight) has a whole host of benefits. It saves time and helps with portion control. It also makes it easier to enjoy more variety and avoid unhealthy options. So pencil in some fruit with your meals and plan to "eat the rainbow" (i.e., eat a lot of colorful foods, including fruit) every day of the week.
5. Leave fruit where you can see it
You're more likely to grab a banana or apple on the go if it's sitting right there in front of you. Leave a bunch of bananas on the counter and grab one as you run out the door. Or place a bowl of nectarines and grapes in your home office. Give yourself some variety so that you have some options every time.
6. Try something new
Apples and bananas are the usual suspects, but there's a whole world of fruit out there. Most supermarkets carry a wide range of produce, so next time you're shopping, try something new. Pick up some mangoes, dragonfruit, lychees, papaya, or pomegranate. Or maybe get really adventurous and choose something you can't even identify!
Do you have Medicare questions? We have answers.
When it comes to Medicare, one plan definitely does not fit all. At ClearMatch, it's our mission to match you to the policy that best serves your unique needs. It's all we do, and we do it better than anyone. Check out our extensive library of articles for answers to your Medicare questions. Or, compare plans in your area to get started finding the policy that's right for you.
Find a Medicare Plan in your area
It's FREE with no obligation
Speak with a Licensed Insurance Agent
M-F 9:00am-9:00pm | Sat 9:00am-3:00pm EST