New York has some of the strongest Medigap consumer protections in the country. Which is great, because Original Medicare does not cap out-of-pocket spending. Medicare Supplement plans in New York help cover a variety of healthcare costs for people who have Original Medicare.
How Does Medigap Work in New York?
Commonly known as Medigap, Medicare Supplement Insurance covers some – and in some cases all – of your out-of-pocket costs when you have Original Medicare. This includes Part A, inpatient care, and Part B, outpatient services.
Private insurance companies provide Medigap plans, which are standardized by Medicare. This means that you get the same benefits with Plan A (or B, D, etc.) no matter which insurer you choose. Not every insurance company offers every plan (there are 10 of them: A, B, C, D, F, G, K, L, M, and N). And some Medigap insurers provide high-deductible versions of one or more plan options.
Although Medicare sets basic guidelines around the Medigap program, states are allowed to impose additional restrictions and protections. New York is one of only two states (the other being Connecticut) to make guaranteed issue rights available year-round. This means you can change your Medigap plan at any time, without undergoing medical underwriting.
New York also enforces the community rating pricing method, which forbids Medigap insurers from basing premiums on your age. Although you may pay higher premiums when you first qualify for Medicare, you'll pay less over time than you would with age-based pricing.
What Does Medigap Cover?
Medigap benefits vary according to which plan you choose. Every Supplement plan, though, covers the Medicare Part A coinsurance and gives you an extra 365 lifetime reserve days for inpatient hospital care. The following chart demonstrates the benefits available with each Medigap plan.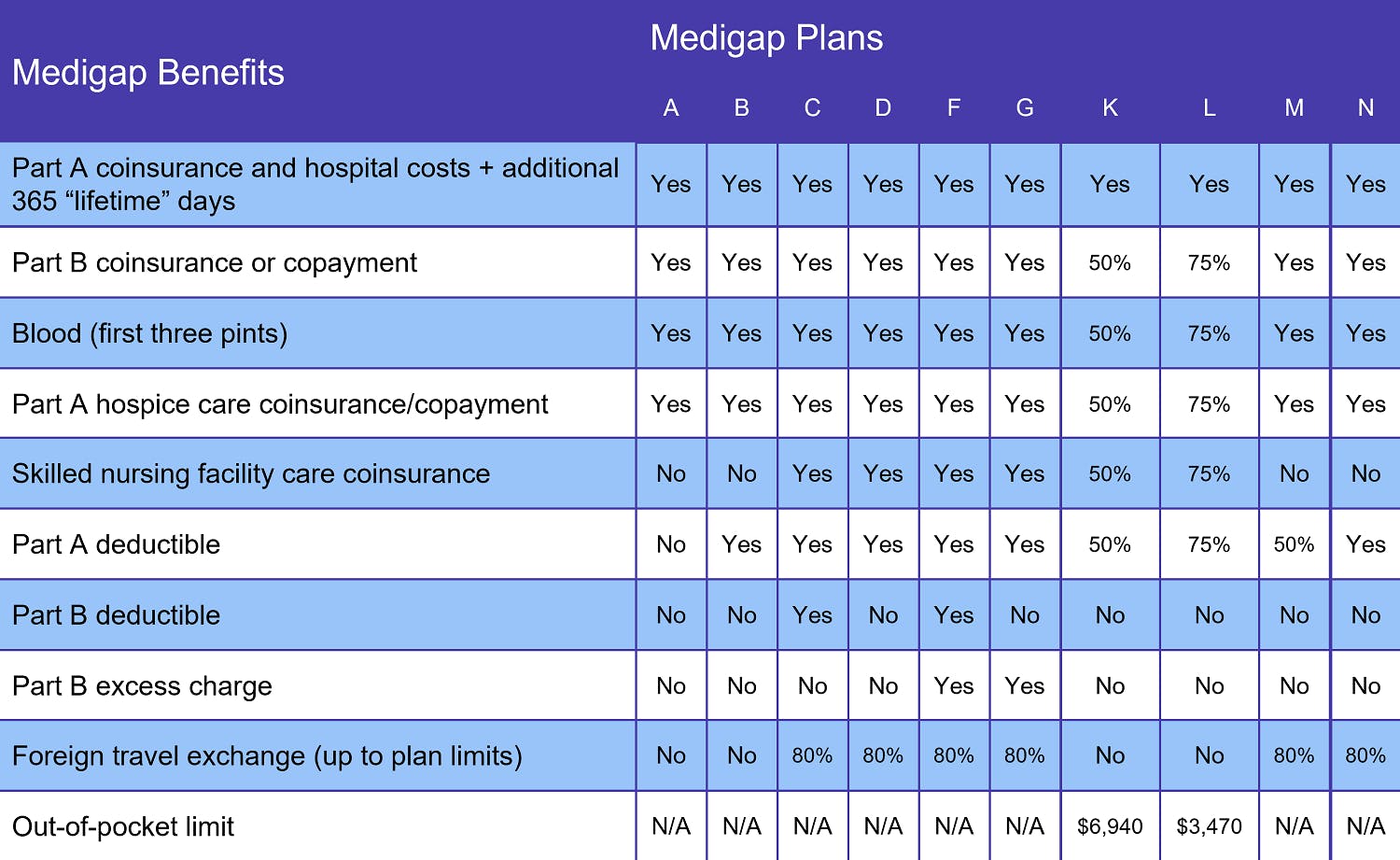 There are no Supplement plans that include prescription drug coverage. For that, you need to join a Medicare Part D prescription drug plan.
Who Qualifies for Medigap in New York?
If you have Original Medicare, you qualify for Medicare Supplement Insurance in New York. Please note that you cannot have both a Medigap plan and a Medicare Advantage plan.
At the federal level, you must be age 65 to qualify for guaranteed issue rights. However, New York does not have this restriction. So, if you qualify for Medicare due to a disability, you have the same protections and rights as someone who ages into the program.
When Is the Best Time to Enroll in Medigap in New York?
The best time to sign up for a New York Medicare Supplement plan is during your Medigap Open Enrollment Period (OEP). It starts the day you have both Medicare Part A and Medicare Part B and lasts for 6 months.
If you wait to enroll in a Medigap plan and have any preexisting conditions, you may face a 6-month waiting period. That's why we recommend signing up during your OEP, even though New Yorkers enjoy year-round guaranteed issue rights.
Comparing Medigap Plans in New York
It's easy to compare New York Medigap plans with our Find a Plan tool. Just enter your location and coverage start date to review Medicare plan options in your area.
Find a Medicare Plan in your area
It's FREE with no obligation
Speak with a Licensed Insurance Agent
M-F 9:00am-9:00pm | Sat 9:00am-3:00pm EST