Many Medicare beneficiaries choose to supplement their coverage in some way, and with no annual out-of-pocket limit it's no wonder. There are a variety of healthcare costs Montana Medicare Supplement plans help with
What is Medigap in Montana?
When you have Original Medicare, which is Medicare Parts A and B (inpatient and outpatient services, respectively), Medigap plans help to cover out-of-pocket expenses. The 10 basic Medicare Supplement plans in Montana are A, B, C, D, F, G, K, L, M, and N, though some insurers offer high-deductible versions of these plans. It is important to note that not all Medigap providers offer all 10 plans.
All Medigap plans are standardized, so you receive the same benefits from a specific plan no matter which insurance company you go through. But remember, costs are not standardized and, as long as they meet state and federal guidelines, companies set their own premiums.
Medigap plans are not guaranteed like Original Medicare is unless you have a guaranteed issue right. If you do not, your Medigap application goes through medical underwriting and you must answer a series of health-related questions. The insurance company uses your answers to determine whether to sell a policy and how much to charge for it.
Who qualifies for Medicare Supplement insurance in Montana?
As soon as you are 65 or older AND enrolled in Original Medicare, you qualify for Medicare Supplement insurance in Montana. Most states, including Montana, also require that Medigap insurers offer plans to beneficiaries that qualify for Medicare due to disability even if they are under 65. Montana has no limit on how much a Medigap insurer can charge people under 65 for a policy, so if you are younger than 65, you can expect to pay significantly more.
What does Medigap cover?
Coverage of Medicare Supplement plans varies depending on which plan you choose. In general, all Medigap plans cover Medicare Part A coinsurance and give 365 additional lifetime reserve days for any inpatient hospital care.
The following table shows the benefits offered by different Medigap plans: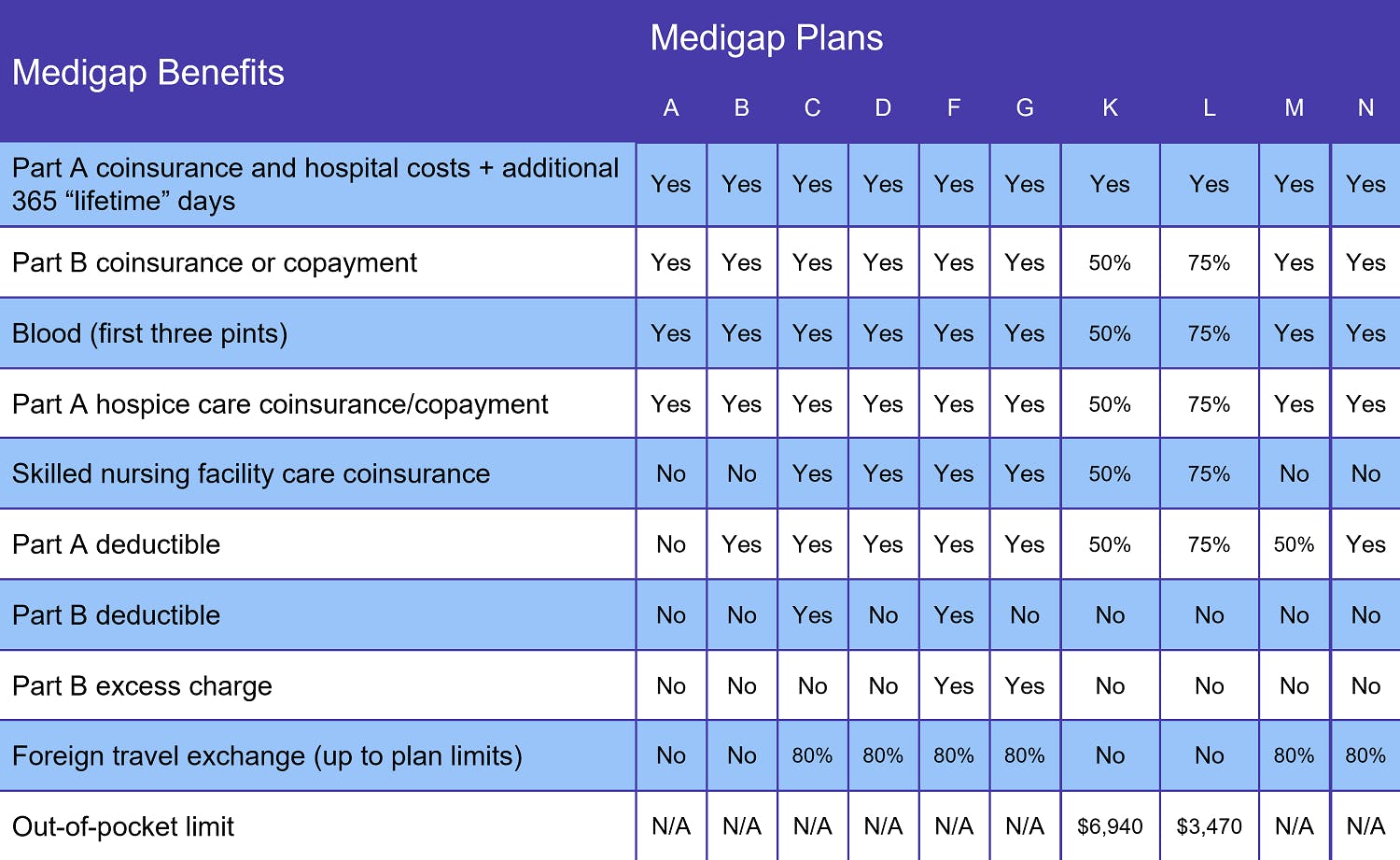 There is no Medigap plan that includes prescription drug coverage. For drug coverage through Medicare, you need a Part D prescription drug plan.
Medigap Plan C and Medigap Plan F in Montana
Starting January 1 2020, Medigap Plan C and Medigap Plan F are no longer available to new Medicare beneficiaries. Instead, it is recommended you choose Plan D or Plan G, which offer the same benefits as Plans C and F, respectively, but without the Part B deductible.
When is the best time to join a Medicare Supplement plan in Montana?
The six-month Medigap Open Enrollment Period (OEP) is the best time to join a Monata Medicare Supplement plan. It starts the day you are 65 or older AND enrolled in Original Medicare, and provides you with guaranteed issue rights. This means that, if you are 65 or older, you cannot be charged a higher premium or rejected. If under 65, you are still guaranteed a policy during your OEP, but may have to pay a higher premium. You get a second Medigap OEP when you turn 65 if you are currently under 65 but qualify for Medicare due to disability.
How to choose a Medigap plan in Montana
Medigap plans are standardized, so the best way to start your selection process is to figure out the level of coverage you need. It is recommended you choose a plan with the most comprehensive benefits for your budget. It is also important to do this during your OEP, since if you wait, medical underwriting may prevent you from obtaining the necessary coverage.
For pricing, you can expect one of three methods:
Attained-age rated: Generally, the most expensive pricing method, these plans have premiums that start lower but increase as you age.
Community rated: Often referred to as no-age rated, these plans charge the same premium no matter your age and are considered the cheapest plans.
Issue-age rated: Based on your age at the time you join the plan, the only reason these rates increase are due to inflation.
Medigap insurers in Montana primarily use attained-age and issue-age pricing.
To easily find and compare Medigap plans in Montana, use our Find a Plan tool. All you have to do is enter your location information and coverage start date to peruse all the options near you.
Find a Medicare Plan in your area
It's FREE with no obligation
Speak with a Licensed Insurance Agent
M-F 9:00am-9:00pm | Sat 9:00am-3:00pm EST