With no limit to annual out-of-pocket costs under Original Medicare, supplemental insurance is extremely popular. Enter Medigap, also known asMedicare Supplement Insurance, which helps pay a variety of healthcare costs. However, Medicare Supplement plans in Minnesota are a little different than in the rest of the country. This page explains how.
How Does Medigap Work in Minnesota?
Medigap plans help pay some or even all of your out-of-pocket healthcare costs when you have Original Medicare. This includes Part A, inpatient care, and Part B, medical services like doctor visits, lab work, and durable medical equipment (DME).
In most states, beneficiaries choose between 10 standardized Medigap plans: A, B, C, D, F, G, K, L, M, and N. However, Minnesota is one of three states to be issued a federal waiver to standardize Medigap in its own way.
Minnesota Medigap plan options are Basic and Extended Basic. The state also offers Medicare beneficiaries its own version of Medigap Plans K, L, M, and N. And, there are four riders you can add to the Basic Plan – assuming you qualified for Medicare before January 1, 2020. Thanks to a change in federal law, anyone who qualifies on or after that date can no longer add the Medicare Part B deductible rider.
What Do Minnesota Medigap Plans Cover?
Coverage varies depending on which Minnesota Medigap plan you choose. Use the following table to compare Medigap plan benefits. Again, the Part B deductible benefit does not apply to anyone who qualified for Medicare on or after January 1, 2020.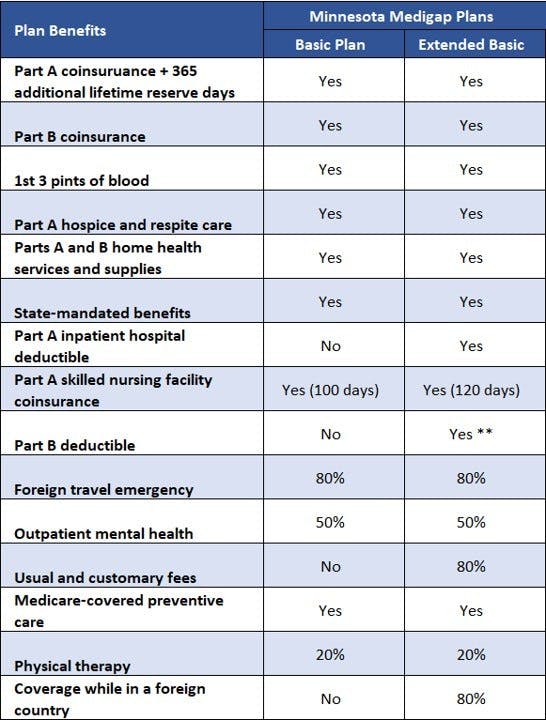 Please note that no Medigap plan provides prescription drug coverage. These benefits are available with a Medicare Part D prescription drug plan. If you choose a Medicare Advantage Prescription Drug plan (MA-PD) instead, you cannot also have a Medigap plan.
When to Join a Medicare Supplement Plan in Minnesota
The best time to apply for a Medicare Supplement plan in Minnesota is during your 6-month Medigap Open Enrollment Period (OEP). It begins the day you enroll in Medicare Part B – even if you aren't yet 65 and qualify for Medicare due to a disability.
Outside of your Medigap OEP, insurance companies may deny you coverage based on medical underwriting. This process requires the applicant to answer a series of health-related questions, such as age, preexisting medical conditions, and tobacco use. Unless you have a guaranteed issue right, insurers may refuse to offer you a policy. Alternatively, they may offer coverage but charge higher premiums.
How Much Does a Medigap Plan Cost in Minnesota?
While plan benefits are standardized, costs are not. Medigap insurers may set their own premiums. However, the state limits the pricing methods these insurance companies can use. In Minnesota, Medigap premiums can only be higher depending on where you live and if you smoke. Age-based ratings are forbidden, even for under-65 Medicare beneficiaries. This is yet another way Minnesota protects its Medicare beneficiaries.
You can compare your Medigap options with our Find a Plan tool. Just enter your location and coverage start date to begin reviewing Medicare plans in your area.
Find a Medicare Plan in your area
It's FREE with no obligation
Speak with a Licensed Insurance Agent
M-F 9:00am-9:00pm | Sat 9:00am-3:00pm EST