Massachusetts is one of three states where Medicare Supplement Insurance looks vastly different than it does in the rest of the country. The state also offers greater consumer protections than most other states do. This page explains Medicare Supplement plans in Massachusetts and how to compare your options.
What Is Medigap in Massachusetts?
Medicare Supplement Insurance is commonly known as Medigap, because the plans are said to "cover the gaps" when you have Original Medicare. This includes Medicare Part A, which helps pay for inpatient services, and Medicare Part B, which covers medical services like doctor visits and lab work.
"Gaps" refers to your out-of-pocket costs. It does not mean you can join a Medigap plan to pay for services not covered by Original Medicare, such as prescription drugs and routine dental care. There is no limit to your annual out-of-pocket costs under Original Medicare.
In most states, beneficiaries have 10 standard Medigap plans to choose from (A, B, C, D, F, G, K, L, M, and N). Massachusetts has only three:
Core Plan
Supplement 1 Plan
Supplement 1A Plan
Please note that the Supplement 1 Plan is no longer available to beneficiaries who qualified for Medicare on or after January 1, 2020. This is due to recent changes in federal law that prohibit enrollment in a Medigap plan that covers the Medicare Part B deductible. Supplement 1A provides the same benefits minus the Part B deductible.
Massachusetts state law also prohibits Medigap insurers from charging age-based premiums. This protection extends to Medicare beneficiaries who qualify for the program due to disability instead of age. In most states, enrollees who are not yet 65 years old can be charged significantly higher rates than their over-65 counterparts.
Finally, Massachusetts also forbids waiting periods for applicants who have preexisting medical conditions. In most states, if you have a preexisting condition and apply for a Medigap plan, you could have to wait up to 6 months for coverage to begin. This is not the case in Massachusetts.
What Does Medigap Cover?
Medicare Supplement plans help pay a variety of costs. Which ones it pays depends on which plan you choose. Each plan covers the following basic benefits:
Medicare Part A coinsurance for inpatient hospital services and hospice care
Medicare Part B coinsurance for medical services
First 3 pints of blood in a calendar year
State-mandated benefits, including but not limited to Pap tests and mammograms
You also get an additional 365 lifetime reserve days for inpatient hospital care. Please see the following table to compare the benefits of each plan.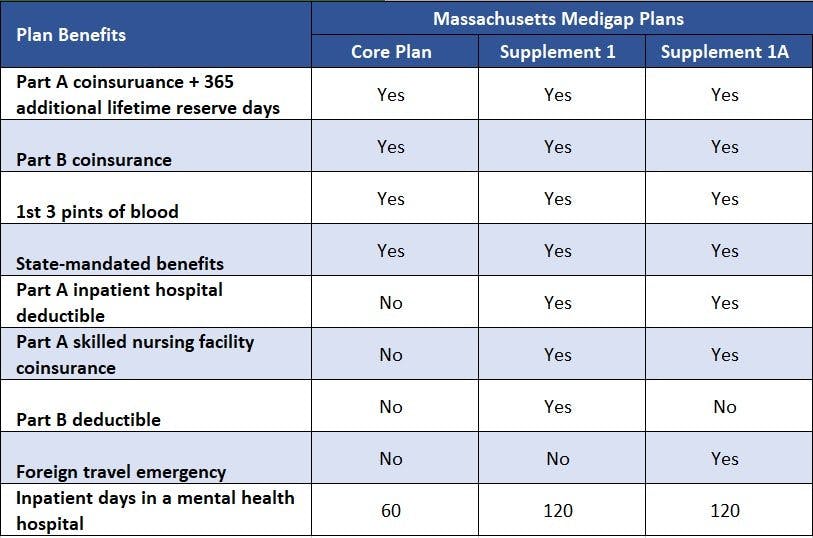 Medigap plans do not provide prescription drug coverage. For that, you need a Medicare Part D prescription drug plan. If you choose to enroll in a Medicare Advantage Prescription Drug plan (MA-PD) plan instead, please note that you cannot sign up for Supplement insurance as well.
Who Qualifies for Medicare Supplement Insurance in Massachusetts?
Nationwide, anyone who has Original Medicare and is age 65 or older may sign up for a Medicare Supplement plan. Massachusetts extends this coverage to those who qualify for Medicare due to a disability. However, Massachusetts is not one of the states that requires insurers to offer plans to under-65 Medicare beneficiaries who have end-stage renal disease (ESRD).
Although you qualify for Medicare Supplement Insurance in Massachusetts so long as you have Original Medicare, insurers do not have to offer you a policy unless you have a guaranteed issue right. Outside of these times, your Medigap application goes through medical underwriting, in which you answer a series of health-related questions. The insurance company then determines whether to provide coverage and at what rate based on your answers.
When Is the Best Time to Join a Medicare Supplement Plan in Massachusetts?
We nearly always recommend people join a Massachusetts Supplement plan during their 6-month Medigap Open Enrollment Period (OEP). It starts the day you're enrolled in both Medicare Part A and Medicare Part B. During Medigap Open Enrollment, your application does not go through medical underwriting. This means that you cannot be denied coverage nor charge a higher premium, even if you have preexisting medical conditions.
If you qualify for Medicare due to a disability, you'll get a second Open Enrollment Period when you turn 65.
Massachusetts beneficiaries also have an annual Medigap Open Enrollment Period from February 1 through March 31. Few other states offer this benefit. Outside of Open Enrollment, you're unlikely to have guaranteed issue rights.
How to Choose a Medigap Plan in Massachusetts
When choosing a Massachusetts Medigap plan, your first step is deciding how much coverage you need. You have a bit more leeway than other Medicare beneficiaries, because you have 2 months every year where you enjoy guaranteed issue rights. Most people enrolled in Medicare don't get that.
Medigap premiums vary according to the insurance provider you choose. However, since Massachusetts forbids age-based pricing methods, all plans are community rated. With this pricing method, your rates will not go up due to age, although they may rise due to inflation.
Our Find a Plan tool makes it easy to compare Medigap plans in Massachusetts. Simply enter your location information and coverage start date to review Medicare plan options in your area.
Find a Medicare Plan in your area
It's FREE with no obligation
Speak with a Licensed Insurance Agent
M-F 9:00am-9:00pm | Sat 9:00am-3:00pm EST