Medicare Supplement Insurance Plans in Arizona help pay some of your out-of-pocket costs under Original Medicare. This page describes your Medicare Supplement plan options, how the program works, and the types of services covered.
What Is Medigap in Arizona?
More commonly known as Medigap, Medicare Supplement Insurance helps pay for some of your healthcare expenses if you have Original Medicare. This includes Part A, hospital insurance, and Part B, medical insurance. You cannot pair a Medigap plan with Medicare Advantage, or use your Supplement plan to pay for services not covered by Parts A and B, such as dental care or prescription medications.
Medicare Supplement plans are standardized, which means every Medigap Plan A provides the same benefits no matter which insurance company you use. The same is true for Plans B, C, D, etc.
Finally, Medicare Supplement Insurance policies are not standalone health insurance like Medicare Advantage plans are. As the name implies, they supplement your Original Medicare coverage; they do not replace it.
Who Qualifies for Medicare Supplement Insurance in Arizona?
Arizonans who have Original Medicare and are over the age of 65 qualify for Medicare Supplement Insurance.
While most states require insurance companies that sell Medigap plans to provide options for people who qualify for Medicare before they turn 65, Arizona is not one of them. If you have Medicare due to a disability or illness, you probably won't be able to join a Medigap plan.
The Arizona Department of Insurance site provides a variety of educational resources regarding your Medicare options, including which insurance companies are licensed to offer Medigap plans.
What Does Medigap Cover?
Medigap plans help pay for a variety of services covered by Original Medicare. Benefits vary according to the plan you choose. At a minimum, every Medicare Supplement plan pays your Medicare Part A coinsurance and gives you an extra 365 lifetime reserve days for hospital stays. The following table details each plan's coverage.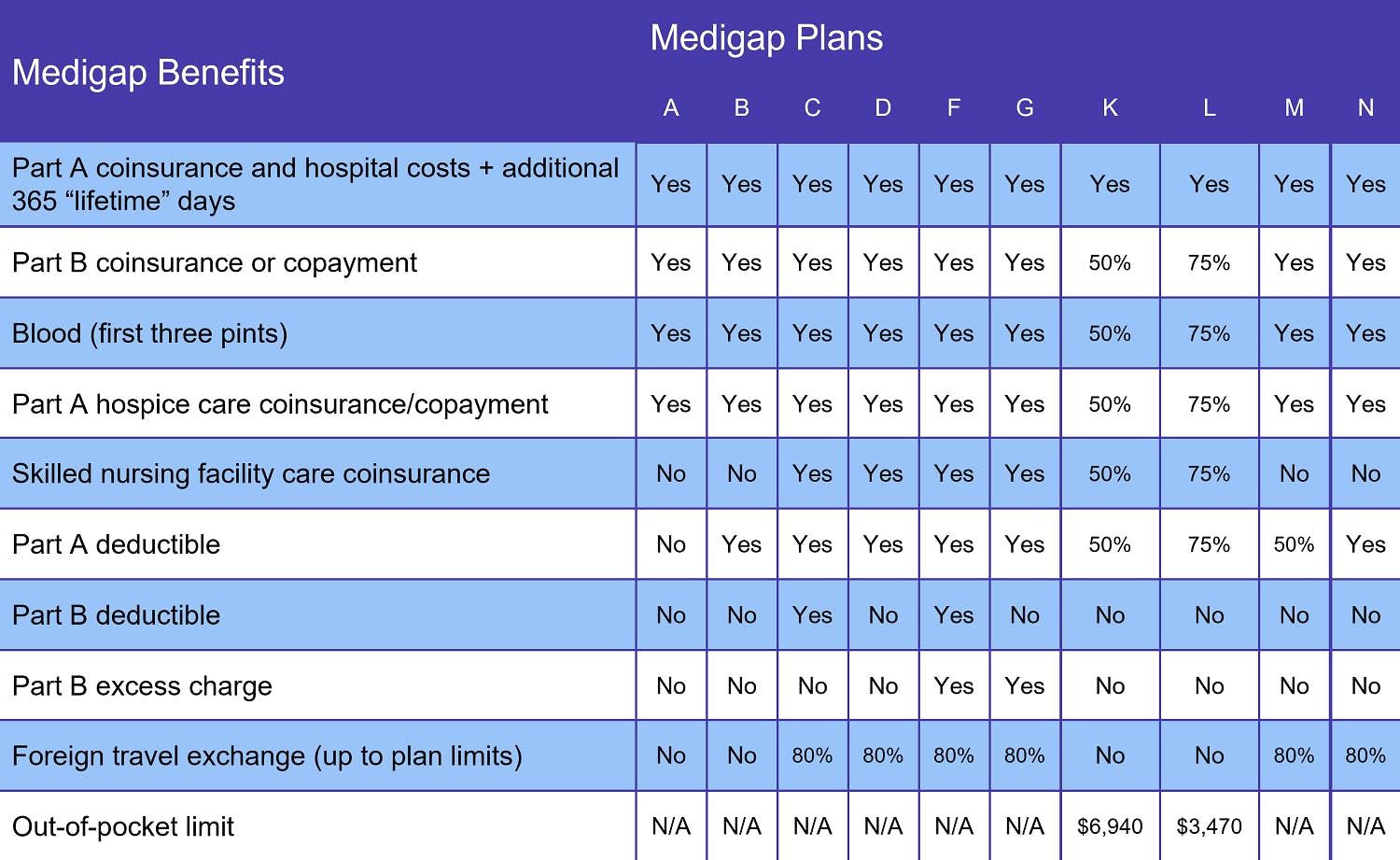 Your Supplement plan will not pay for anything not covered by Original Medicare. If you want prescription drug coverage, you either need a standalone Medicare Part D plan or a Medicare Advantage Prescription Drug plan (MA-PD). Remember, though, you cannot have both an Advantage plan and Medigap.
Medigap Plan C and Medigap Plan F in Arizona
Beginning in 2020, new Medicare beneficiaries cannot join a Medigap plan that covers the Medicare Part B deductible: Plan C and Plan F. If you were eligible for Medicare BEFORE January 1, 2020, you may sign up for one of these plans. However, we recommend one of the following Supplement plans instead:
Medigap Plan D offers the same coverage as Plan C, minus the Part B deductible
Medigap Plan G covers everything that Plan F did, again minus the Part B deductible
Once a Medigap plan is discontinued, premiums tend to rise. This is due to fewer people entering the plan each year. In addition, your out-of-pocket under Plans D and G are usually lower than Plans C and F, even with the deductible requirement.
When Is the Best Time to Join a Medicare Supplement Plan in Arizona?
The best time to join a Medigap plan in Arizona is during your Medigap Open Enrollment Period (OEP), which begins as soon as you are both age 65 or older AND enrolled in Original Medicare.
If you do not enroll during your Medigap OEP and do not qualify for guaranteed issue rights, your application goes through a process called medical underwriting. This involves you answering a series of health-related questions. The insurer then uses your answers to determine whether to sell you a Medigap policy and what to charge for it. But, if you apply for a Supplement plan during your Medigap OEP, you cannot be denied a policy nor charged more for it, even if you have preexisting medical conditions.
How to Choose a Medigap Plan in Arizona
Since benefits are standardized, comparing Medigap plans mostly comes down to cost. However, you should also consider the insurance provider's reputation. It's always a good idea to look at online reviews.
When choosing a Medigap plan, think of future coverage needs. Medical underwriting applies even if you already have a policy (unless you have a guaranteed issue right). That means that you can't choose the cheapest available plan during your OEP and then switch to more comprehensive coverage if your health deteriorates.
It's easy to compare Medigap plans in Arizona with our Find a Plan tool. Simply enter your location and coverage start date to review Medicare plan options in your area.
Find a Medicare Plan in your area
It's FREE with no obligation
Speak with a Licensed Insurance Agent
M-F 9:00am-9:00pm | Sat 9:00am-3:00pm EST