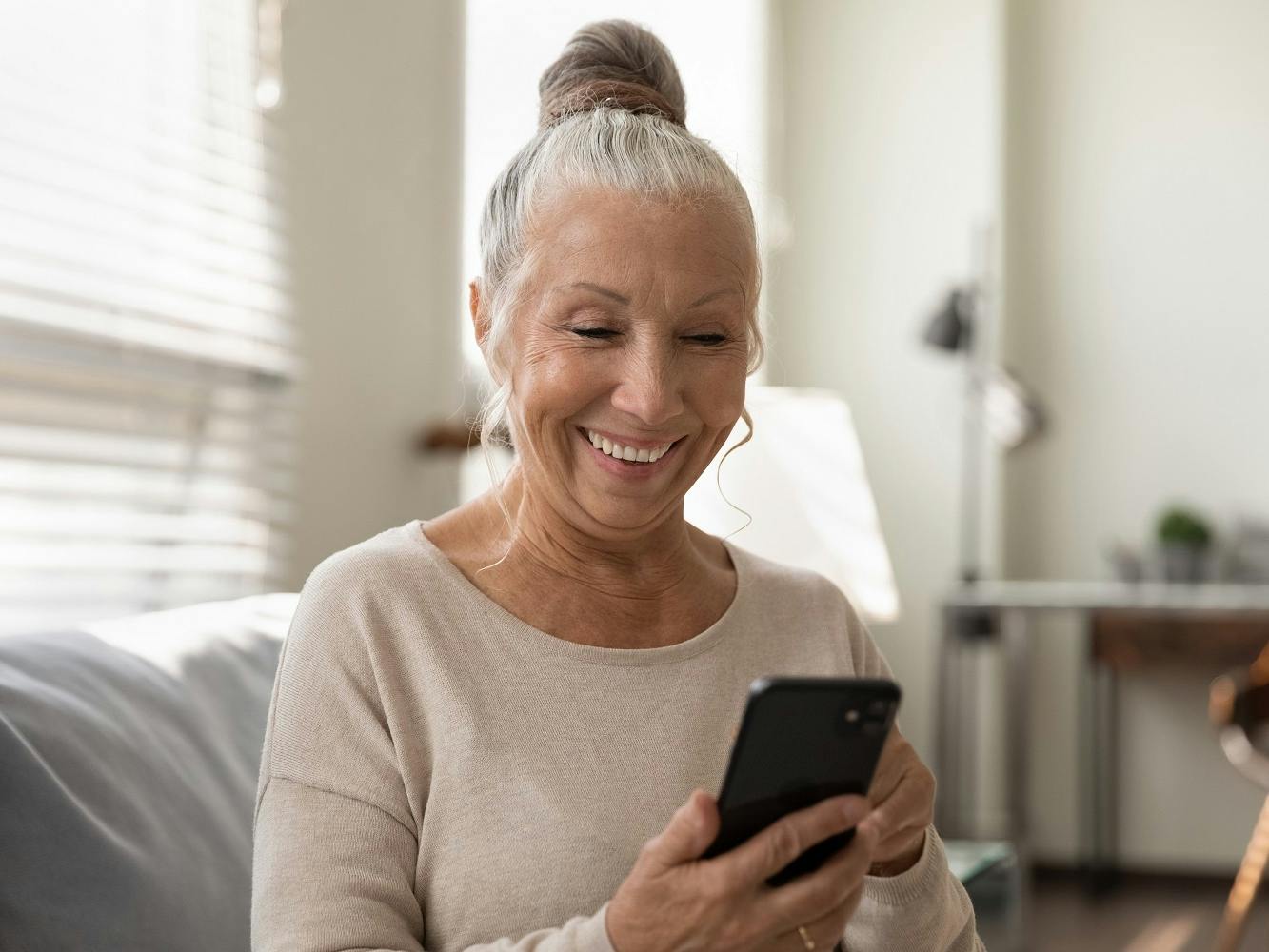 Looking for love? You may find it on a dating app. More and more people over the age of 65 turn to them. Here's some tips for success.
Are you thinking about dipping your toe into the world of online dating? You're in good company. More than one in ten people (13%) aged 65 or older use them, according to a 2023 survey from the Pew research center. The most popular one is Match, used by about half of online daters in this age group. Other popular ones include eharmony and OkCupid.
It can be exciting to be on one, but it may also feel overwhelming. Many older adults report having had a less than great experience on these apps.
But that's still no reason to shy away—you may have success! About ten percent of people who are married, live with a partner, or are in a committed romantic relationship say they met their special someone through a dating app, according to the Pew Survey. Even if you don't meet the love of your life, you may still have some fun. Here's how to swipe your way to success.
How to get the most out of the apps
It might be overwhelming at first to use these apps, especially if you're not great with technology. Here are some ways to set yourself up for success:
Manage expectations
Don't expect to find love overnight. Just like dating in the real world, finding a partner takes some time, effort—and occasional disappointment. Be realistic about your hopes and expectations: If you meet someone today, or this week, or even this month, that you feel like you click with, great. Otherwise, chalk it up to experience (and remember, you can always entertain your friends with your online dating stories).
Be true to yourself
Yes, it may be tempting to lie about your age and post photos from five years ago. But that's not the real you—and anyone you meet is going to figure that out quickly. And while fibbing that you're 50 when you're really 65 may be okay if you're just looking for a no-frills fling, it puts a kibosh on a long-term relationship that's based in trust.
Prep your profile
It's the most important piece of your online dating experience. Look for pictures that let the real you shine. Do they give potential suitors a look at who you are? Skip the carefully curated selfies and opt for a more natural look. You also don't want to waste your profile text on what you want and don't want in a partner. Keep about 70 percent of the focus on you, and 30 percent on that special someone you're looking for.
Keep your head in the game
Online dating is a bit like job hunting. You'll want to commit to it, especially for the first couple months. You don't want to be on it 24/7, obviously, but there are surveys that show the best time to send out messages: for example, evenings between 7 and 10 pm.
But while you're logging the dedicated time, it should still feel fun, not like a chore. If you've stopped enjoying it, take a break for a couple weeks until you're ready to dive back in.
Figure out your deal breakers
It's important to keep an open mind—you don't want to rule out someone just because they prefer golf to pickleball. You want to look for someone who will encourage you to grow in new ways and develop new interests.
On the other hand, it's okay to have real deal breakers. Yours might be political views, religion, or health habits like smoking. Make sure you put those in your profile, so that you don't waste your or anyone else's time.
Get real face time
You can only tell so much about a person from their texts. If someone sounds appealing, try to move the conversation fairly quickly to the phone. But try to keep pre-meeting exchanges (both phone and online) to less than two weeks. You'll learn a lot more about someone when you see them face-to-face. What may seem like a great connection online may fizzle in real life.
How to stay safe
It's very important to practice online dating safety. When you were younger, you may have been introduced to potential partners by relatives, friends, or co-workers, so you knew something about them. But it's a whole new world out there when you're dating online. Here's how to stay safe while still having fun.
Watch for fake accounts
Red flags include no or limited bios, no linked social media accounts, and only one picture. Other signs may be strange grammar, someone who claims that they are from the USA but live abroad, and very vague answers. All of these could indicate a scammer from a foreign country. Block them and move on.
Don't share any personal or financial information
It's a good idea to not even give out your last name or phone number until you've at least had a video call. You also shouldn't give them your home address until you meet in person.
Also, beware of online dating scams where you are asked to send money. Never, for example, send someone cash through Venmo or PayPal if they say they're having a financial emergency. They might seem convincing, but don't fall for it.
Meet in a public place
For the first date, suggest a public meet-up like a coffee shop, restaurant, or even a bar. A walk in the park may sound romantic, but if you do that, make sure that you stick to a place where there are plenty of other people around. Don't rely on your date for a ride, either: make sure you can get home on your own. It's also a good idea to let a friend know where and when you plan to go and to arrange to text them when the date is finished. That way, someone else knows that you're okay.
Listen to your gut
Always trust your instincts. If something makes you uncomfortable, cut off communication—or leave a date, if you are in public with them. Don't worry that you seem rude. Your safety is the most important thing.
If you decide to dip your toe into the pool of online daters, it can be an exciting addition to your love life. But just like everything else in life, don't jump in feet-first. Wade in the waters gradually, take precautions, and enjoy this new chapter in your life!
Can the right Medicare plan improve your love life?
Well, maybe. When you do meet that special someone, you'll want to look and feel your best. And many Medicare Advantage plans will cover the cost of your gym membership! Check out our easy-to-use Find a Plan tool to compare available plans in your area.
Additional resources
Find a Medicare Plan in your area
It's FREE with no obligation
Speak with a Licensed Insurance Agent
M-F 8:00am-10:00pm | Sat 9:00am-6:00pm EST