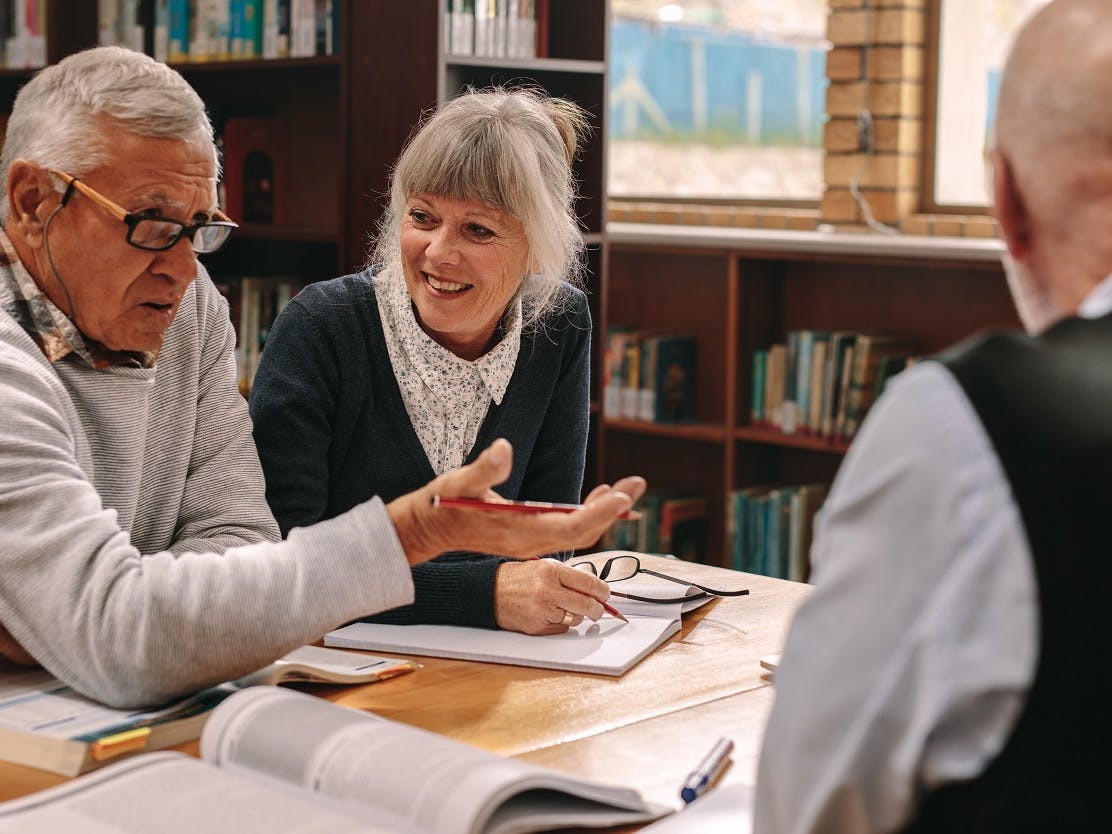 If you'd like to make new friends and connections, starting your own club is a great way to meet like-minded people.
Are you feeling like you could use some more friends? You're not alone. A recent report shows that a third of American adults over age 45 feel lonely.
And once you've retired, it can be even more difficult to stay connected with your community. According to the same report, one in four adults over age 65 experience social isolation.
You might feel embarrassed to admit you're lonely, but as psychiatrist Tiffani Bell Washington observes in an interview with the AMA News Wire, the feeling is both common and normal.
"It is easy to feel you're the only one who needs social connectedness, but that is not true," Dr. Washington says. "There is no shame in being lonely. We were built for connection…The same things we needed as little kids, we need as adults, too. So, of course you need sleep, healthy food, and physical activity, but you also need connection."
One way to help cure loneliness? Join a club. Club members already have something in common, like gardening or volunteering, so it's easier to start forming connections. Even if it's just a social club, the commonality is the desire to socialize!
Can't find a nearby club that interests you? How about starting your own?
How to start your own club
If you're interested in starting your own club but not sure where to start, we've got you covered. Below are a few suggestions on how to get your club rolling.
Decide what your club's about
Maybe it's already obvious: You love biking, and you want to check out different bike trails.
But what if you don't have a hobby and just want to socialize? That's okay, too–most people are happy to have a chance to make new friends. Start a social club that meets for weekly morning coffee or monthly potluck dinners.
Find your people
The next step is to find people in your area with similar interests. Here are a few ways to do that.
Social media, like Facebook, is a great way to connect with people in your area.  You can post from your own profile page or write a message on your community's Facebook group. One woman in Massachusetts recently started a club by simply posting "Does anyone have any interest in getting together to do drama readings once a month?"
Meetup, which is a platform meant to connect people through a range of interests, is also a great option. There is a specific page for people who want to start their own group. Some meetups, like outdoor exploration groups, have hundreds of members, only some of whom show up at any given event. You can close your group to new members if it starts to become too large.
Post flyers. If you want to gather people the more old-fashioned way, you can also put up flyers in churches, restaurants, coffee shops, town halls, post offices, and other community settings. Don't forget to post in shops where people with similar hobbies would go, such as a yarn store if you want to start a knitting group.
Have your first meeting
Any first get-together can feel a little awkward, so have a few icebreakers planned. If you're starting a book group, have everyone share their favorite author. If it's a social group, ask people which celebrity they'd most like to have dinner with and why. Search online for fun icebreaker questions and activities.
Nail down the basics
Discuss how your group will operate. Will you meet only once in a while with minimal expectations of participants? Or is the club meant for people who can commit to regular meetups? How many members should you have?
Do you need funds? If so, how will you fundraise? Use the first meeting to define your club's structure.
Ask for help
Just because you started the group doesn't mean you have to do all the work yourself. Getting other people more involved in the group's operations will help give everyone a sense of belonging. Starting a singing group to entertain in nursing homes? Divvy up the tasks of photocopying music, contacting nursing homes, and bringing refreshments to rehearsals.
Do regular check-ins
Once your group is up and running, be sure to set aside time to ask members for feedback. Is everyone happy with the frequency of meetings? Should you reach out to more people, or close the group to new members? How can your group be even better?
Remember, there are no rules for what a club has to look like. What matters is simply creating opportunities to get together with other people. Many people are longing for more connection with others, so why not take the initiative and make it happen?
If you feel lonely but can't muster the enthusiasm or energy to go out and socialize, you could be suffering from depression or another physical illness. Make an appointment with your primary care provider or mental health specialist. Both Original Medicare and Medicare Advantage provide mental health benefits. To find out what your plan offers, or to find a Medicare plan that best suits your needs, check out our easy-to-use plan finder tool.
Find a Medicare plan near you
It's FREE with no obligation
Speak with a Licensed Insurance Agent
M-F 8:00am-10:00pm | Sat 9:00am-6:00pm EST