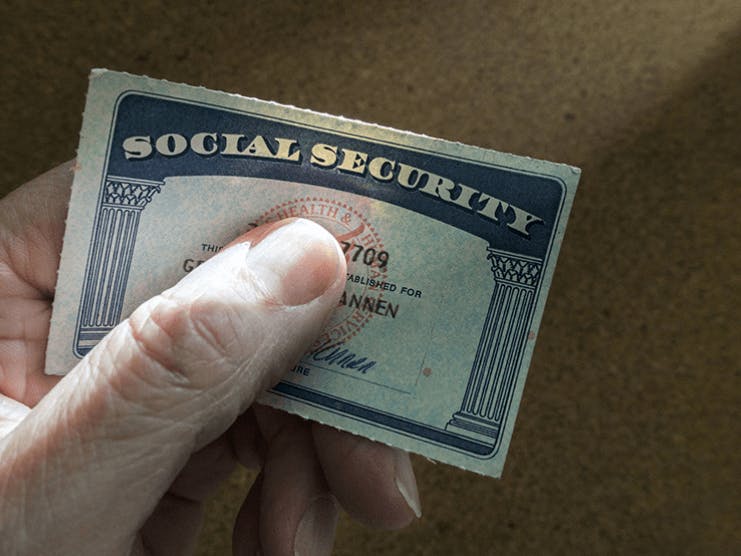 By gathering your documents ahead of time, you'll find getting a Social Security card is pretty easy.
Your Social Security number is a nine-digit number assigned to you by the Social Security Administration (SSA). It helps the government identify you and record your covered wages or self-employment earnings, as well as to monitor your record once you start receiving Social Security benefits.
You'll need a Social Security number, and typically must show your card, to get a job, collect SSA benefits, and receive other government-related services, which is why it's important to keep it in a safe place and not share the information with just anyone.
However, if you've lost your card, changed your name through marriage or divorce, or need a replacement card for another reason, you can apply for a new one through the SSA. Here is more information about how to request a new Social Security card.
How to replace a Social Security card
The SSA is the best place to get a new social security card, and they provide these services for free. If you need to order a new Social Security card, there are a couple options that may be available to you:
Fill out an application online
Print and fill out a paper application and mail or take it to any Social Security office (call ahead to make sure your local SSA office is open)
Before you start filling out an application, you need to gather the appropriate documents and information. This will make completing your application easier (it's also more likely to be approved). Once your information is received, it should take 7-10 business days from that time to receive your new card, though it could take 2-4 weeks to process a mail-in application and return the paperwork.
What documents do you need for a Social Security card?
When applying for a new Social Security card, there are several documents you'll need. The items you need vary depending on whether you:
Are an adult or child
Need an original, replacement, or corrected card
Are U.S. born citizen, foreign born U.S. citizen, or noncitizen
All documents you use or submit must be originals or copies certified by the issuing agency. Photocopies or notarized copies are not accepted.
For our purposes, we're looking at the required documents for an adult, U.S. born citizen. You can find requirements for your specific scenario on Social Security's website.
Documents for an original Social Security Card
You need proof of:
Citizenship: U.S. birth certificate or U.S. passport
Age: Birth certificate (if one doesn't exist, you may use your religious record made before the age of five showing your date of birth, U.S. hospital record of your birth, or U.S. passport)
Identity: U.S. driver's license, state-issued non-driver identification card, or U.S. passport
If you're 12 years old or older and requesting an original SSN, you'll have to complete an in-person interview and show evidence you don't have one already. Learn more on Social Security's website.
While some documents can be used for multiple purposes, you must provide at least two separate documents with your application.
Documents for a replacement Social Security Card
Documents you need proof of include:
Citizenship: U.S. birth certificate or U.S. passport
Identity: U.S. driver's license, state-issued non-driver identification card, or U.S. passport
If your original card was lost or stolen, it can be replaced for free. However, you can only get three replacement cards in one year, and 10 throughout your lifetime. Some exceptions don't count toward these limits, such as legal name changes, but that's why it's important to store your Social Security card in a safe place.
Documents for a corrected Social Security Card
If you legally change your name due to marriage, divorce, court order, or another reason, you must get a corrected card from Social Security. Otherwise, your wages may not be posted correctly to your Social Security record or there may be delays when you file taxes.
You'll need to show proof of:
Citizenship: U.S. birth certificate or U.S. passport
Name change: Marriage document, divorce decree, Certificate of Naturalization showing the new name, or court order approving the name change
Identity: U.S. driver's license, state-issued non-driver identification card, or U.S. passport
If you changed your name more than two years ago, you must show an identity document with your prior name as well. Your new card will have the same SSN but will have your new name.
Questions on a Social Security card application
Whether you're filling out the application online or in person, you'll be asked to answer several questions (in addition to providing paperwork), including (but not limited to):
Name
SSN (if you have one)
Place of birth
Date of birth
Citizenship
Ethnicity
Race
Parent's name/social security
Phone number
Mailing address
While the questions are meant to help confirm your identity and ensure you're receiving the right card and information, it's critical you answer all questions honestly and to the best of your ability. If you have questions, contact Social Security.
How to fill out a Social Security application online
You can apply for a replacement card online through your my Social Security account if you:
Are a U.S. citizen age 18 or older
Have a U.S. mailing address
Are not requesting a name change or other change to your card
Have a valid driver's license or state-issued identification cards (though you must have a driver's license if you live in Delaware, Nevada, or Wisconsin)
If you live in Alaska, Minnesota, New Hampshire, Oklahoma, or West Virginia, you cannot use the online application and will have to fill out and mail in a paper application. The service is also not available to those whose driver's license or ID card was issued by a U.S. territory, such as Puerto Rico or the U.S. Virgin Islands.
Once you log into your my Social Security account, select "Replace your Social Security Card." You'll be prompted to answer questions to confirm your eligibility and identity.
How to fill out a Social Security paper application form
You can use a paper application to apply for an original card, a replacement card, or to change or correct information within your record. Your application will only be processed if you complete it in full and provide all of the information and documentation required.
There are instructions for each field on the application included within the paperwork, so you'll have explicit directions on how to complete each field.
You can then take your application to any Social Security office or mail it in. All documents you send in will be returned to you. Use the Social Security Office Locator tool to find a location near you. Call ahead to make sure they're open as many SSA offices closed due to the COVID-19 pandemic.
Do you need a Social Security card to apply for benefits?
When you apply for retirement benefits through Social Security, you'll be asked to provide a variety of information and documents. One of these documents includes your Social Security card or a record of your number. However, other documents you may have to provide, such as your birth certificate or tax returns, may suffice if you don't have a card.
Even if you don't have everything you need, don't delay in applying for Social Security benefits. You have the option to provide those documents later and may even be able to get help from Social Security at no cost to you.
Find a Medicare Plan in your area
It's FREE with no obligation
Speak with a Licensed Insurance Agent
M-F 8:00am-10:00pm | Sat 9:00am-6:00pm EST