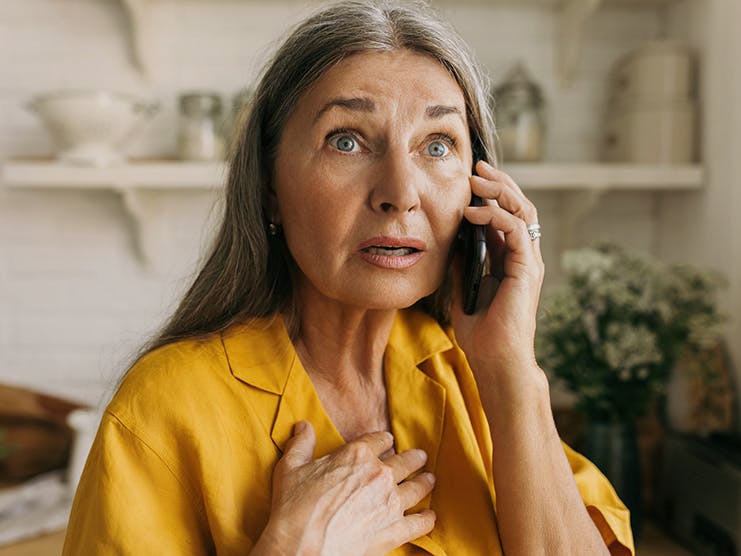 It's estimated that billions of Social Security imposter scam calls were flagged by cell phone provider customer security tools. In 2021, the type of identity theft called "government benefits applied for/received" had a total of 385,264 reports, equaling about 31% of the top five types of identity theft.
Those committing fraud got nearly $64 million through imposter scams in 2021, according to the Social Security Administration (SSA). Many of those scams happened over the phone.
The Federal Trade Commission (FTC) works hard to prevent fraudulent activity and protect U.S. citizens from becoming victims of phone scams and fraud, but knowing what to do if you get a call from the SSA claiming there's a problem with your Social Security number (SSN), account, or benefits can help you protect yourself against fraud.
It's also important to know what to do if you feel suspicious about someone contacting you, or if you're a victim of a Social Security scam. Read on to learn more.
Will Social Security ever call me?
In most cases, Social Security will never call you. Instead, if there's a problem with your SSN, account, or benefits, you'll be mailed a letter. The only time you'd get a call is if you requested one or have ongoing business with the SSA.
If you do get a call from the SSA, know they will never:
Threaten you with arrest or legal action
Suspend your SSN
Demand immediate payment, or require payment through gift cards, wire transfers, pre-paid cards, cash, or internet currency
Ask for personal details
Ask for bank account information
Promise a benefit increase in exchange for money
You will only receive emails or text messages from the SSA if you opt in to receive them, and only in certain situations such as when you're subscribed to receive updates and notifications, or as part of Social Security's enhanced security when you access your my Social Security account. You may also receive an email or text about programs and services offered by the SSA, but you'll never be asked to return a phone call to an unknown number, and you'll never be asked for personal information.
The bottom line is if you receive an unsolicited call from someone claiming to work for Social Security, it's likely fraud.
How to know if a call is fraud
Scammers are tricky, and they may call you pretending to be a government official claiming there's a problem or that you're a victim of identity theft. They may threaten to arrest you or take other legal action if you don't comply, or tell you they will increase your benefits, protect your assets, or even resolve reported identity theft. They may even use spoofed caller ID to make it seem like the call is coming directly from the SSA, and it could be a robocall or a real person on the line.
These people then demand payment either in the form of gift cards, wire transfers, pre-paid debit cards, internet currency, or even cash.
Be aware of callers:
Saying there's a problem with your account or number
Asking you to pay a fine with a debit or retail gift card, wire transfer, internet currency, cash, etc.
Pretending they are from the SSA or another government agency
In all these cases, this call is fake. You should never provide any of your personal information to anyone over the phone or send money to someone you don't know.
What to do if I get a call I suspect is fraud
If you get a call you suspect is fraud, hang up immediately. If you receive a voicemail from an unknown number or person, do not return it. Do not give any money or personal information. Report any fraudulent activity to the Office of the Inspector General.
If you aren't sure if a caller is a fraudster, ask someone you trust for advice. Don't make any large purchases, send money, or make financial decisions without talking to someone first.
If you have shared personal information, financial information, or money with a fraudster, don't be embarrassed. These people are smarter and more technologically savvy than ever and can make their outreach look official, which can be confusing. However, it's important to report the fraud right away.
You should also set up a my Social Security account online and check it on a regular basis, keeping an eye out for signs of anything unusual.
Find a Medicare Plan in your area
It's FREE with no obligation
Speak with a Licensed Insurance Agent
M-F 9:00am-9:00pm | Sat 9:00am-3:00pm EST