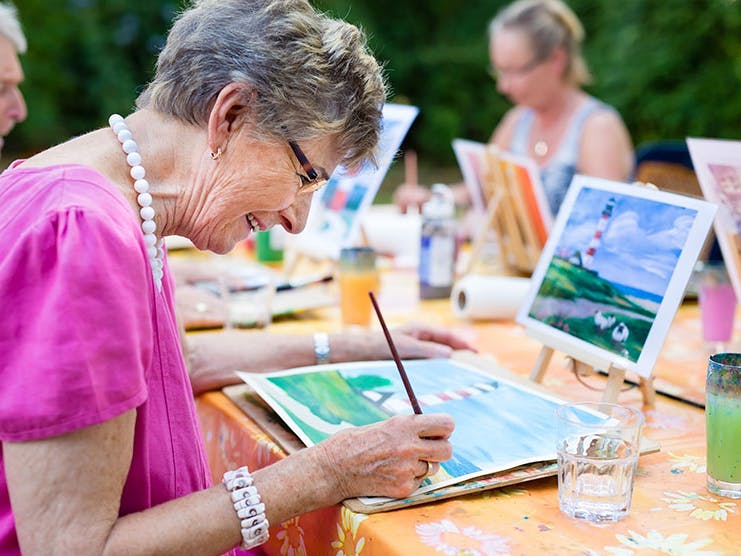 If you are at or near retirement age, chances are high that you've considered moving to an active adult community. It could be that your current home is too big or too far away from your kids and grandkids. Or maybe you're interested in leaving snow and rain for sunny skies. You may also be tempted by all those fun amenities you've heard about. This post looks at the advantages and disadvantages of living in an active adult community
What Is an Active Adult Community?
.Also known as 55+ communities, an active adult community is a neighborhood designed specifically for people over age 55. Some people also think of them as retirement communities, but most have some residents who are still working.
The name "active adult" is usually very apt, as most of these neighborhoods offer loads of activities. Amenities typically include:
Golf courses
Community pool (or pools)
Fitness center and exercise classes
Sports courts, including tennis, bocce, pickleball, and more
Community clubhouse
Arts and crafts groups and classes
Some 55+ communities are like tiny cities, with bars and restaurants, retail shopping, healthcare services, and more.
Active Adult Community Restrictions and Guidelines
Most active adult communities have age restrictions requiring at least one resident to be over the age of 55. Rules vary according to the neighborhood's homeowner's association (HOA) or management company. In some cases, 100 percent of the residents must be over age 55. Most 55+ neighborhoods only require 80 percent, though, to make allowances for younger spouses.
Children under the age of 18 are rarely allowed full-time residence in an active adult community. However, most allow minors to visit or stay with residents for up to 60 days per year. These allowances vary according to the management company. If you have college-age children who still spend holidays at home, or grandchildren who visit frequently, ask about these limitations.
Active adult communities may also have guidelines around income, financial resources, and criminal history.
The Advantages of Active Adult Communities
Advantages and disadvantages are relative terms. For example, one person may love the 55+ aspect while someone else considers that the number one drawback. In general, though, the following are considered the advantages of living in a 55+ community.
Numerous amenities: As listed above, there is an enormous variety of amenities, from golf and swimming to hobby and social clubs. You can even take classes like painting and pottery, or something more physical, like yoga or dance. And costs are usually either highly reduced or included in your yearly or quarterly fees. In addition, thanks to the age limit, these activities are geared toward people over age 55.
Convenience: Most adult communities are situated near healthcare providers, restaurants, and shopping, making it easy for residents to get where they need to go.
Homes designed for seniors: Most homes in a 55+ community are either single-level or feature the bulk of living space on the first floor.
Peace and quiet: With no minors and few residents under the age of 50, active adult communities are typically much quieter than your average neighborhood.
Security: Many retirement communities are not only gated, they have their own private security team (often senior volunteers with the local police department). They also tend to be more secure simply because the majority of the residents are retired, meaning homes don't sit empty all day long. This makes them less attractive to thieves.
Finally, many people choose active adult communities because it's easy to make friends and stay active, even after they retire or their children move away. Seniors are often prone to isolation. But in a 55+ neighborhood, you're surrounded by people your own age, with many opportunities to connect over shared interests and make new friends.
The Disadvantages of Active Adult Communities
The majority of Americans choose to remain in the home they had before they retired. Their reasons are many, but here are some of the most common:
HOA fees: While many neighborhoods these days have HOA fees, those costs are usually much higher in a 55+ community to cover all those great amenities.
Multigenerational families: The United States is home to many multigenerational families, a living arrangement that doesn't work with age-restricted communities.
The age restriction: Many retirees prefer living in neighborhoods with people of all ages. They enjoy seeing children play or welcoming trick-or-treaters. For others, the age restriction makes them feel old.
They're happy where they are: If you've lived in the same area for a long time and feel a sense of community there, you likely have no interest in moving.
Finally, some people just aren't interested in all of the amenities that make up an active adult community. If you don't golf or swim, aren't interested in making friends or learning a new hobby, the social aspects of one of these neighborhoods probably doesn't appeal to you.
Choosing an Active Adult Community
If you're interested in learning more about active adult communities, the internet makes it easy. You'll find loads of options, particularly in warm weather states like Arizona, California, Florida, Texas, and Nevada. But with their rising popularity, you now find 55+ neighborhoods across the country.
Start by searching online to compare amenities – not all active adult communities are created equal. Then, take the time to visit your favorites. You may find that "community park" is code for a single picnic table under a tree. It's well worth the time to tour the neighborhood and even talk to a few residents to see what it's like to live there.
Some communities even allow prospective residents to spend a night or two (for a fee similar to a hotel reservation). You'll stay in a fully furnished home and get complete access to all of the amenities. You also enjoy one-on-one time with the community's lifestyle director, who ensures you understand all of your options.
Find a Medicare Plan in your area
It's FREE with no obligation
Speak with a Licensed Insurance Agent
M-F 8:00am-10:00pm | Sat 9:00am-6:00pm EST