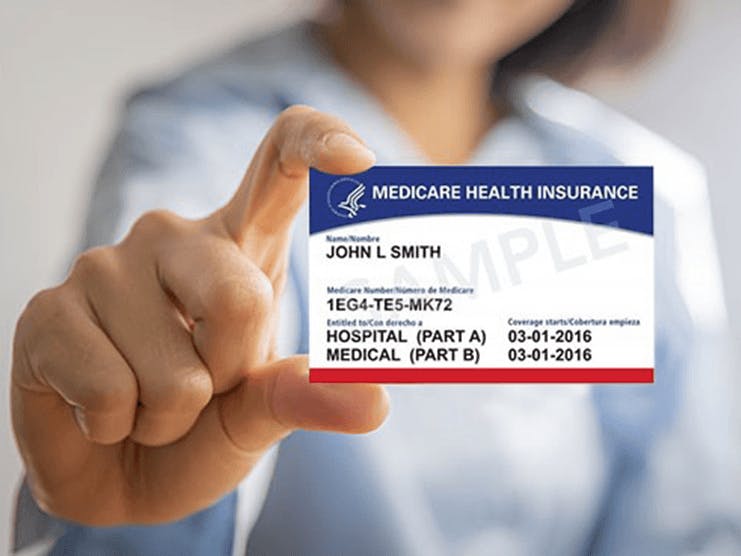 The standard Medicare Part B premium is jumping 14.5% in 2022 – one of the largest hikes in Medicare history.
The big Medicare news this year is that the Part B premium is jumping to $170.10 in 2022. That's $21.60 more than 2021's standard Part B premium – the largest dollar-amount increase since Medicare launched in 1966.
Other Medicare Part B costs
In addition to a monthly premium, there are other out-of-pocket costs with Medicare Part B.
The annual deductible is $233 in 2022. This is the amount you must pay out-of-pocket before Medicare begins paying its share. Until you meet your annual deductible, you will be responsible for 100% of all costs, except for some preventive services, like flu shots and wellness exams.
Once you meet your deductible, Medicare pays 80% of the pre-approved amount for covered services. The "pre-approved amount" is the price medical providers agree to accept for outpatient services. You are responsible for the remaining 20%, which is known as co-insurance.
Co-insurance is typically a percentage whereas co-payments are set dollar amounts, such as $25 for a primary care visit. So, if Medicare agrees to pay $100 for a doctor's visit, your co-insurance would be $20.
What does Medicare Part B cover?
Medicare Part B is also known as medical insurance because it helps pay for outpatient medical care. This includes services such as doctor appointments, lab work, mental health care, and durable medical equipment (DME).
What about Medicare Advantage?
Around one-third of people who have Medicare choose Medicare Part C, more commonly known as Medicare Advantage (MA). Private insurance companies provide these plans, but they must work within the guidelines set by the Centers for Medicare & Medicaid Service (CMS). At a minimum, each plan must provide the same benefits you'd get with Original Medicare (Parts A and B). However, they are not limited to that coverage and around 90% of these plans provide additional benefits, the most common being prescription drug coverage, routine vision, and dental care.
You can't avoid the Part B premium by signing up for a Medicare Advantage plan. However, it may still save you money if you choose a plan that includes those extra benefits – especially prescription drug coverage, as that will save you from having to join a separate, standalone Part D plan.
There are even some Part C plans that reimburse either all or a portion of your Part B premium. This is known as the giveback benefit or Part B premium reduction. The giveback benefit can range from less than $1 to the full $148.
Not all Medicare Advantage plans offer the Part B premium reduction. In addition, you only qualify for the giveback benefit if you live in a zip code where one of these plans is offered and don't already receive government assistance to help pay your Medicare costs. (For more information on premium assistance, please see our article, How to Qualify for a Medicare Savings Program.)
Finding the right plan for you
It's important to remember that, even if you qualify for one of the MA plans that offers the giveback benefit, that may not be the best plan for you. When comparing your Medicare plan options, consider the following:
What is the full cost of the plan? This includes monthly premiums, annual deductibles, co-pays or co-insurance, and the yearly max out-of-pocket. A rock-bottom premium may be hiding higher costs elsewhere.
What benefits does the plan include? Even a $0 plan might not be the best fit if it means you don't get prescription drug coverage or other popular benefits.
Does it cover your prescriptions? You need to check both the drug formulary and the tier your prescriptions are on to understand how much you'll pay.
How important is keeping your doctors? Many MA plans have a provider network, with doctors entering and leaving networks throughout the year.
Those are the four most important questions to ask – and answer.
How do you find one of these Advantage plans?
The easiest ways to discover whether one of these giveback plans is available are:
1. Search the ClearMatchTM Medicare Plan Finder
Go to our ClearMatchTM Plan Finder. Enter your zip code and start scrolling through the available MA plans in your area. You can filter plans on the left of the plan list and choose "Part B Premium Reduction" under Plan Features. If the plan offers the giveback benefit, you'll see "Part B premium reduction" as well as the amount you're eligible to receive each month when you click the button "More Details".
2. Call ClearMatchTM Medicare
Depending on where you live, there may be dozens of plans available. That's why working with a licensed Medicare agent can save you time and could even save you money. ClearMatch Medicare partners with the top carriers in the country. We want you to find the best coverage for you, not the insurance company.
If you're ready to learn more about your Medicare options, call us toll-free today to talk to one of our licensed, compassionate Medicare agents.
Find a Medicare Plan in your area
It's FREE with no obligation
Speak with a Licensed Insurance Agent
M-F 9:00am-9:00pm | Sat 9:00am-3:00pm EST